3 takeaways from Nebraska Basketball win over Maryland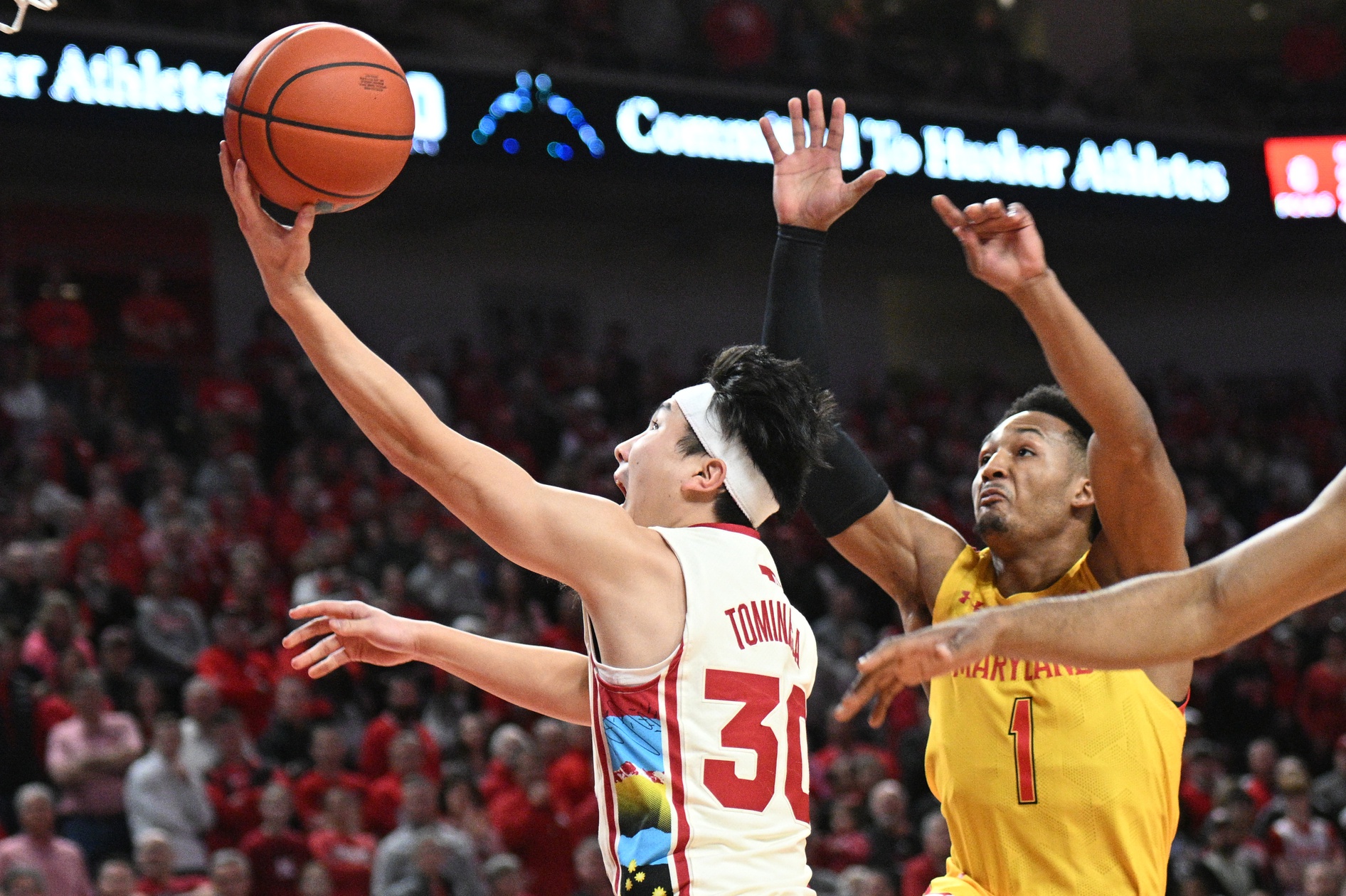 Nebraska basketball notched its third straight win and beat one of the hottest teams in the Big Ten. Here are three takeaways.
The Nebraska basketball revival is real and the evidence is sitting right in front of us after the Huskers won their third straight Big Ten game via a 70-66 win over Maryland.
Maryland came into Lincoln as the No. 18 team in the Kenpom rankings. The Terps are going to the NCAA tournament and just beat Purdue earlier this week.
However, The Vault was rocking. Nebraska basketball fans are engaged and this team has them believing. There were ups and downs including an 11-0 run that allowed Maryland to take the lead. The Terps even went up by as many as eight points with just over seven minutes to go after a Julian Reese follow.
On top of that, Nebraska was plagued with injuries and foul trouble. Still, the Huskers found a way. Sam Hoiberg was huge. So were Keisei Tominaga and Derrick Walker. There were so many little things Nebraska did to help win this game such as Hoiberg and Blaise Keita taking charges in overtime.
It was an impressive effort and there's no doubt, Nebraska isn't changing the head coach anytime soon. Here are three takeaways from another huge win.
Keisei Tominaga is a superstar
For the fifth straight game, Tominaga scored at least 20 points. He did it differently as he only made two triples but he was crafty around the basket with his cuts and made some crucial free throws late.
Not only can Tominaga shoot but the way he moves without the ball is spectacular. He's as good as anyone I've seen in the Big Ten all season.
Japanse TV was covering the game and you can tell the kid is going to be a superstar over there. I'm worried about a pro team trying to steal him with a big contract, so I hope the Huskers convince him to stay. He's got a huge following with Nebraska — just listen to the introductions — and he's the first guy since Tyron Lue to score 20 in five straight games.
Flat out, Tominaga could be one of the most exciting players in recent Nebraska basketball history and the No. 1 priority for this offseason is making sure he returns, because this winning streak doesn't happen without him.
Derrick Walker and Sam Griesel will be missed
Tominaga is the fan favorite right now, but the Huskers don't win any of these games without the toughness and leadership of Derrick Walker and Sam Griesel.
Griesel, Walker, and Tominaga carried the offense, scoring 55 of the 70 points. They attempted 40 field goals and made 19 of them. Walker scored 23 points, grabbed seven boards, and had six assists. He was spectacular.
Fred Hoiberg found something in Walker and whenever Nebraska basketball was able to get him the ball in the middle of the floor, good things happened. Undoubtedly, Walker is one of the best big men in the league and it was a genius design on the play that forced overtime. Fred didn't get cute. He went with what worked all game.
What's interesting is that neither Walker nor Griesel were top-100 recruits. Yet, they are key players on a team that has a viable path to the NIT or maybe even double-digit Big Ten wins.
It shows you don't have to recruit superstars. You need to find guys who are going to play for a few years and develop. Fred Hoiberg, I think has figured out how to win in the Big Ten, and putting together three straight wins with two starters out for the season is impressive.
Nebrasketball is back
I know the Huskers haven't achieved anything. But being 14-14 at this point in the season and winning as many Big Ten games as the past two seasons is a huge achievement. More than anything, Nebraska has revived The Vault.
That was a special atmosphere on Sunday and it's been like that all season. Nebraska fans are desperate for a winner and this team is giving them something to cheer about. For the first time in years, there is a reason to be a dedicated Nebraska basketball fan and it's refreshing.
There are three games left in the regular season and two at home. Buckle up, the ride isn't over, and also for the first time in years, I have hope for the future of Husker basketball.
For More Nebraska content, follow us on Twitter, like our Facebook Page, and Subscribe to the Husker Big Red YouTube Channel. You can also find out podcast on Apple or Spotify.