Breaking down positives for Nebraska Football, basketball recruiting
In our latest episode of the Husker Big Red Podcast, we analyze the recruiting success of Nebraska football and basketball this week.
There was no doubt that Nebraska football needed a pick-me-up on the recruiting trail and the Huskers got it this week with the commitment of Ashton Murphy. 
In our last episode, we talked about a run of negative news for the Huskers on the recruiting trail, so it was good to see Matt Rhule and Nebraska football get back on track.
That doesn't mean that everything is going well for Nebraska football. Things are still pretty murky with Dylan Raiola and the Huskers haven't gotten another visit scheduled.
However, USC and Oregon are starting to focus on other quarterbacks, meaning it really does seem to be down to Nebraska football and Georgia.
The coaching staff also extended a new in-state offer this week, plus Nebraska will host a pair of four-star recruits this weekend. It was also a good week for Nebraska basketball. The Huskers picked up two key transfer portal additions in big man Rienk Mast and wing Brice Williams. 
I've talked about how much I wanted Williams. I feel like he's a really good fit for this roster. Danny and I analyze both of these moves and also preview an important weekend in which Latrell Wrightsell will visit. So will 2023 recruit Brady Dunlap, a player Nebraska made the top five for on Friday.
The Huskers have two scholarships and feel far from done. Here is the link you Youtube for the full video and here's the podcast if you prefer the audio. Go Big Red!
For More Nebraska content, follow us on Twitter, like our Facebook Page, and Subscribe to the Husker Big Red YouTube Channel. You can also find our podcast on Apple or Spotify. 
3 thoughts on Keisei Tominaga's return to Nebraska Basketball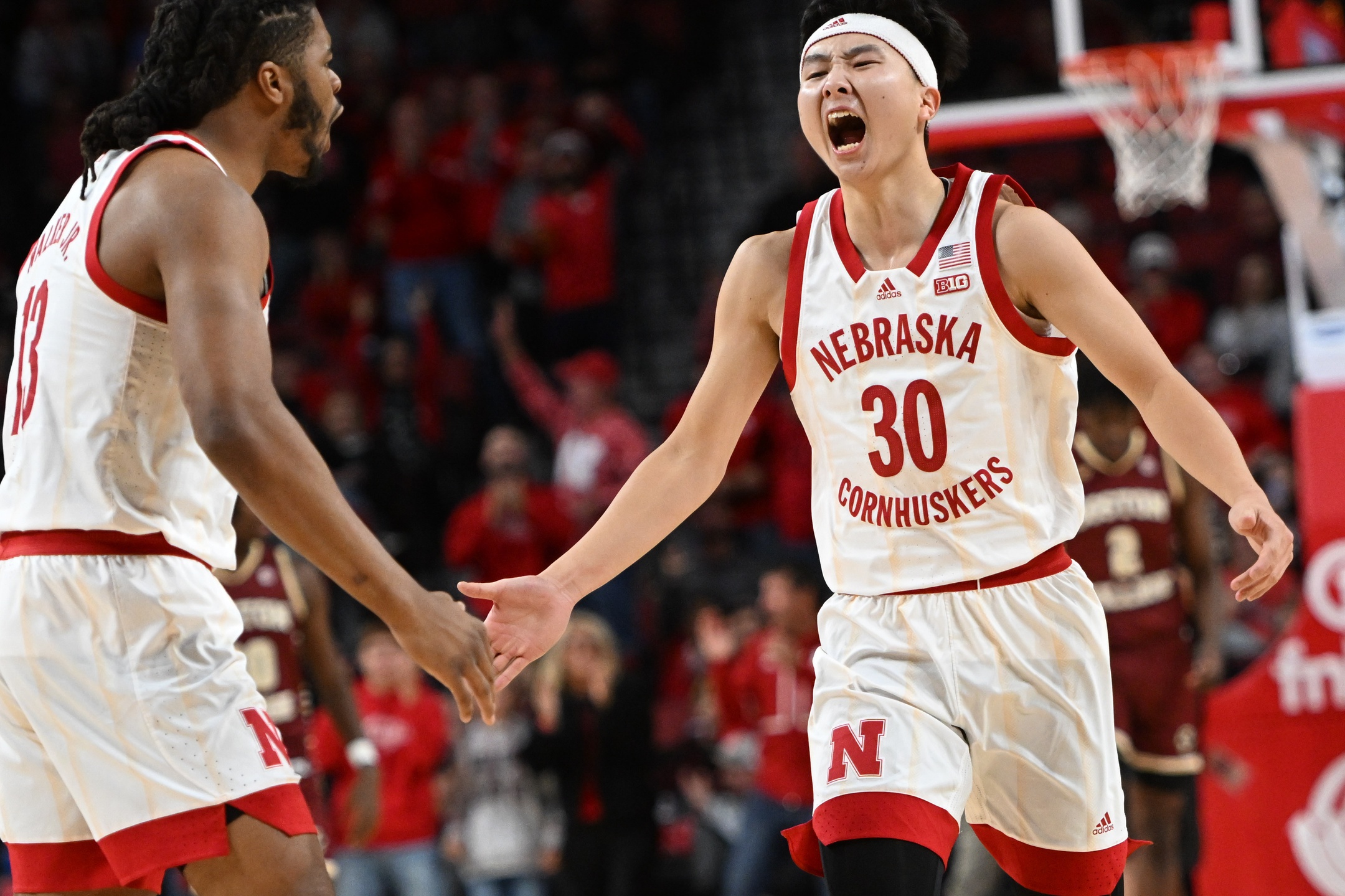 The return of Keisei Tominaga to Nebraska basketball for the 2023-24 season is massive and here are three thoughts on what it means for the Huskers.
I've said it before and I'll say it again: Keisei Tominaga declaring for the NBA draft was a great move. Every player with NBA aspirations should do it. But his return to Nebraska basketball which was announced on Wednesday night is enormous for Fred Hoiberg and the Huskers.
It's hard to put into words how devastating a loss it would have been for Nebraska basketball, and frankly, for the fans.
— 富永 啓生/ keisei tominaga (@KeiseiTominaga) June 1, 2023
The way that Keisei captured the imagination of Nebraska fans down the stretch — it was special and it hasn't happened in a long time.
There were questions about him returning home to Japan to play, where I'm sure he could get a sizeable contract. Tominaga will play for Japan in the fall too, so he's becoming a national figure.
However, he said in an interview with the Indiana Pacers media that his dream was to play in the NBA. Nebraska basketball is the best place for him to realize that dream and so for Tominaga and the Huskers, it was a win-win.
Here are three thoughts on what it means for the 2023-24 Nebraska basketball season.
Keisei Tominaga fever
This season is going to be insanely fun. Tominaga has a chance to become a Nebraska basketball legend. After becoming a starter last season, he averaged 17.4 points per game and 2.7 3-point makes. Tominaga was one of the best offensive players in the Big Ten down the stretch.
Can he replicate that for an entire season? I don't see why not. He averaged over 13 points per game last season for the Huskers and shot 40 percent from beyond the arc. That will be hard to maintain because I expect his volume to go up.
However, he showed last season, he's more than just a shooter. Keisei made more 2-pointers last season than 3-pointers. He needs to keep adding to his offensive arsenal but that's what this offseason will be about.
Fred Hoiberg has talked about how he's transformed his body and he looked fit in his workout with Indiana. I also can't wait to see what he's going to do next season, as I expect him to be even better.
I just know we are in store for what should be one of the most enjoyable seasons in Nebraska basketball history, thanks to Keisei Tominaga who electrified the Vault last season and should do that even more in 2023-24.
Nebraska baskeball is an offseason winner
The Huskers already have one of the top transfer portal classes and when you calculate the return of Keisei Tominaga, Nebraska baskeball has to be one of the offseason winners in college basketball.
Obviously, Nebraska isn't a team you think about in terms of college basketball much. But Fred Hoiberg is building something. It took longer than expected but last year was just the start.
Adding Rienk Mast, Brice Williams, Josiah Allick, and Ahron Ulis was huge for Nebraska. Ulis was Iowa's starting point guard and filled an important need. He's also got more offensive potential and if Fred can help him reach it, his addition will be viewed even more favorably.
Ulis is a solid point guard though. He can run the offense and his playmaking will be improved at Nebraska. Mast and Allick can help fill the void down low left by Derrick Walker. Both are exceptional in the post. Mast is a stellar 3-point shooter too and is deadly in the ball-screen game.
Imagine Mast running a two-man game (ball screens) with Tominaga. Fred is going to T that up a bunch this year and that's another area where Keisei will be counted on to do more — playmaking. He averaged 0.7 assists last season and that number needs to be at least double.
Williams is one of the most underrated additions in the entire transfer portal and with all those pieces, Hoiberg can put out some really interesting lineups.
Most importantly, Fred did a great job of filling the needs with really solid players — three averaged double figures previously in their college career — and getting Keisei back is the cherry on top.
It's postseason or bust for Nebraska basketball
This team has enough talent to make the NCAA tournament. I don't think that's a super bold statement. Tominaga has All-Big Ten potential and even with two open scholarships, I love this roster.
Jamaques Lawrence is ready to take a leap too as a sophomore and as long as Juwan Gary can find his old form once he returns from injury, this should be a really solid rotation.
Sure, Nebraska could use more depth on the wing. Yet, even Ramel Lloyd could prove to be an answer to that question. He could also add more depth to the backcourt, depending on how Hoiberg wants to use him.
The starting lineup should feature Ulis, Tominaga, and Mast. Beyond that, it just depends. Allick could start, and so could Williams, Lawrence, and Gary. CJ. Wilcher is another solid depth piece. Blaise Keita too. He adds some rim protection. I also like what Sam Hoiberg can bring and wouldn't be shocked if he was put on a scholarship.
Frankly, if the Huskers haven't added anyone else, Hoiberg deserves a scholarship. He proved last year that he wasn't playing just because of his last name.
Last season, Nebraska was probably a win away from the NIT and that was after a horrific start in the Big Ten and a slew of injuries. If the team can stay healthy, a winning season and the NIT is a minimum expectation.
Reaching the NCAA tournament is realistic (so is 20 wins) and all I know is that I'm as excited about this season as I've been about a Nebraska basketball team in a very long time.
For More Nebraska content, follow us on Twitter, like our Facebook Page, and Subscribe to the Husker Big Red YouTube Channel. You can also find our podcast on Apple or Spotify. 
Will Keisei Tominaga return to Nebraska Basketball?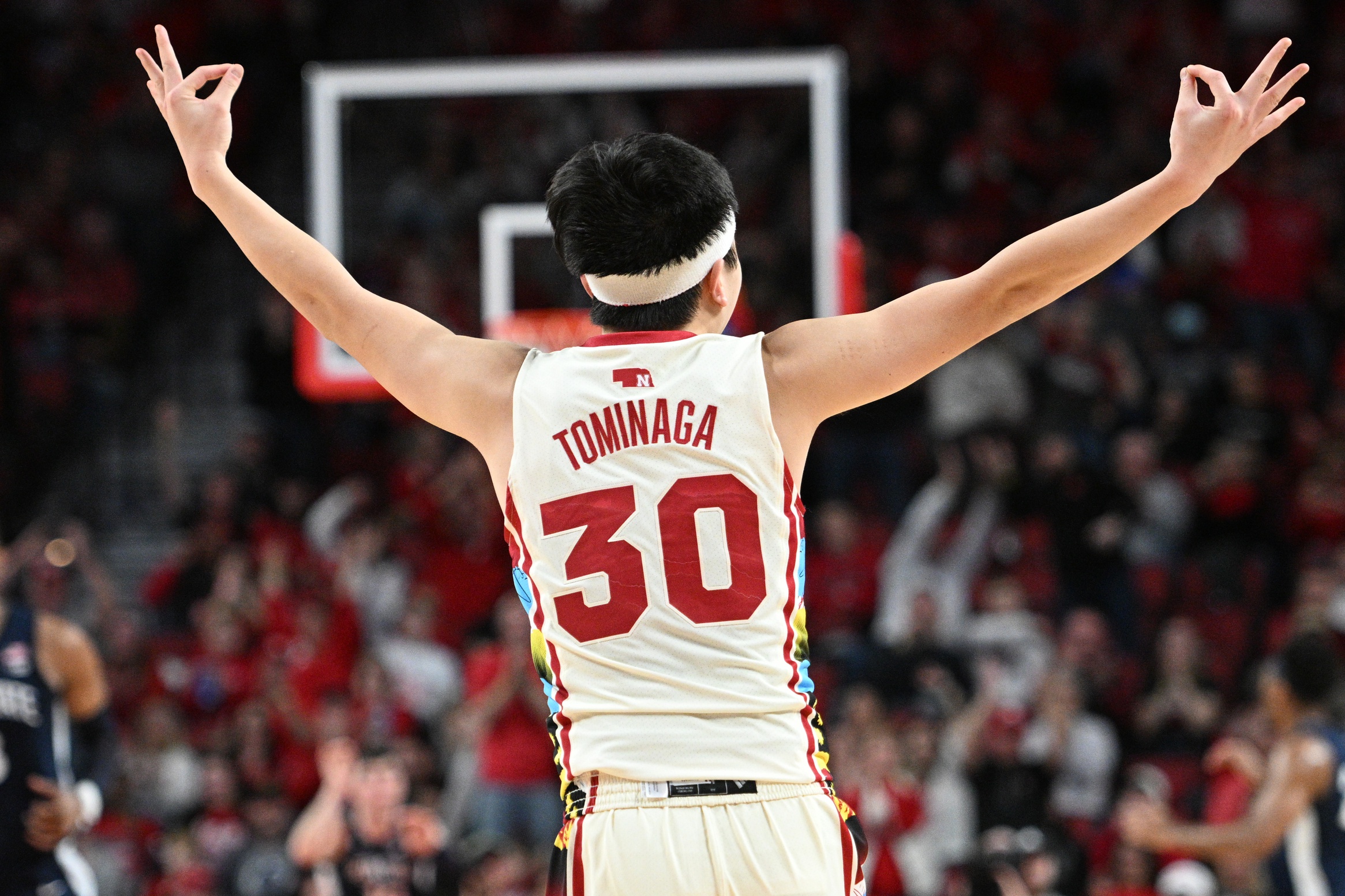 It's decision day for Nebraska basketball standout Keisei Tominaga on whether he will return to the Huskers or stay in the NBA draft.
Things are coming down to the wire in terms of Keisei Tominaga and his NBA draft decision. The deadline to withdraw from the 2023 NBA draft is tonight and we still don't know what Tominaga is going to do.
Last season, Tominaga was spectacular for Nebraska basketball, especially down the stretch. Despite only starting 14 games, Keisei averaged 13.1 points per game and shot 40 percent from 3-point range. He was also one of the best finishers around the basket in the Big Ten.
Tominaga still working out with NBA teams
At 6-foot-2, that was due to his ability to cut the basket and finish. While Tominaga hasn't been projected to go in any mock drafts, he did work out with the Indiana Pacers on Tuesday.
#Nebrasketball guard Keisei Tominaga will workout with the Pacers tomorrow.

He has until Thursday to make a decision on returning to NU next season or staying in the draft. https://t.co/q5p78uiga4

— Robin Washut (@RobinWashut) May 30, 2023
There are a lot of paths to the NBA. The G-League is a realistic option, especially for a guy that's 22 years old and is more limited in terms of NIL deals. Tominaga can only earn passive income at Nebraska, which comes from things like jersey sales. He can't get paid to promote things.
There are also two-day deals, where a player spends part of his time in the NBA and part of his time in the G-League. So even though only 60 guys get drafted, many more will get a shot to play pro ball and get paid well.
For much of the offseason, we have been operating on the assumption that Tominaga would come back. It makes sense to me because, with another season under his belt, his NBA draft stock could improve.
What will Tominaga do?
Tominaga is an elite scorer and shooter. His return would be the most important offseason move for the Huskers and he's poised to be an All-Big Ten type of player, at least in my opinion.
I realize that's bold but look at his numbers over the past month of the season. After becoming a starter for the final 14 games, Tominaga averaged 17.3 points per game and averaged 2.7 3-pointers per game. He was one of the best scorers in the Big Ten down the stretch and if he can do that for a full season, his stock would improve.
Fred Hoiberg also indicated that Tominaga has really improved his body. He'll need to be stronger to play in the NBA and his defense also needs to improve.
I've got no doubt he'll be starting and playing a ton for Nebraska baskeball next season (if he returns). Keisei played 30 minutes or more in each of the last 10 games in 2022-23 and if he's back, I'd expect him to average over 30 a night.
Truly, I hope he returns. It will be massive for Nebraska basketball and the piece they need to contend for the NCAA tournament. Without him, Fred Hoiberg will be scrambling and Nebraska fans will miss out on what could be one of the most fun seasons in Cornhusker history.
That's what is at stake with this decision. We'll know by 11:59 PM EST on Wednesday night.
For More Nebraska content, follow us on Twitter, like our Facebook Page, and Subscribe to the Husker Big Red YouTube Channel. You can also find our podcast on Apple or Spotify. 
Eemeli Yalaho would be an ideal fit for Nebraska Basketball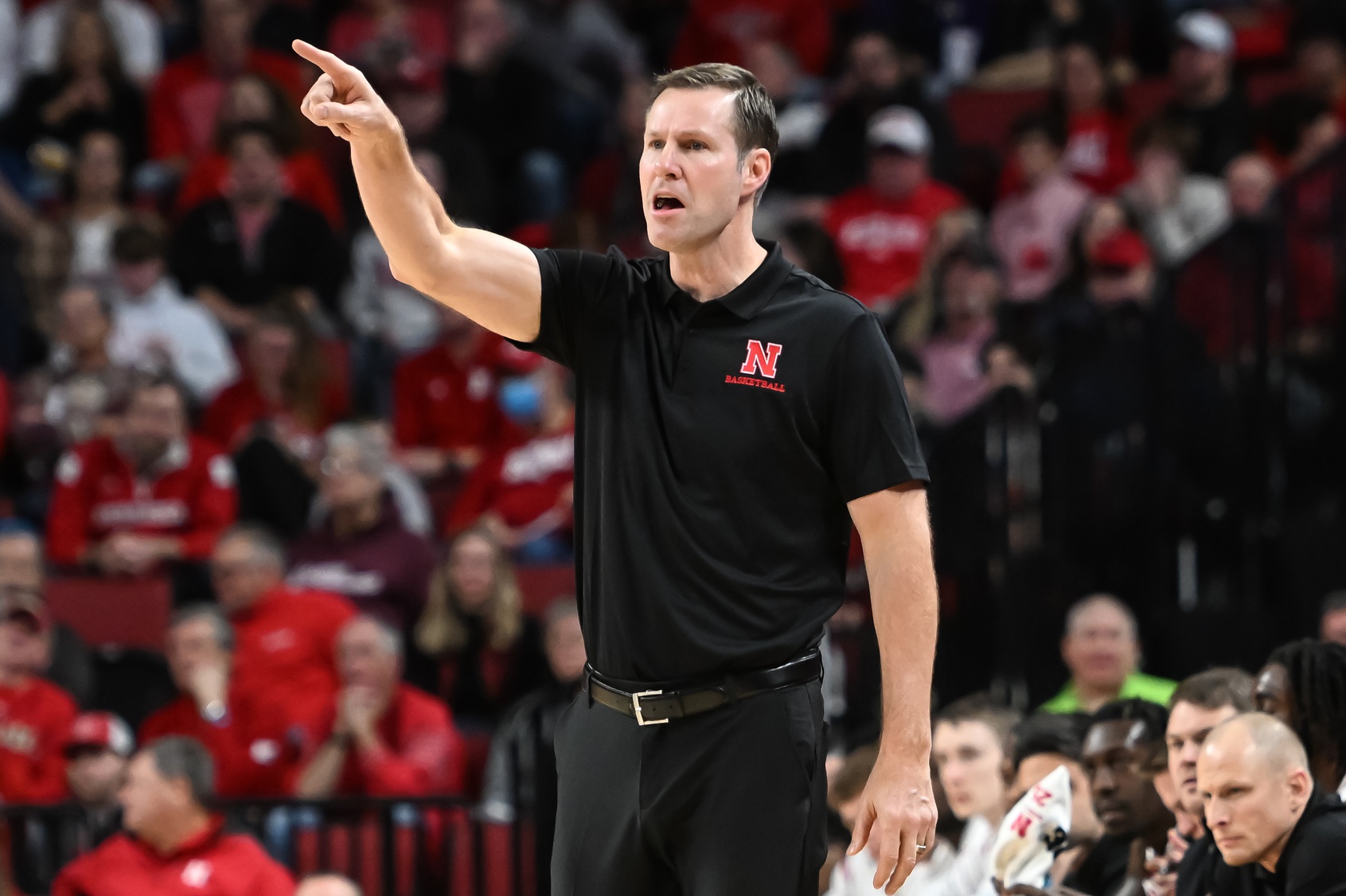 Eemeli Yalaho is part of the 2023 class and if Nebraska basketball was able to land his commitment it would be a great addition long term.
You have to give Nebraska basketball head coach Fred Hoiberg a lot of credit for how he re-tooled the Huskers roster so far this offseason.
We are still awaiting to hear from Keisei Tominaga, but after he wasn't invited to the NBA Draft combine or the G-League camp, it's not likely that he will get selected. He's probably not even viewed by scouts as a top-100 prospect.
Tominaga can dramatically improve his stock with another season, and even if he stayed with the pro option, I'm sure he would be signed by a G-League team or even an NBA team looking to sign someone to a two-way contract.
Yet, hopefully, the path for next season is Nebraska basketball. And on that note, the Huskers could be adding another piece for next season, via the 2023 class as they are hosting Eemeli Yalaho for an official visit this weekend.
As #Nebrasketball looks to fill out next season's roster, it hosted another official visitor on Friday in 2023 Finnish forward Eemeli Yalaho @eemeliyalahohttps://t.co/OYsE8rPpAb

— Robin Washut (@RobinWashut) May 13, 2023
The 6-foot-8 forward is from Finland and played on the Finland national team at the FIBA B Division Tournament last summer, making a good impression on scouts.
Yalaho averaged 8.4 points and 4.1 rebounds, as well as more than two assists in the series, and then joined the Western Reserve program, spending the last season playing in Ohio.
The three-star prospect in the 2023 class according to the On3.com rankings but is unranked in the 247 Sports composite rankings. However, he's gotten offers from Providence, Georgetown, and Texas Tech. He's also visiting the Red Raiders next.
Yalaho would be a great piece for Nebraska basketball
The Huskers have two scholarships available even if there probably isn't a ton of room for minutes next season. Yalaho could have a shot to play some at the 3/4 spot. But his long-term development is probably the best thing.
Yalaho looks like a guy that could eventually start for Nebraska. Hoiberg is likely selling his NBA history as well.  Yalaho did shoot 37 percent from deep in the first division in Finland in 2021-22 and would be a great fit for the system Nebraska uses.
Nebraska likes to run a lot of ball screens and it would be great to have another pick-and-pop option. He's also a guy that could play the 3/4 sort of like Juwan Gary. The Huskers could use more depth at that position next season and Yalaho would add even more depth to the frontcourt, as well as another shooter.
Essentially, he would take the spot vacated by Wilhelm Breidenbach and if the Huskers were able to get his commitment, I'd be all for it.
For More Nebraska content, follow us on Twitter, like our Facebook Page, and Subscribe to the Husker Big Red YouTube Channel. You can also find our podcast on Apple or Spotify.