Nebraska Basketball lands Rienk Mast and more positives in the transfer portal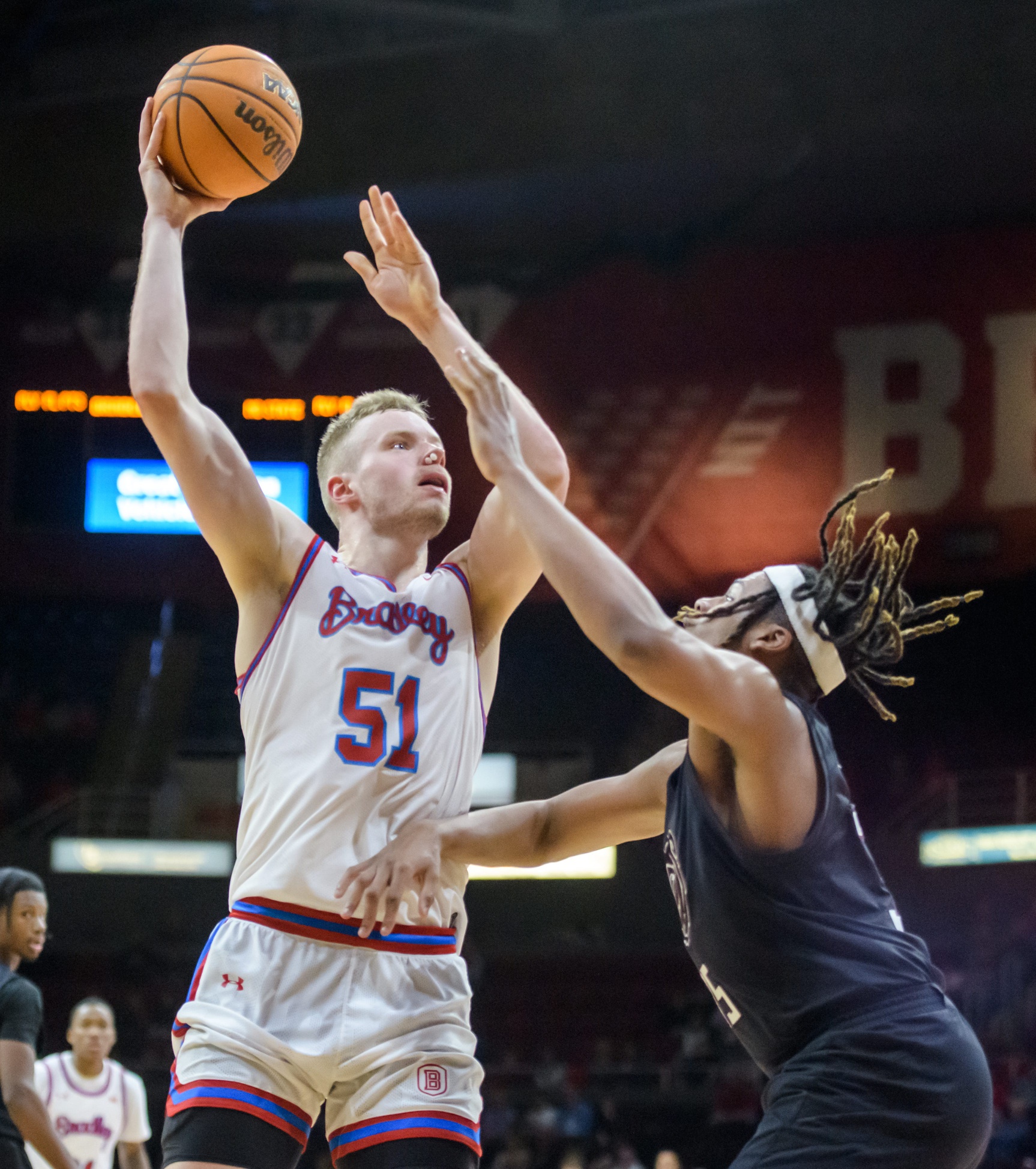 Nebraska basketball just landed Rienk Mast and could be adding some players in the transfer portal soon. Here's the latest breakdown.
It's a crazy time right now in college basketball with the transfer portal and the NBA draft entry process going on. Nebraska basketball hasn't made an addition yet, but it feels like a few are coming.
Last weekend, Nebraska basketball hosted Brice Williams from Charlotte. He averaged over 13 points per game last season, is 6-foot-7, can shoot the ball from 3-point range, and has position versatility.
Nebraska wanted Julian Battle. He went to Ohio State but the Huskers view Williams as a similar player — someone who can play the three and four. It's been quiet with Williams since his visit which I take as a good sign for Nebraska basketball. I was honestly hoping the Huskers would have him committed by now.
However, they still feel like the favorite to me. I also think it's safe to call Nebraska basketball the favorite for former Bradley forward Rienk Mast.
UPDATE: Minutes after this was posted, Rienk Mast committed to Nebraska. 
BREAKING: #Nebrasketball has landed a commitment from Bradley transfer big man Rienk Mast.

"I feel like Nebraska is the right fit for me where I can still showcase my skills and be a big part of the team."

Story: https://t.co/Ja0kk8RY3h pic.twitter.com/Os0AScITm5

— Robin Washut (@RobinWashut) April 12, 2023
Mast is a 6-foot-9 forward who averaged 13.8 points last season for Bradley in the Missouri Valley. He averaged 2.4 assists, grabbed eight rebounds, and shot 51.8 percent from the field. He even shoots 35 percent from deep and made 0.8 triples per game. His 2-point percentage is even better at 56.8.
In terms of Derrick Walker replacements, Mast is a really good one. He's productive, has some playmaking ability, and is a reliable shooter. He also doesn't bring as much risk as a guy like John Hugley from Pitt.
Hugley led the Panthers in scoring two years ago but only managed to play eight games last season before announcing he intended to transfer. There are other off-the-court issues too. Hugley is taking a visit to Oklahoma this weekend and it might be because the Huskers landed Mast.
Mast was basically down to Iowa and Nebraska. Iowa took another big man. Honestly, I'd cancel the visit of Hugley at this point, unless Nebraska really wants to reinforce the center position. Mast seems like a surefire starter to me.
In-state targets set official visits
Nebraska basketball still needs a wing and multiple guards. So it's really good news that two players with in-state ties are going to take official visits to Lincoln.
One of those is former five-star Hunter Sallis (6-foot-5) who transferred from Gonzaga. He's got a bunch of suitors but Nebraska is in the top group. The Huskers are hosting him for an official visit the same weekend as the spring game and he would be a plug-and-play starter.
Nebraska basketball did an in-home visit over the weekend and improved their chances. Now, they just need to close and that weekend should provide a golden opportunity to do that.
Latrell Wrightsell (6-foot-3) is another in-state prospect and has Nebraska basketball in its top three.
Cal State Fullerton transfer guard and Omaha Central product Latrell Wrightsell Jr. has cut his list to a top three.

He will officially visit Nebraska Friday. Scheduling visits with Minnesota and Alabama for early next week. #Nebrasketball #Huskers #Gophers #TollTide

— Mike Sautter (@MikeSautter_) April 11, 2023
Alabama and Minnesota are the other teams in the mix. Wrightsell is more of a combo guard but I don't see Nebraska taking him and Sallis unless he's going to play point guard. He did average 2.4 assists per game last season for Cal-State Fullerton and was a point guard coming out of high school via 247 sports.
Wrightsell is a dynamic scorer and averaged over 16 a game last season. He also averaged 1.5 steals per game, shot 38.3 percent from deep, and better than 80 percent from the charity stripe.
I will amend what I said because if Keisei Tominaga isn't going to return, Nebraska could definitely take Sallis and Wrightsell, plus another point guard like Javian McCollum who is also visiting later this month.
Nebraska has three spots now available after Mast, but if another player departs, a five-man transfer class is possible and that's the only way I see Wrightsell and Sallis at Nebraska, without one of them being the point guard.
Regardless, I expect more good news soon and Husker fans should be really pleased with how things are developing.
For More Nebraska content, follow us on Twitter, like our Facebook Page, and Subscribe to the Husker Big Red YouTube Channel. You can also find out podcast on Apple or Spotify.