3 takeaways from blown opportunity by Nebraska football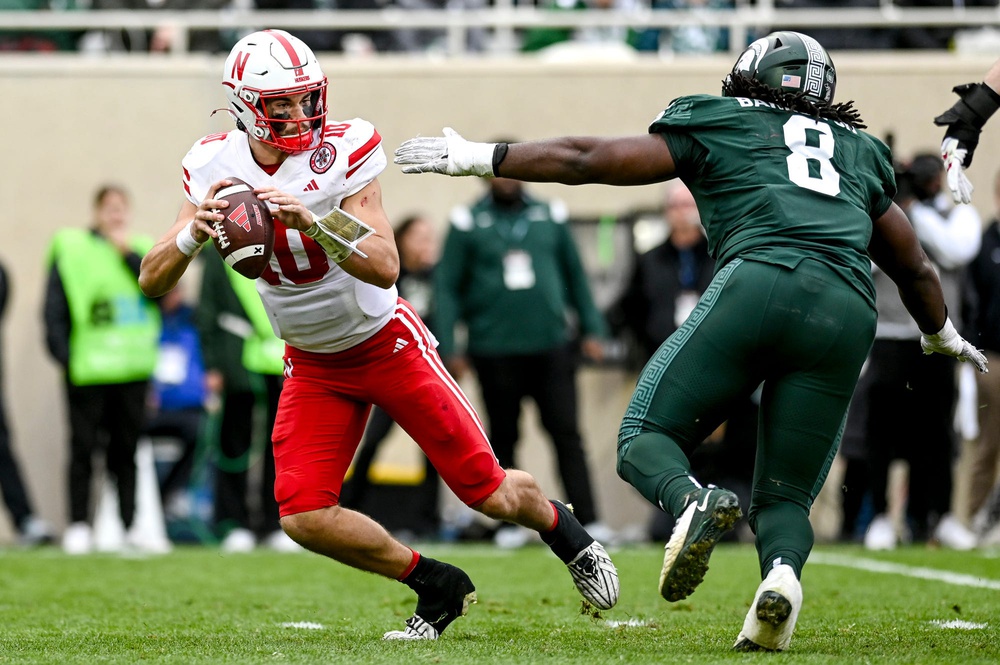 Nebraska football should have won the game against Michigan State, but can't get out of its own way. It also needs a QB.
I love Heinrich Haarberg, but Saturday was the last straw for me in terms of keeping him as the long-term starting quarterback.
Haarberg is probably the best option the Huskers have right now, but his three turnovers were the difference between victory and defeat on Saturday. The first interception should have been a touchdown but looked more like a punt, kicked in the wrong direction.
Haarberg also had two turnovers in the fourth quarter as the Huskers tried to rally from 10 down to win and each of his errors was unforced.
The 20-17 loss was regrettable because it's a game Nebraska could have easily won. Now, you can probably kiss the Big Ten West hopes goodbye. That was probably too ambitious anyway but this was the best chance for bowl eligibility and the Huskers blew it.
Nebraska football is Iowa with a running quarterback
The only difference between Haarberg and all the terrible quarterbacks Iowa has trotted out over the years is that they can't run. He did run 13 times for 55 yards but was terrible throwing the ball and that's against one of the worst pass defenses in the Big Ten.
Even though Nebraska allowed 20 points on Saturday, the defense is good enough to win the Big Ten West this year. But as we found out on Saturday, the quarterback just isn't.
Haarberg was 12-of-28 for 128 yards and two interceptions. He also lost a fumble and fumbled on the final drive when the ball was near midfield.
It's clear as day that Nebraska football needs to find a legitimate quarterback in the portal this offseason. Haarberg can still have a role as a runner, but he's holding this team back too much to stick with him next season.
Emmett Johnson needs more touches
Michigan State didn't grab a 10-point lead until the fourth quarter. I don't like to criticize play-calling but it felt like Nebraska threw the ball too much and gave it to Emmett Johnson too little.
It's clear that he's the best running back in the lineup right now. Anthony Grant has his moments and I don't mind both getting the ball, but in a close game like that, Johnson should have gotten more touches.
Besides, with the way the pass protection fell apart, it would been a better option anyway — too many drives were ruined by an early sack because this offense struggles to function in any type of passing scenario.
The offensive line was as bad as Haarberg
Haarberg struggled but most quarterbacks would if they were running for their life, which was the case for a good part of the day on Saturday.
Haarberg was sacked seven times by the Spartans. He was pressured a bunch too. Most of the time, the pressure seemed to be in his face instantly, which also led to some of the errant throws.
It was a bad day for the offense all around. You need the quarterback to play well, but it's hard to have that happen when the offensive line no-shows, which is what happened Saturday.
For More Nebraska content, follow us on Twitter, like our Facebook Page, and Subscribe to the Husker Big Red YouTube Channel. You can also find our podcast on Apple or Spotify.