Nebraska Football: Analyzing Matt Rhule's final assistant coach hires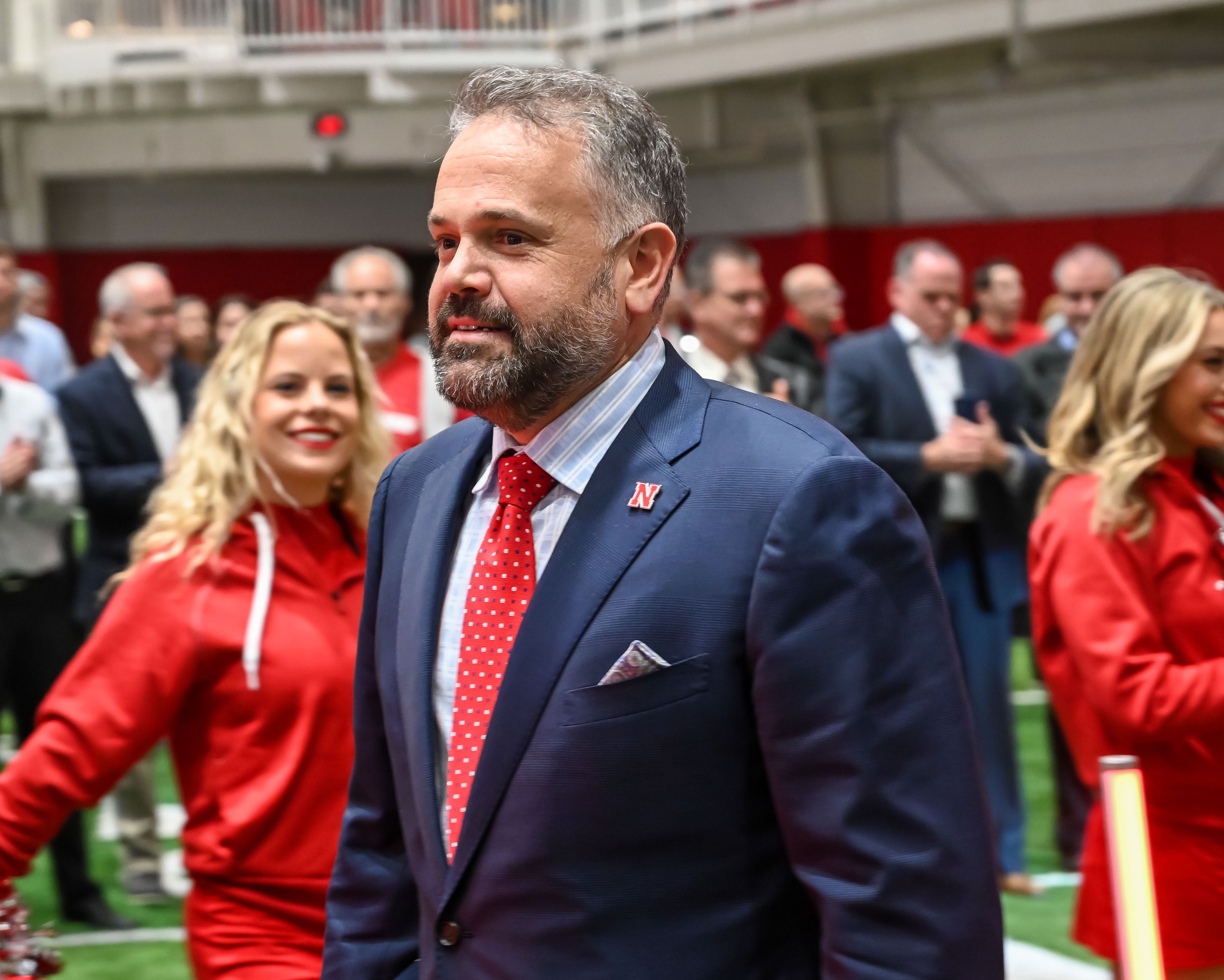 Nebraska football head coach Matt Rhule has now completed his coaching staff. Here's what to make of the hires reported Monday.
It took a little over a month, but Nebraska football finally has a complete coaching staff as the final additions to Matt Rhule's staff were reported on Monday night.
Nebraska still needed to hire a linebackers and wide receivers coach. Rob Dvoracek was a name we had heard at linebacker a few weeks ago, however, it was reported by the Athletic Monday that Rob Dvoracek will indeed coach linebackers and Garret McGuire will coach wide receivers.
Both are currently on the staff of the Carolina Panthers. Their season will end on Sunday in Week 18 and official announcements should follow soon after that.
Analyzing Matt Rhule's new hires
Dvoracek was a defensive assistant for Rhule at Baylor before spending two years at Lehigh coaching defensive ends and outside linebackers. He spent the last two seasons with the Panthers and was listed as a defensive assistant for the 2022 season.
Dvoracek played for Rhule at Temple and fits with the youth movement going on with the staff. He's 28 years old and that will certainly allow him to connect with kids on the recruiting trail. Another thing I like about his addition is that he's coached defensive ends and outside linebackers.
Nebraska football could potentially use him to coach the EDGE position. Some teams have different coaches for linebackers, outside linebackers, and their EDGE players. I'm not saying that's what the Huskers will do, but it's nice to have a guy with that versatility.
Garret McGuire has lots of ties to Rhule too. He's the son of Texas Tech head coach Joey McGuire and played quarterback under Rhule at Baylor. He's spent the past two seasons as an offensive assistant for the Panthers and is just 23 years old.
Yet, he's going to understand the offense. He'll also be able to recruit the state of Texas and as the son of a coach, you can bet he's been preparing for this role a long time. Spending two years in the NFL won't hurt and while I'd rather have a receivers coach who played receiver, former QBs coach the position all the time.
Rhule also believes in developing his staff. That's something that will need to happen with guys like McGuire, Dvoracek, and even Donovan Raiola. Staff development is almost as important as player development.
I like both of these moves and I'm excited to see what these guys can add from a recruiting perspective. But adding young, hungry guys from the NFL, with previous experience under Rhule makes a ton of sense.
I'm not big into grading hires or whatever, but I'd give these a solid B. Geoff Collins probably would have been a dream hire at linebacker and Mickey likely would have been WRs coach if all the legal stuff didn't go down.
Yet, Rhule made two solid additions and as a whole, I'm happy with his first Nebraska football coaching staff.
For More Nebraska content, follow us on Twitter, like our Facebook Page, and Subscribe to the Husker Big Red YouTube Channel. 
More crystal ball projections for Nebraska Football ahead of big weekend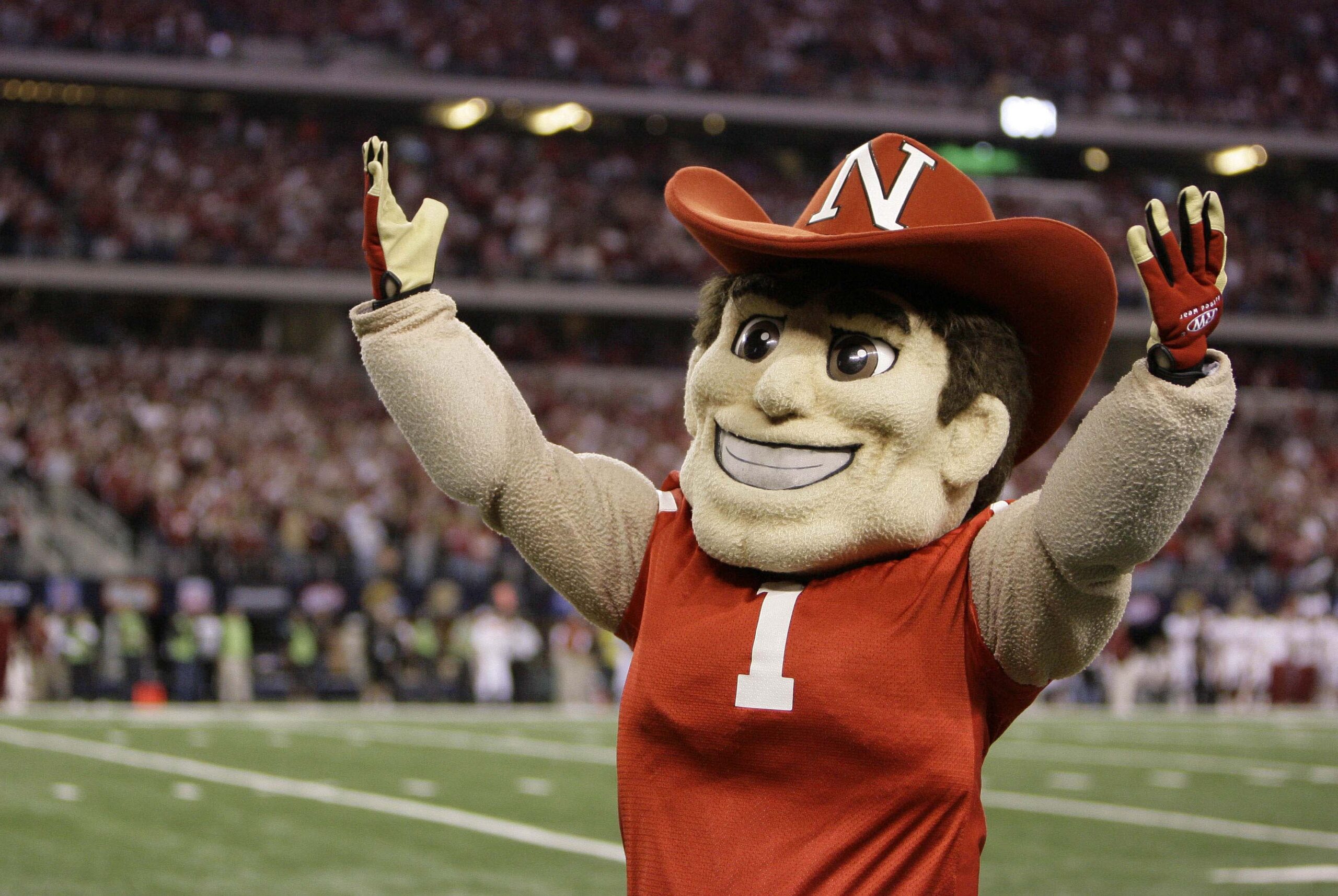 Nebraska football has landed two more crystal ball projections ahead of a huge recruiting weekend for the Huskers.
There are going to be 26 recruits on campus this weekend visiting the Nebraska football program. Five-star quarterback Dylan Raiola is the headliner, along with a number of other top-100 recruits and the top-ranked player in the state of Nebraska Carter Nelson.
It's one of the most impressive visit weekends for Nebraska football recruiting in a long time, maybe ever, but how many commitments are going to come this weekend if any?
I certainly wouldn't expect a pledge from Raiola. As much as Nebraska football fans might want that, the top-ranked QB in the 2024 class just scheduled an official visit in June with Georgia, the defending national champs. This is on the heels of another visit to UGA, so the Huskers need to recapture some momentum.
The key objective with many recruits will be getting them back for an official visit. Gatlin Bair is a name that comes to mind since the kid is ranked 40th overall in the 2024 class via 247 sports. He's visiting this weekend and if the Huskers got him back for an official visit in June, they'd have to feel good about their chances.
However, Nebraska football could land a couple of commitments this weekend. One candidate is three-star tight end Ian Flynt. He visited back in January, has family ties to Nebraska football, and just received another crystal ball projection for the Huskers. That's four total for the No. 456 overall recruit in the 2024 class (247 composite).
A commitment might not happen this weekend, but I'd look for a commitment date coming soon out of this weekend. Flynt is out of Texas and so is three-star offensive lineman Gibson Pyle, who also received a crystal ball projection on Friday (Flynt did too).
Pyle is 735th overall and he teased an announcement a couple of weeks ago but it didn't come. He's got six crystal ball predictions for the Huskers and that's another potential commitment to watch out for this weekend.
For More Nebraska content, follow us on Twitter, like our Facebook Page, and Subscribe to the Husker Big Red YouTube Channel. You can also find out podcast on Apple or Spotify. 
Nebraska Football welcoming Nebraska high school coaches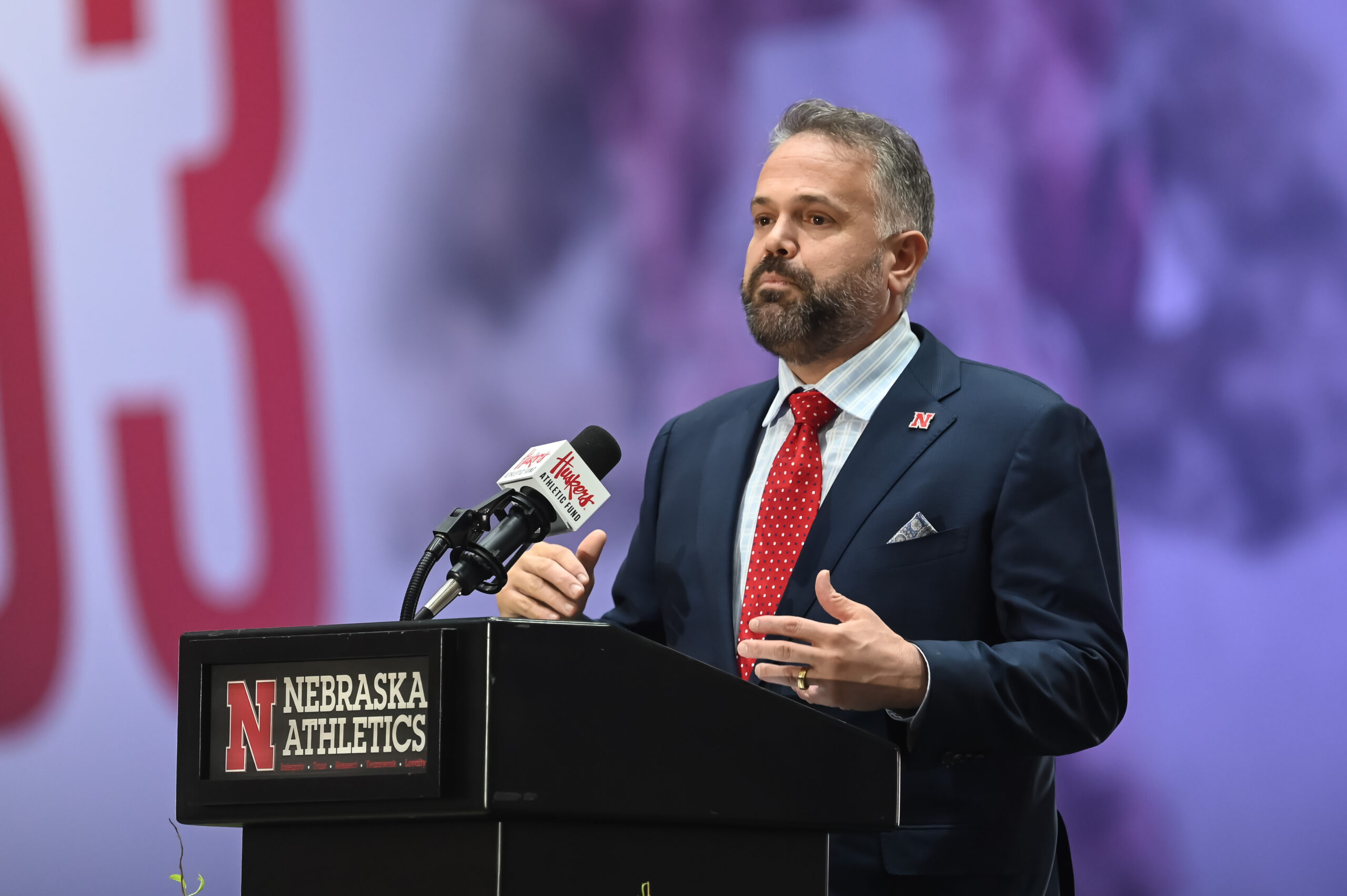 Nebraska football was busy on Thursday, as the first week of spring ball begins to wrap up. There was a ton of anticipation throughout the week, as players and fans got a first look at what this team could be like. Thursday, Several Nebraska high school coaches got their chance too, with many in attendance.
Omaha North's Larry Martin, York coach Glenn Snodgrass, and Papillion -La Vista South coaching legend Walt Olsen were there Thursday. In addition to the coaches, Lincoln Football Coaches Association president Mark Waller was also in attendance, per a report from Sam McKewon of the Omaha World-Herald.
It's easy to gloss over why this is important information. Nevertheless, the attendance of those particular people fits with the vision that Matt Rhule is trying to bring to the program.
This Nebraska football coaching staff wants to make the state of Nebraska a focal point in recruiting. Honestly, they should. There is a ton of talent in the state, and that should be able to continue with future classes.
Nebraska high school coaching staffs indicated they felt ignored by previous coaching staffs. The Scott Frost staff was just beginning to make inroads into the Nebraska high school circuit in 2022. Coaches such as Mickey Joseph were beginning to really build a fence around the state. Now, this current coaching staff looks to finish the job.
What better way to do so than to have Nebraska high school coaches at a practice? It's clear that Rhule and this coaching staff wants to make the state a priority. Having high school coaches at practices helps establish the pipeline early.
It's good to see this group of Nebraska coaches building connections with those in the state. It's something that should be able to serve them well. Establishing good rapport early is nothing but a positive. It's encouraging to see the state itself being addressed, and a focal point at that.
Nebraska Football: Tommi Hill returns to practice Thursday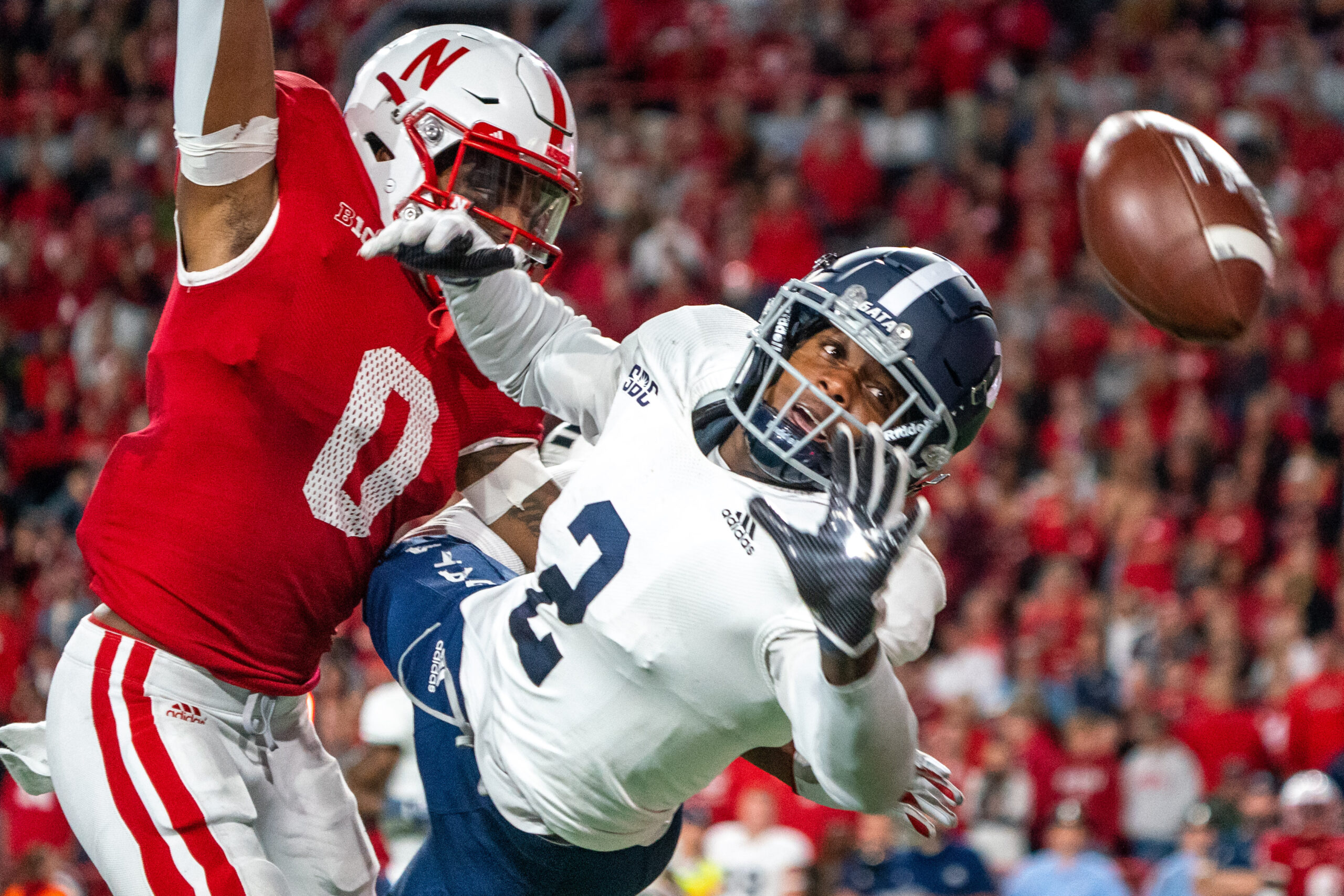 There was a lot of information to take in during Thursday's Nebraska Football practice, including the appearance of a player who was not practicing at the beginning of the week. Defensive back Tommi Hill returned on Thursday, adding more depth to the field, per a report from the Omaha World-Herald.
Hill played on both sides of the football for Nebraska last season. He started at defensive back, before moving over to wide receiver. It was a rough year for Hill, as it was for most of the defense. All told, he tallied 17 pass breakups and four deflections. He did not record any statistics as a wide receiver, though his speed made it an intriguing position move.
Whatever happened during the beginning of the week appears to be settled, as Hill was back at practice. He could very well be a major part of the defensive backfield, especially with Malcolm Hartzog potentially moving to safety. It would be more of a natural fit for Hill at the corner spot, as he has played the majority of his career in the defensive backfield.
At the very least, this gives another body for the huskers coaching staff to work with. Hill is one of the many players who are looking to bounce back after a difficult year last year. It will be interesting to what kind of role he will play, as Nebraska football has several options for personnel in Tony White's defense.
Hill's athleticism could land him a potentially big role in White's 3-3-5 defense.  As for now, Hill is just working to get back into the fold, as the defense begins to take shape.