Nebraska Football: 3 thoughts on commitments of Ethan Nation, Cameron Lenhardt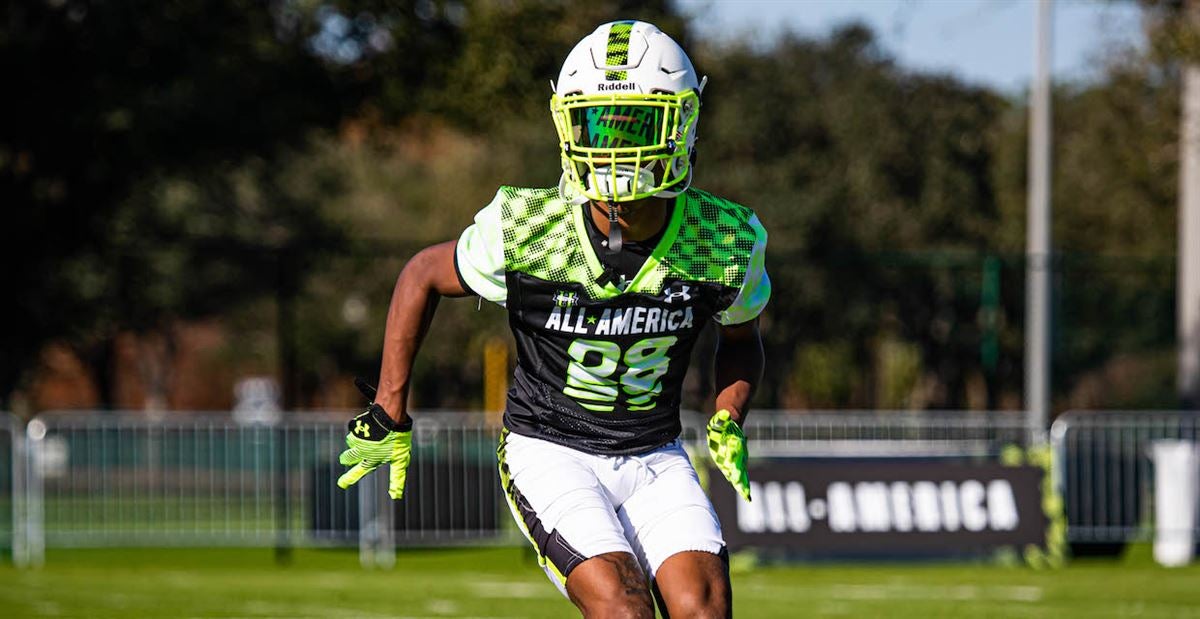 Ethan Nation and Cameron Lenhardt each committed to Nebraska football on Tuesday and here's what it means for the Huskers.
Tuesday turned out to be a big day for Nebraska football on the recruiting trail.
It's interesting because since Matt Rhule was hired as the head coach, the Huskers have had plenty of those, including Early National Signing Day.
Some people were down on the hire because of the way he recruited at Baylor, but to take a class that ranked outside the top 60 and do what he's done is impressive, to say the least.
The Huskers added two important commitments to their 2023 recruiting haul on Tuesday in four-star defensive end Cameron Lenhardt and three-star cornerback Ethan Nation.
We offer some thoughts on what each player can bring to the program and also what their additions mean for Nebraska football moving forward.
Another EDGE piece for Nebraska football
Cameron Lenhardt is listed at 6-foot-3, 250 pounds by 247 sports and he's ranked 308th overall in the 2023 class according to the 247 composite rankings. He might not be 6-foot-5 or 6-foot-6 as some of the best EDGE players but Lenhardt can rush the passer and he's actually a really versatile prospect.
Playing at IMG Academy, Lenhardt is going to be ready to contribute early. At least he should be. That program plays the best teams that high school football has to offer and in Lenhardt, Nebraska is getting a guy that's solid against the run and can even drop back in coverage.
He'll be an ideal fit for the 3-3-5 which is going to be very multiple. The Huskers aren't going to be linear on defense and they shouldn't be. Adding guys like Lenhardt who could stand up or put his hand in the ground and get to the quarterback is essential.
It was a big-time get for Rhule and a great way to close out the 2023 recruiting class, which is pretty strong on edge rushers which is important with the departures of Garrett Nelson and Ochaun Mathis.
Ethan Nation will out-play his recruiting ranking
Watching highlights of practice from the Under Armour All-American Game and seeing what Nation could do on the field makes me believe he should be a four-star prospect.
The 5-foot-11, 175-pounder took on some of the best wideouts in the 2023 class this week and definitely held his own. The 5-foot-11 might be generous in terms of height and teams probably overlooked him because of it.
Nation did have over 50 scholarship offers so overlooked probably isn't the right word. However, Nebraska football was one of the few programs still pushing toward the end. Some teams have strict requirements about height and things like that but there have been enough really good DBs at 5-foot-9 or even 5-foot-10 to believe it won't be an issue.
The coverage skills of the Peach State prospect aren't really in question. He's also made a lot of plays on the ball with 12 interceptions and 20 PBUs in high school. I love that and as a guy who can handle the slot or play on the outside, it wouldn't shock me at all if Nation got on the field sooner rather than later.
Moving on up
These commitments were significant in terms of the 2023 recruiting rankings. Nebraska football is now 25th in the 247 team composite rankings for 2023. That's a really impressive feat. Rhule was able to land some key players in the state of Nebraska and Lenhardt is his third four-star commitment in 2023 since his arrival.
Rhule was instrumental in landing four of the top five commitments in the 2023 class and did his part to keep Riley Van Poppel too — the other four-star commitment in this class.
Not only is the ranking solid but Nebraska football did well at some really key positions. It fortified EDGE and wide receiver, as well as a linebacker with Eric Fields and Dylan Rogers, and the secondary landed a really good haul with Nation, Rahmir Stewart, Dwight Bootle II, and Syncere Safeeullah.
The Huskers added some in-state offensive line prospects too and of course, getting a talent like Malachi Coleman was huge. All in all, it's hard to find many complaints with this group.
One thing to watch is whether Nebraska shows interest in any 2023 quarterbacks. Marcus Stokes is one name to watch but the Huskers might be all in on Dylan Raiola, which isn't a bad strategy at all.
For More Nebraska content, follow us on Twitter, like our Facebook Page, and Subscribe to the Husker Big Red YouTube Channel.