Top 5 recruiting targets for Nebraska Football in 2024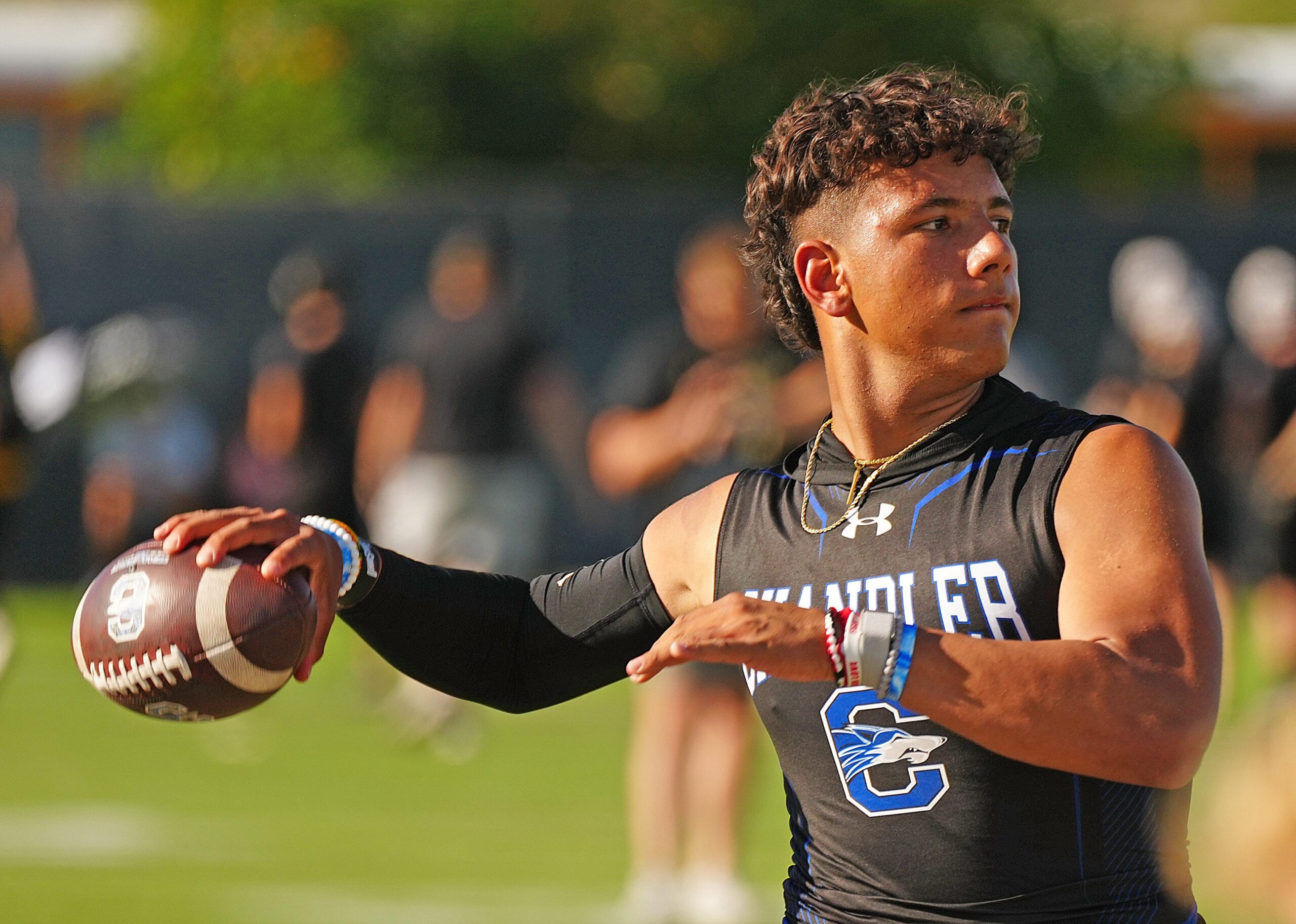 We are still a good seven months away from national signing day but here's a look at the top five recruiting targets for Nebraska football in 2024.
The 2024 recruiting class is the first full cycle for Nebraska football head coach Matt Rhule and so far, things have gotten off to a solid start.
Nebraska football has landed five commitments in the 2024 class and ranks 33rd overall according to the 247 Sports team rankings for 2024.
Roger Gradney is the only blue-chipper committed right now. A blue-chip recruit is a four-star prospect or better. You want that blue-chip ratio to be near 50 percent. That's what the top college football programs do.
Nebraska football isn't going to get there in 2024. But it's possible in the future. However, this 2024 class is still an important building block, and here are the top five targets on the board and where things stand in their recruitment.
5. Nathaniel Frazier, RB
Nebraska football needs to upgrade its skill positions. That means quarterback, running back, and wide receiver. The 2023 class was huge for the receiver position, especially with the addition of top-100 recruit Malachi Coleman.
Now, it would be great if the Huskers could land an impact running back like that. That became even more important with the transfer of Ajay Allen last week. He was a future starter and now, the position is a little murky in 2024 and beyond.
Nathaniel Frazier is ranked as the No. 92 recruit overall in the 2024 class via the 247 Sports composite rankings. He's the elite back Nebraska football could use and he did visit this spring. Frazier also talked about taking an official visit and Huskers' RB coach EJ Barthel visited him in California at Mater Dei earlier this week.
The Huskers just offered another running back in the 2024 class, so there are some other targets on the board, but Frazier is elite. He's got incredible speed and would make an instant impact in Lincoln.
USC is probably the favorite and we'll see if he comes back for an official visit, but for now, Nebraska football appears to be heavily in the mix.
4. Brandon Baker, OT
Speaking of players from Mater Dei, another priority target for Nebraska football in the 2024 class is Brandon Baker, the No. 1 offensive tackle and 32nd overall recruit in the 247 Sports composite rankings.
Baker is 6-foot-5, 285 pounds, and as elite as they come in terms of offensive lineman. The good news is that Baker has visited Nebraska football twice.
The bad news is that Baker is being recruited by a number of elite programs such as Oregon, USC, Michigan, Ohio State, Texas, and others. In addition to his visits to Nebraska, Baker made a couple of trips to Oregon this spring and the Ducks are the projected leader via the On3 prediction machine.
Baker would be a massive addition to the Nebraska offensive line. The Huskers haven't landed a potential first-round pick at that position in a long time and that's what Baker is – a sure-fire first-round talent.
3. Gatlin Bair, WR
When it comes to the 2024 recruiting class, Gatlin Bair is as elite as they come in my book. The 6-foot-2, 180-pound speed demon has been clocked running the 100 in 10.2. Bair is an absolute freak and despite being 91st overall in the 247 Sports composite rankings, the truth is, if he didn't live in Idaho, he'd be a five-star already.
The kid can absolutely fly. He's actually timing faster than Nyckoles Harbor, who was a five-star talent in 2023. Bair has more of a football background too. Last season, as a junior, he caught 73 passes for 1,073 yards and had 18 touchdown receptions.
Bair visited Nebraska as part of the March 25th visit weekend. He also announced that he will be taking an official visit to see the Huskers this summer, a well as putting them in his top five. Sean Callahan of Husker Online has also put in an expert projection for Bair to Nebraska.
The Huskers have a 90-percent chance of winning his commitment right now according to the On3 prediction machine and landing Bair, in my opinion, would be just as big as getting Dylan Raiola. The kid is that good.
Michigan might be the top contender but with where the Huskers sit, this is a must-land recruit in 2024.
2. Carter Nelson, TE
I've talked about how important Carter Nelson is to the Huskers 2024 recruiting class before and I'll say it again, he's just as important as Dylan Raiola.
I get that if Raiola came, he would add excitement and probably more talented players with him. However, long term, Nebraska football needs to lock down the state. The talent level is pretty solid over the next few cycles and it starts in 2024.
Rhule already got Malachi Coleman in 2023 and to me, Carter Nelson is the Coleman of the 2024 class — a kid that can't be allowed to leave the state.
Nelson is ranked 145th overall in the 247 Sports composite rankings and ninth among tight ends. He's also No. 1 in the state of Nebraska and has future star written all over him.
The top-ranked player in the state of Nebraska has also visited the Huskers a total of five times since Rhule was hired. The coaching staff has made frequent trips to Ainsworth too, including a trip this week. So Nebraska football is doing all it can to land one of its top priorities in 2024.
1. Dylan Raiola, QB
Until Raiola tells Nebraska football that he isn't coming, he's still going to be the top priority in the 2024 class. He's the No. 1 quarterback and a legacy.
Raiola does seem to be trending to Georgia though. The Bulldogs have the only official visit scheduled and while Raiola made two trips to Nebraska during the spring, he didn't make it for the spring game.
Nebraska football just visited Raiola earlier this week. So did Georgia. It seems like the list of contenders has narrowed to those two. Oregon has moved on and USC looks like it has too.
Nebraska is also hosting another 2024 quarterback for a visit in June, so the Huskers are starting to expand their quarterback board too. But this whole recruitment has been hard to read and in recruiting you never know until the fat lady sings and that hasn't happened quite yet. Even if she might be warming up.
For More Nebraska content, follow us on Twitter, like our Facebook Page, and Subscribe to the Husker Big Red YouTube Channel. You can also find our podcast on Apple or Spotify.