5 thoughts on Nebraska football following the bye week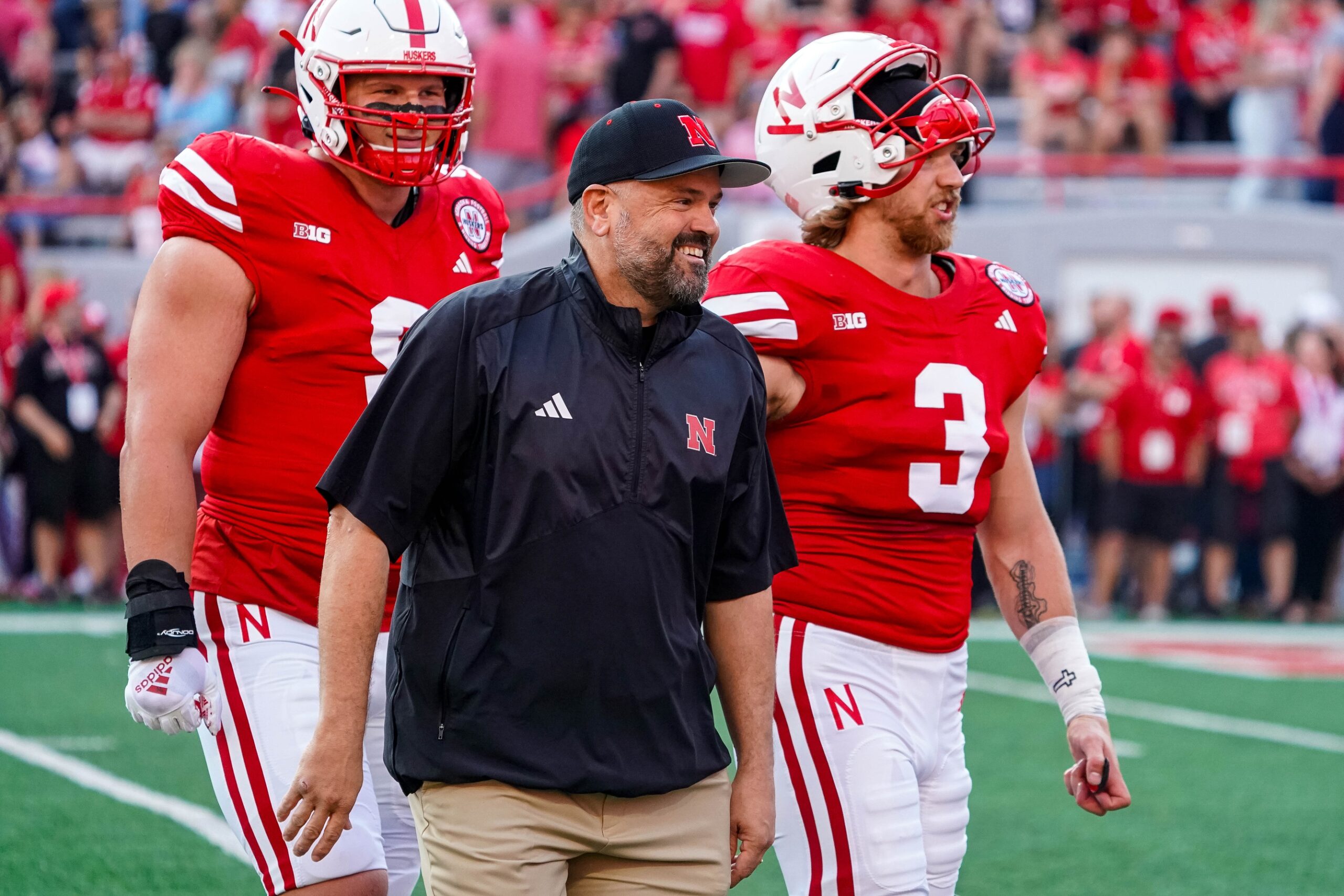 Here are five thoughts as Nebraska football is fresh off a bye week and will face Northwestern on Saturday.
Coming out of the bye week, Nebraska football fans should feel pretty good about where the Huskers stand in their quest to make a bowl game.
Also, in the Big Ten West.
Nebraska football got some help from Iowa over the weekend. Hopefully, the Huskers also got healthier. Northwestern comes to Lincoln next Saturday and coming out of the bye week, here are five thoughts for the Huskers with the rest of the season in mind.
Nebraska's goals are still ahead of it
Making a bowl game is the No. 1 game for this game, at least from a fan's perspective and that's definitely on the table. But following Wisconsin's first loss, the Badgers and Hawkeyes both have one loss.
I know Nebraska has only played three games, but it basically controls its destiny. Win out and this team would win the Big Ten West. I know that feels like a pipe dream.
Matt Rhule said the Huskers could win every game and lose every game. That's totally true. But if this team could win four of the next five games (realistic), my guess is that it would control its own destiny going into the Wisconsin-Iowa games to close out the season.
Just something to keep in mind.
Building on a positive start
Things got rocky at times for Nebraska, but what did you expect? Matt Rhule took over a program that hasn't played in a bowl game since 2016. It wasn't going to be easy.
The Huskers should have won the Minnesota game. They also should have been more competitive against Colorado and Michigan.
But they responded with a huge win at Illinois — the same Illinois team that won at Maryland on Saturday. The fact that Matt Rhule made his team practice the day after the Michigan loss, then turned around and beat Illinois, shows that players are buying in.
Things are heading in the right direction and the win over Illinois is why this team has momentum. However, in previous years, Nebraska would have lost that game. It was a baby step, but still a positive step forward.
Now, it's time to win two Big Ten games in a row.
We probably aren't done talking about quarterbacks
Jeff Sims could still have a role to play down the stretch. I assume he will be 100 percent after the bye week. Rhule has said he's looked good, but Heinrich Haarberg has impressed in his absence.
Haarberg is 3-1 as a starter. You'd also think he'd improve over the bye week with more reps and a chance to rest his body after taking so many hits from running the ball.
Sims is the better thrower, but right now, Haarberg is the better overall quarterback and as long as the coaches feel they can win with him, he'll get the nod.
I don't think it's done one way or another though.
Anthony Grant has to deliver
There isn't another running back on this team like Anthony Grant. He's got to stay healthy and he has to take care of the football.
The red-zone turnovers have been maddening. Rhule said that Grant can't play for Nebraska if he can't protect the ball and it's really getting to that point.
You hope that Grant will respond. Not only do you want the kid to succeed, but he's Nebraska's best chance of having a consistent ground game that doesn't rely solely on running the quarterback.
Grant nearly rushed for 1,000 yards last season. He's got the ability — he just needs to hold onto the ball.
Nebraska has an identity
One thing that should Husker fans feel good about is that Nebraska has something to hang its hat on. The Huskers, with Haarberg running a bunch, are one of the best-rushing teams in the country and one of the best at stopping the run.
They are playing great defense and running the ball. When Nebraska does that, like it did against Illinois, it will win — as long as it takes care of the ball.
The Michigan game was an outlier. But the Huskers have out-rushed every other team. They just need to protect the ball and if they can do that, a bowl game will happen.
For More Nebraska content, follow us on Twitter, like our Facebook Page, and Subscribe to the Husker Big Red YouTube Channel. You can also find our podcast on Apple or Spotify.