5 things we learned in Nebraska football win over Illinois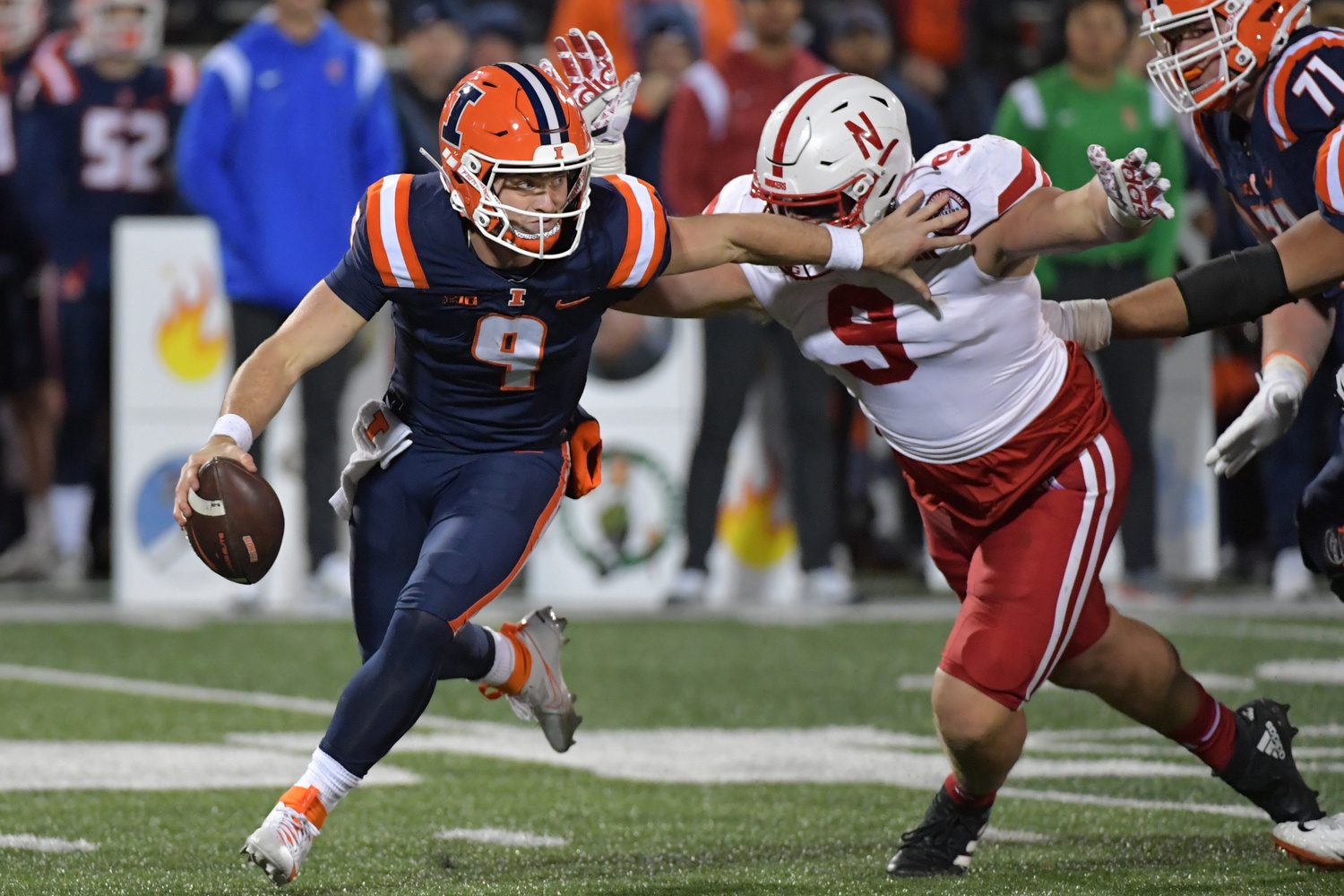 Matt Rhule got his first Big Ten win as Nebraska football head coach over Illinois and here are five things we learned about the Huskers.
I don't care that Nebraska football beat another 2-3 team, the win at Illinois was huge for the Huskers. It was also huge for head coach Matt Rhule.
There would have been plenty of negative chatter for the next two weeks about Rhule if the Huskers had fallen to 2-4 on the season, as well as 0-3 in Big Ten play.
Rhule knew the importance of this game and he knew it on Saturday. He forced his team to practice, full-go on Sunday and that strategy, despite a game just five days later, paid off.
Nebraska's 20-7 win over Illinois wasn't pretty. It wasn't perfect either. The offense has to figure out how to protect the ball and score more points in the red zone. Simple as that.
But Nebraska is damn good on defense, and that's where we begin as we look back at five things we learned in the Huskers win over Illinois.
Nebraska has a defense it can win with
Holding any Big Ten team to seven points on its home field is an accomplishment. Nebraska football didn't look great on defense on the first drive, allowing 23 rushing yards and allowing Illinois to advance the ball to the one.
However, Illinois rushed for negative two yards the rest of the game. The goal-line stand really seemed to spark Nebraska. The Huskers went down and got a field goal after that.
When it was all said and done, Illinois ran for just 21 yards. Frankly, if you hold any team to 21 yards rushing, even if Peyton Manning is playing QB, you're probably winning the game.
But this wasn't the first time the Huskers have put forth that kind of effort. Outside of Michigan's 250 yards, no other team has gotten over 100. Hell, no other Power-5 team (Colorado, Minnesota, and Illinois) has reached 60 yards rushing, which is a major improvement over recent years.
Nebraska also forced two turnovers, although one was on special teams. The pass defense was a little leaky, but Friday was a reinforcement that Nebraska has a legitimate defense — it might be the best in the Big Ten West.
Nebraska can win Big Ten games with Heinrich Haarberg
Like the win in general, Heinrich Haarberg wasn't perfect, but he was tough and he made enough plays for Nebraska to leave Champaign with a win.
Sure, he'd love that interception back. He also missed Malachi Coleman on a play that could have been a touchdown (at least a big gain) and overthrew Thomas Fidone on a key third down. It was also windy as hell.
Regardless, Haarberg sets the tone with the way he runs the ball. He ran 18 times for 85 yards. Haarberg runs with attitude — the Kearney kid just makes plays such as the fourth-down conversion to Alex Bullock.
Haarberg has started four games and thrown two interceptions. He's willing to do what it takes on the ground and he's going to improve as a passer. I say the Huskers keep rolling with him.
Sunday practice paid off
The Sunday practice felt like a fourth-down decision to me. If the Huskers won the game, it would be praised, but if they lost, it would have been questioned.
However, after listening to the players after the game, it was a good call by Rhule. This team needed a wake-up call — a sign that 45-7 wasn't going to be acceptable. Rhule delivered that message with a physical practice on Sunday and players said during post-game that "Play like Sunday" was a constant talking point on Friday night.
Rhule is building a tough-ass team and you have to love it as a Nebraska football fan. Illinois out-toughed Nebraska in the last two wins and the Huskers turned the tables on Friday night.
Fumbles are still a problem
Anthony Grant left the game with an injury and who knows how long he'll be out. That leaves Emmett Johnson as the next man up. Yet, he fumbled on Friday night, as did Grant.
Nebraska has 12 fumbles now, which is an average of two per game. It also leads the FBS. That has to change and the bye week will be a good chance to focus on ball security.
If it wasn't for the fumble against Minnesota, Nebraska would be 4-2 right now, plus 2-1 in the Big Ten West. The fumbles have cost the Huskers one game already this season and if they want to reach a bowl game, they can't allow it to cost them another.
Thankfully, the Blackshirts dominated on Friday night, and the fumbles could have led to another heartbreaking loss. It has to be fixed.
A bowl game is very realistic
This felt like a defining moment in the quest for a bowl game. Illinois isn't the same team that nearly won the Big Ten West last season but these are the kinds of games Nebraska hasn't won with any consistency the past decade.
Nebraska should be 2-0 against the Big Ten West. That leads me to believe this team can win some games in the division. There's still Maryland and Michigan State outside the division, but every game on the schedule is winnable when you have a defense like Nebraska's.
I'm worried about the running game, especially if Grant is out. It will put even more pressure on the quarterbacks. Yet, we're just going to have to live with the fact that offense might be ugly at times.
As long as the Huskers can take care of the ball, and convert their red-zone chances — something that has killed them in all three losses — they can win a lot of games.
For now, enjoy the bye week and look ahead to the chance to go 4-3 against Northwestern in two weeks.
For More Nebraska content, follow us on Twitter, like our Facebook Page, and Subscribe to the Husker Big Red YouTube Channel. You can also find our podcast on Apple or Spotify.