5 takeaways from Nebraska Football spring game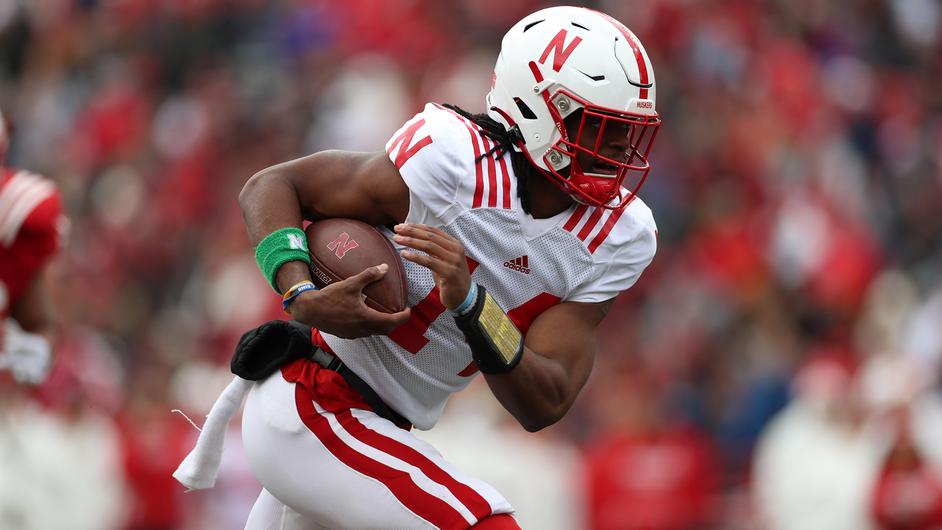 The Nebraska football spring game is now in the books and here are five takeaways for the Huskers.
It was a perfect day for the Nebraska football spring game. The sun wasn't really shining but it sure felt like fall and it was great to start the day with a give to the fullback to honor former head coach Frank Solich.
In terms of the action on the field, the White team beat the Red team 21-7. We'll have lots of coverage in the coming days but here are five takeaways from the first Nebraska football scrimmage under Matt Rhule.
The defense won the day
As we predicted, the defense was the sharper unit for Nebraska football on Saturday. There were a few fumbles and also a defensive touchdown that would not have counted had there been replay.
Still, the defense did what it's supposed to do: force turnovers. It also did a great job on the first two drives of holding the first-team offense out of the end zone. You aren't going to stop everyone in college football, but limiting teams to three instead of six can be the difference between winning and losing.
I was also impressed by Tony White. He called a bunch of pressures, he mixed it up and he played a lot of youngsters up front, which proved to be a good thing on Saturday.
All in all, the defenses gave up two touchdowns, a 2-point conversion, and two field goals. It was a good day all around.
Jeff Sims looks like the real deal
Sims started the game really solid and outside of a botched snap, he was pretty smooth. He showed accuracy down the field and made good decisions with the football. He didn't run as much as I think he will during a normal game, but he executed the QB draw to perfection.
In short, Sims looked like a starter. I don't worry too much about numbers in the spring game. However, I think he's going to be the starter for Nebraska football in the fall.
However, I wasn't impressed with the other QBs. Henrich Haarberg ran the ball well but didn't have a great day throwing the football.
I still don't see a viable backup and if Casey Thompson left in the transfer portal and Sims got hurt, the Huskers would be in the same boat as last season, trying to win Big Ten games without a legitimate Big Ten quarterback.
Haarberg can get there I think, but he's not there yet so Rhule needs to do his best to keep Thompson and Sims on the roster heading into next season.
Billy Kemp will catch about 70 balls in 2023
I know one thing after watching the spring game, Billy Kemp is going to lead Nebraska football in receptions next season. That seems pretty clear. He was outstanding on Saturday and while he didn't catch a touchdown pass, he made multiple explosive players and hauled in a 2-pointer.
Some other guys will need to step up and fill the void left by Trey Palmer, but Husker fans have to feel good about what they saw from the former Virginia transfer.
Nebraska football running game was impressive
I don't have the final numbers, yet they aren't needed to know that the running game was impressive on Saturday. I thought the defensive line held up well at times too.
However, with a pretty thin offensive line group, you had to feel good about the play up front. Hopefully, Turner Corcoran is Ok. Outside of that, the hogs played well. Bryce Benhart really did look good. He looks leaner and more mobile. He did a good job of getting to the second level all day.
Marcus Satterfield also did a nice job of callings plays to benefit those guys. I loved the max protection call which led to a long completion down the field to Kemp. More than anything, I feel good about all five running backs and feel like Anthony Grant, Gabe Ervin, or Ajay Allen are all good enough to start.
The freshmen D-line were impressive
Princewill Umanmielen burst onto the scene on Saturday with multiple tackles for loss and a sack in his Nebraska football debut. However, the four-star defensive end from Texas wasn't the only freshman who turned heads.
Cameron Lenhart also had a really nice day. There were multiple times he got quick pressure on the quarterback and there was one instance where the quarterback avoided him, otherwise, it would have been a sack.
Maverick Noonan was also able to get in the backfield. Jimari Butler and MJ Sherman had their moments too, but I came away impressed with the early enrollees on the defensive line. It was notable that they played with the No. 1 defense, and had an impact. I would expect all three to do the same with real bullets start flying in the fall.
For More Nebraska content, follow us on Twitter, like our Facebook Page, and Subscribe to the Husker Big Red YouTube Channel. You can also find our podcast on Apple or Spotify.