3 thoughts on commitment of Daniel Kaelin to Nebraska Football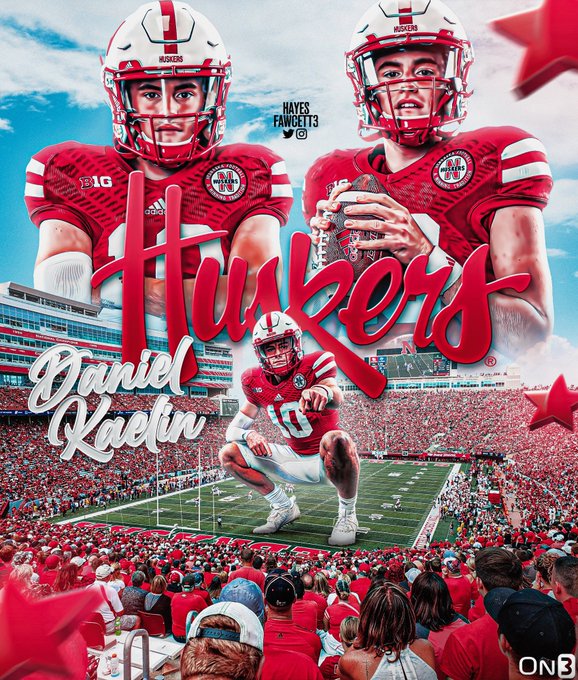 Nebraska football landed a massive commitment on Saturday from quarterback Daniel Kaelin and here are three thoughts.
It's crazy to think that just a few days ago, lots of Nebraska football fans were panicked about the quarterback position, especially as it pertained to the 2024 recruiting class.
However, one decommitment and a commitment from the top quarterback in the state for the 2024 class, Daniel Kaelin, has eased that concern.
You wondered if Nebraska football would be able to jump back into the mix after losing out in the Dylan Raiola sweepstakes. But Matt Rhule must have done a masterful job in this recruitment. Plus, it's clear that Kaelin really loves Nebraska football, which makes me love his commitment even more.
— Daniel Kaelin (@DanielKaelin5) May 20, 2023
Turning this program around means something to him and getting his commitment is huge for Nebraska football. It's hard to understate the importance and here are three thoughts on Daniel Kaelin to Nebraska.
Long-term stability at QB for Nebraska football
The transfer portal is a fine option. Jeff Sims should be a really solid player for Nebraska football next season, but the Huskers needed to land a starting-quality quarterback in the 2024 class and they did that in Kaelin.
I don't really care that he's ranked as a three-star quarterback in the 247 Sports composite rankings, he's a pretty polished kid and I absolutely believe he'll have a chance to be a multi-year starting quarterback for the Cornhuskers.
Kamari McClellan was another option and Nebraska hadn't even offered yet. The Huskers wanted to see him throw first, compared to Kaelin, who was re-offered without hesitation when Rhule took over.
Rhule told Kaelin he wanted to keep him in the state according to an interview Kaelin did with me back in December. The recruitment of Dylan Raiola got in the way a bit, but it all worked out and it's a perfect match for both sides.
If Sims is the starter for two years, Kaelin could take over after a year of seasoning and has the potential to be the guy in 2025, which is huge for the Huskers.
A massive commitment in more ways than one
Landing Malachi Coleman was probably the biggest recruiting win so far of the Matt Rhule era, but the commitment of Kaelin is really close.
It looked like Coleman was going to choose Colorado before Rhule met with him and was able to turn the tide. Then, after suffering a huge disappointment in the Raiola sweepstakes, Rhule and the Huskers were able to flip one of the top players in the state at the game's most important position.
The quarterback board wasn't looking great, because so many of the top options have come off the board. With Kaelin included, five 2024 quarterbacks committed on Saturday, so the pickings are slim.
Had the Huskers allowed a quality quarterback to leave the state without a commitment, it would have been a black eye. Instead, Rhule got it done and landed the best quarterback commitment for Nebraska in years.
A positive impact on Isaiah McMorris and Dae'vonn Hall?
It's always hard to tell how landing one recruit is going help with others, but the Huskers are targeting two of Kaelin's teammates — Isaiah McMorris and Dae'vonn Hall — and landing their quarterback certainly can't hurt.
Both players play wide receiver and are top-5 recruits in the state in the 2024 class according to the 247 Sports composite rankings. Each is slated to take an official visit to Nebraska on the weekend of June 23rd and my guess is that Kaelin will be taking his official visit that weekend too.
It would be smart, especially with top target Carter Nelson visiting that weekend. All three of the top pass-catching targets would be on campus with the committed QB. That sounds like a big positive for the Huskers.
Every recruitment is different, so it's hard to predict anything with McMorris and Hall. However, Nebraska football was already trending in the right direction with those two, and now, the Huskers have real in-state momentum.
For More Nebraska content, follow us on Twitter, like our Facebook Page, and Subscribe to the Husker Big Red YouTube Channel. You can also find our podcast on Apple or Spotify.