Nebraska football: 3 takeaways from a win so ugly it was beautiful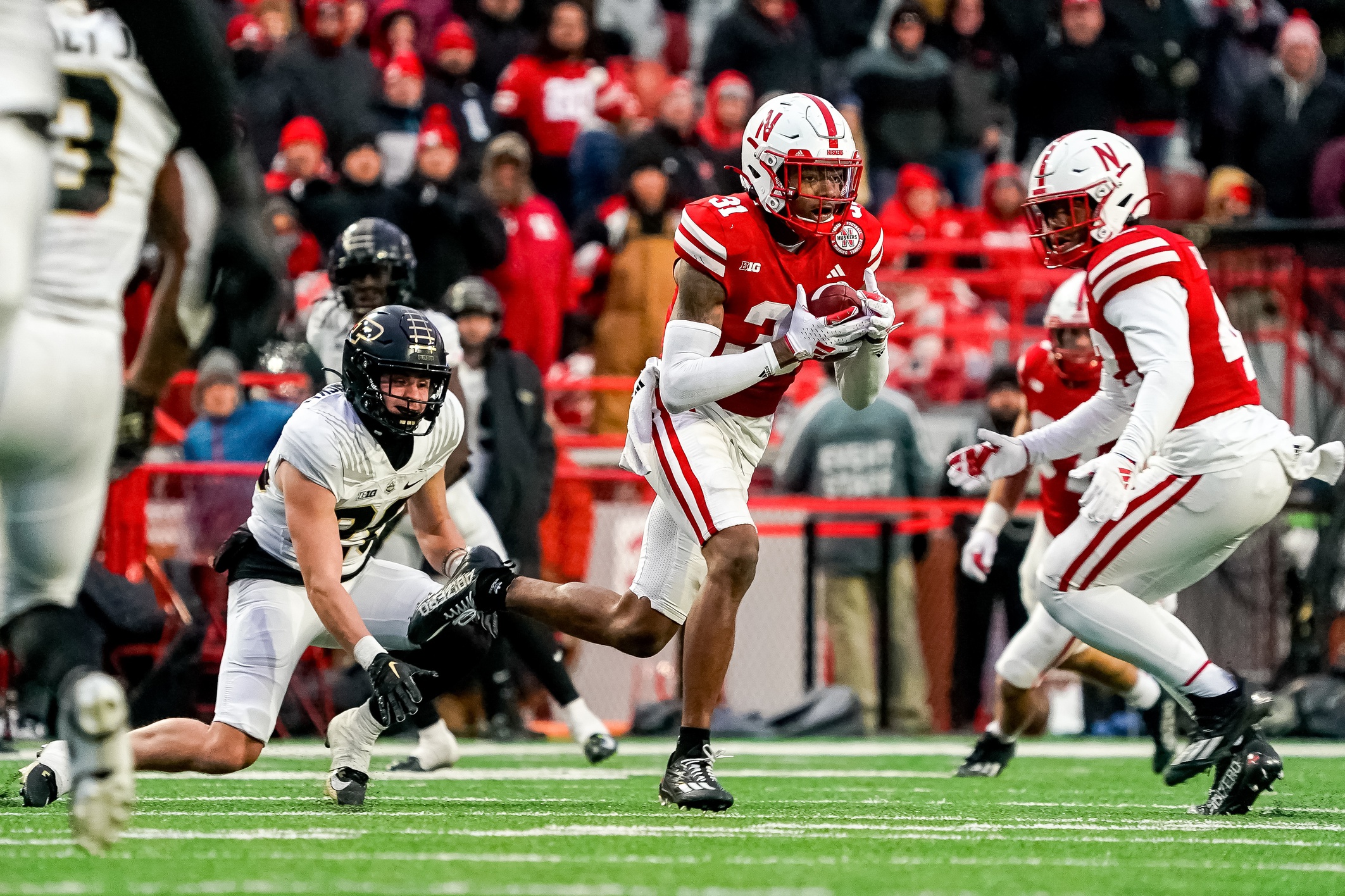 Nebraska football won its fifth game of the season on Saturday. It was ugly, but it was also beautiful.
After the 55-yard field goal by Tristan Alvano, I turned to my wife and said, "I think Nebraska is good again."
Nebraska fooball promptly fumbled the ball twice, the second of which allowed Purdue to turn a 24-point deficit into a 24-14 ballgame.
Nebraska football fans went from wondering if there was going to be a shutout, to wondering if the Huskers would find a way to win the game.
The first time since 2012 the #Blackshirts held an opponent to less than 100 passing yards and 100 rushing yards. 💪☠️🙌 https://t.co/Xnv5qpl8ZN

— Nebraska Huskers (@Huskers) October 28, 2023
The offense had turned it over four times and was facing a third-and-six. But in the most beautiful dagger you'll ever see, the offensive line plowed open a hole and Emmett Johnson went 28 yards for a touchdown to seal the 31-14 win.
Game over. One win from bowl eligibility.
Saturday at Lincoln Memorial Stadium felt like it was supposed to feel.
The defense was dominant — the crowd was electric and the Huskers won by three scores.
It was far from perfect. At times, you wondered if the curse still existed. But once again, this team found a way to win a game and Matt Rhule looks like a curse-breaker.
Here are three takeaways from the Huskers' third straight Big Ten win.
This is the best defense since the days of Suh
There's no reason to bury the lede about Nebraska's win: The defense absolutely dominated and if the offense didn't fumble like 10 times, Purdue would have been blanked.
Purdue came in with the No. 4 passing attack in the Big Ten and was held to 99 yards. Nebraska football sacked Hudson Card four times, pressured him on what seemed like every pass, held him to an average of 3.12 yards per pass attempt, and forced three turnovers– that's elite by any definition.
Tommi Hill picks it off. ❌@hilltommi13 x @HuskerFootball

📺: FS1/@CFBONFOX pic.twitter.com/3oGrxRU4ol

— Big Ten Football (@B1Gfootball) October 28, 2023
Tommi Hill has three interceptions in two weeks and just continues to make plays. I guess the previous staff was right about him being a potential NFL player at defensive back and suddenly, it feels like Nebraska has quite a few including Isaac Gifford and Quinton Newsome.
The Boilermakers scored 44 points against Illinois, but Nebraska limited them to 195 total yards and 95 rushing yards as well as 10 first downs. It was the first time since 2012 that the Huskers have limited a team to under 100 yards rushing and passing.
It was a defensive clinic and I haven't had this much fun watching Nebraska play defense since the days of Ndamukong Suh.
Will the fumbles ever stop?
If Nebraska football didn't fumble so much, it would be 6-2 and leading the Big Ten West. The Huskers should have won Week 1 and tried their best to give the game away on Saturday.
Jeff Sims was even inserted after two fumbles from Heinrich Haarberg. Sims responded by fumbling (again) — a play that led to a defensive touchdown.
Thankfully, Nebraska recovered two onside kicks and the offensive line was able to salt away the win. Nebraska did run for 155 yards. Haarberg also had two touchdown passes including the 73-yard bomb to Jaylen Lloyd.
🚨 First career TD 🚨

Jaylen Lloyd was 𝘸𝘪𝘥𝘦 open on this one. 👀@LloydJaylen x @HuskerFootball

📺: FS1/@CFBONFOX pic.twitter.com/86q1QN2VdF

— Big Ten Football (@B1Gfootball) October 28, 2023
It's clear to me that Haarberg has to be the quarterback going forward. But this team has to figure out how to hold onto the football or it's going to sink a very real opportunity to win the Big Ten West.
That's not a pipe dream anymore. Nebraska might really be the best team.
Nebraska football special teams were huge
As good as the defense was, Nebraska football doesn't win this game without an elite effort in the kicking game. Ed Foley has done a spectacular job.
Tony White has been amazing, but the improvement in the special teams has been nearly on par with the defense. Nebraska blocked a kick on Saturday and returned it for a touchdown.
HERE COME THE HUSKERS 🗣️@HuskerFootball BLOCKS THE FIELD GOAL AND TAKES IT TO THE HOUSE pic.twitter.com/G3Z0puqNfF

— FOX College Football (@CFBONFOX) October 28, 2023
Tristan Alvano also buried a 55-yard field goal, which makes the coaching staff look really smart for sticking with him despite some early struggles. He looks like the next Alex Henrey and he'll be around three more years.
Alvano with a boot from 55 yards! 🦵@HuskerFootball pic.twitter.com/Dgxh5q7YP7

— FOX College Football (@CFBONFOX) October 28, 2023
I know there were two fumbles on special teams. That's an issue for the entire team. Alex Bullock also needs to do a better job of catching punts, but without those impact plays that led to 10 points, it might have been a different outcome on Saturday.
Instead, the Huskers are playing to become bowl-eligible next week.
For More Nebraska content, follow us on Twitter, like our Facebook Page, and Subscribe to the Husker Big Red YouTube Channel. You can also find our podcast on Apple or Spotify.