5 things we learned from Nebraska football win over Purdue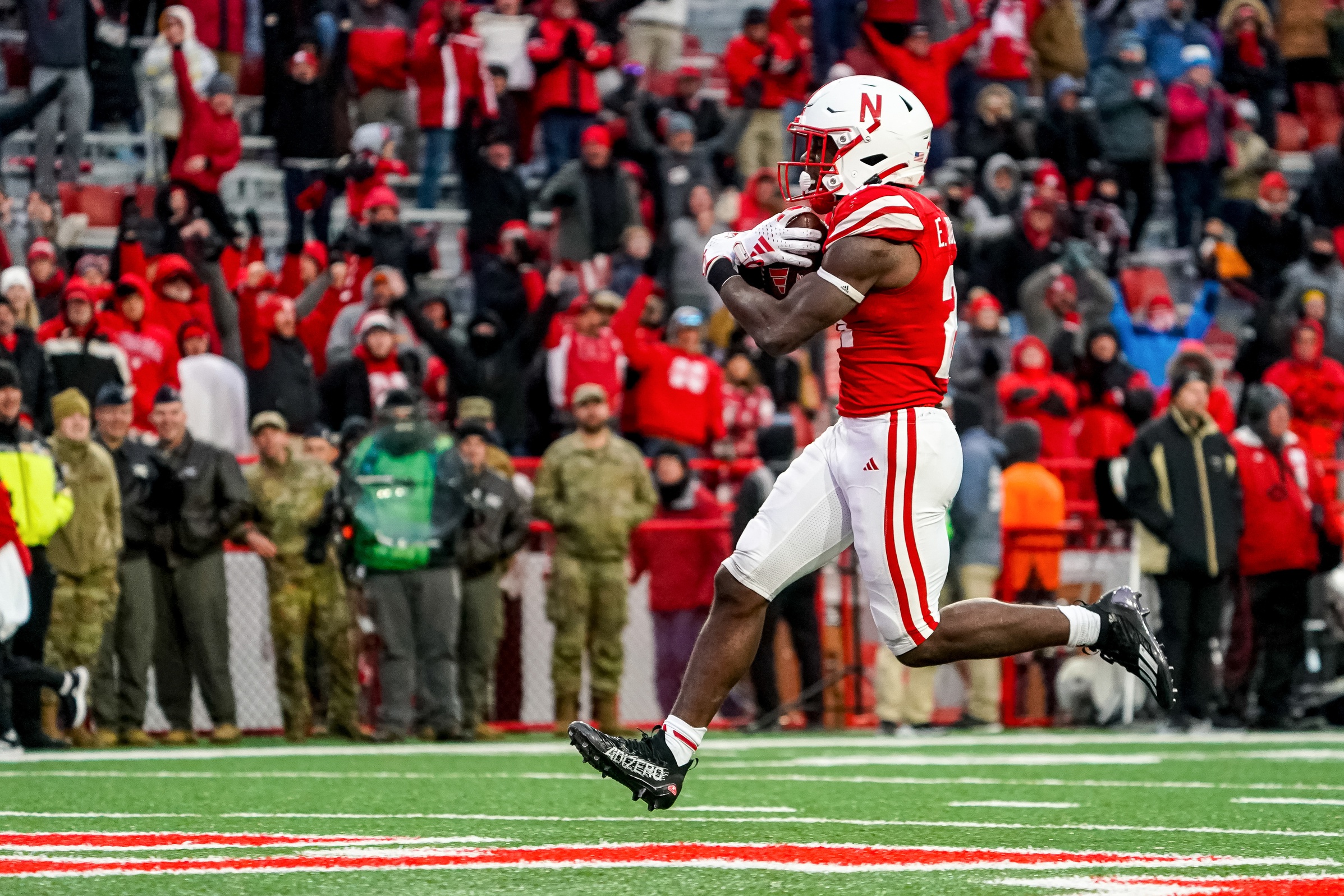 Matt Rhule has Nebraska football contending in the Big Ten West and here are five things we learned in the win over Purdue.
It's almost November and Nebraska football is tied for first place in the Big Ten West. I know there's a long way to go and the Huskers have a lot of work to do, but that alone is amazing.
Matt Rhule has exceeded my first-year expectations. Following Nebraska football's third straight win on Saturday, a fan yelled at Rhule, "One more win" as he ran off the field.
Rhule told the media, "I want more than one."
How about all four?
The Big Ten West is there for the taking, as long as this team can learn to take care of the ball. This Nebraska defense is something special and Saturday felt like one of the old days at Lincoln Memorial Stadium.
Suddenly, the Huskers have won three in a row. This team has warts and is far from perfect, but here are five things we learned in the win over Purdue.
Nebraska football can win the West
I'm not ready to make any predictions, but this team can finish atop the four-team scrum to reach the Big Ten title game. The next two weeks will be key. Nebraska plays at Michigan State this week, before a home game against Maryland.
Then, you have a road trip to Wisconsin before the annual Black Friday game at home against Iowa. Win two of the next three, as long as one is against the Badgers, and the Huskers could control their own destiny in that final game.
The fumbles are a problem. Frankly, Nebraska would be 6-2 and alone in first if it had been able to close out the game against Minnesota. But this defense — it's spectacular.
I said last week, I thought this was the best defense in the Big Ten West. After holding Purdue to under 100 yards passing and rushing — 195 yards total — which was the first time since 2012, there's no doubt this defense is good enough to carry this team to the West title.
Iowa and Wisconsin are both terrible on offense too. Minnesota is Minnesota, but Nebraska might have the best single unit of any in the Big Ten West — and the head coach — is no longer a liability.
He's a strength.
Special teams were special
The defense was the biggest reason that Nebraska football beat Purdue, but there were some special moments in the kicking game too. There were the two fumbles — which again have to be fixed — but the Elijah Jeudy block that was returned 68 yards for a score by Quinton Newsome changed the game.
The high-five Tommi Hill gave him before the end zone might as well have been from every fan in Husker Nation. Legitimately, that was the best Nebraska football moment I've had in who knows how long.
I loved seeing Newsome get the scoop and score too. He was incredible on Saturday and has been all season. It would have been easy for him to transfer or go pro. Instead, he stuck around and was rewarded.
The coaching staff was also rewarded for its faith in Tristan Alvano. Rhule never wavered in his belief and Alvano drilled a 55-yarder in the wind. The kid has ice in his veins and it feels like the Huskers have found the next Alex Henrey. Best of all, he's only a freshman.
These freshmen are pretty damn good
You have to give Matt Rhule and his staff credit for the job they did in the 2023 recruiting class. Even though he only had a couple of months to get it signed, a number of players have made early contributions.
Last week, Malachi Coleman caught a 44-yard touchdown. This week, it was fellow in-state freshman, Jaylen Lloyd who hauled in a 74-yard touchdown reception on the same option belly pass that Coleman got open on last week. Jaidyn Doss even had a catch for 16 yards and Coleman drew a PI.
They aren't the only ones making plays either. Redshirt freshman Emmett Johnson had over 70 rushing yards for the second straight week. His 28-yard run was the dagger too.
Alvano is another freshman who's made an impact, as well as Cameron Lenhardt, Princewill Umanmielen, and Riley Van Poppel (all on the defensive line).
Nebraska has lots of veterans. But this defense doesn't have many seniors and the way the freshmen are producing gives me a lot of hope for the future.
Huskers need to stick with Heinrich Haarberg
Nothing against Jeff Sims, but I don't think we need to see him under center again for the Huskers. Not as long as Heinrich Haarberg is healthy.
I understand where the coaching staff was coming from taking him out. You can't fumble the ball and he did it twice in a row. Then, Sims did the same thing. Nebraska won a game 31-14 with four turnovers. All of them were fumbles and three lost fumbles by the quarterback.
When you run the QBs 21 times, there are bound to be a few more fumbles but I believe Nebraska football has 24 now. That's insane. It can't continue.
But Haarberg also had some great moments on Saturday. Not only did he connect with Lloyd on the bomb, but he engineered a 15-play, 87-yard drive that took over eight minutes. He finished 6-for-11 for 122 yards and two touchdowns.
It might not be perfect but Haarberg is the best option Nebraska has right now and they need to ride him as long as he's healthy enough to play.
The offensive line held up well
A big question going into the Purdue was how would the offensive line hold up. Nebraska football was down three starters. Teddy Prochazka gave up some pressures but I thought he held his own at left tackle. He certainly didn't stand out as a wart and none of the new starters did.
The running game had some struggles but Nebraska still finished with 155 yards on the ground and Purdue, which ranked third in the Big Ten, got just one sack.
The run blocking could have been better at times — the pass protection too. But if these guys can stay healthy, the Huskers should be just fine going forward, especially when Nouredin Nouili is able to return from injury.
Saturday was a step in the right direction, which is a good sign going into November.
For More Nebraska content, follow us on Twitter, like our Facebook Page, and Subscribe to the Husker Big Red YouTube Channel. You can also find our podcast on Apple or Spotify.