Final thoughts on Nebraska Football spring game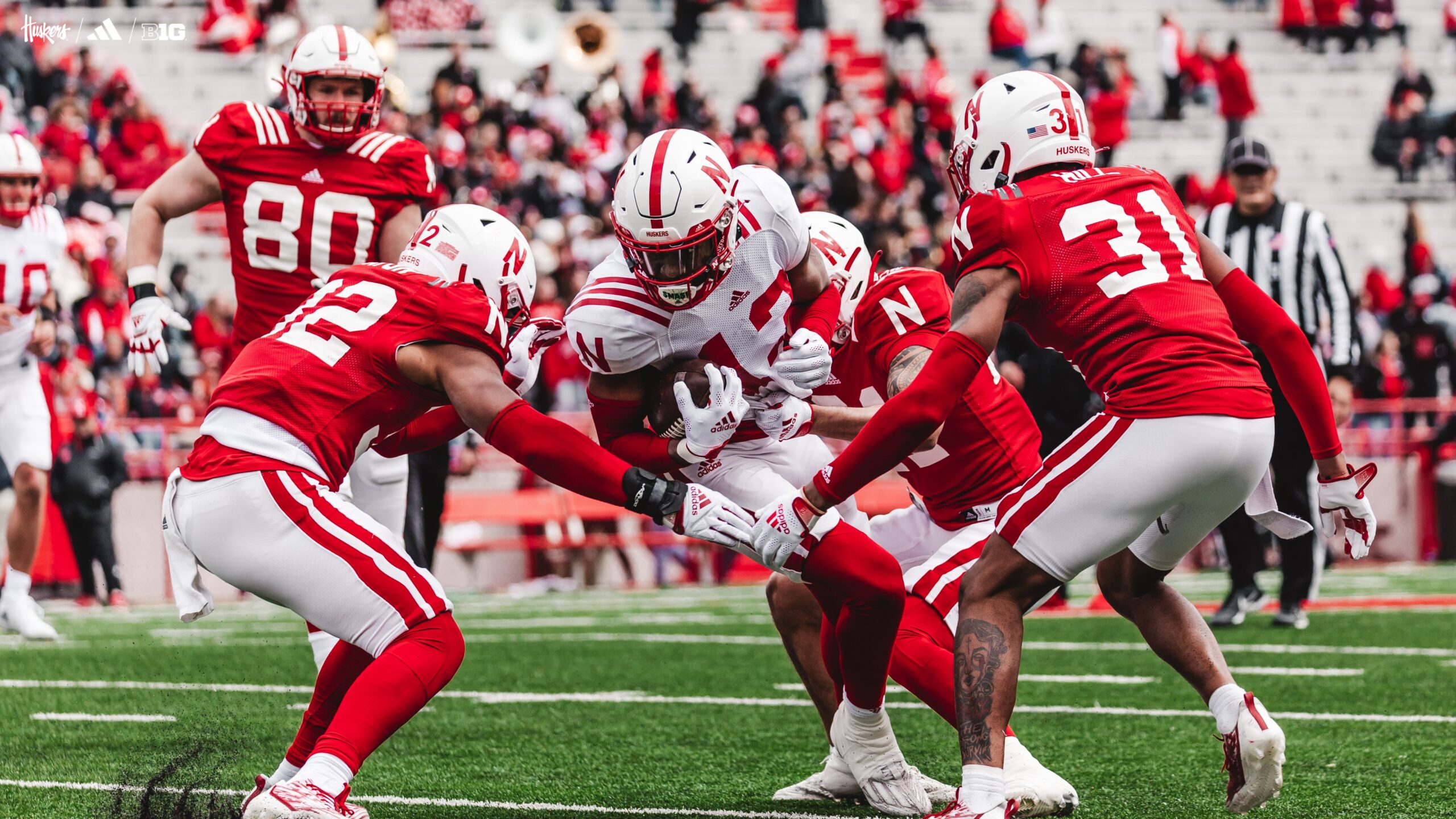 Here are some final thoughts on the Nebraska football spring game and the entire weekend that was for the Huskers.
Nebraska football played its first spring game under new head coach Matt Rhule on Saturday and more than 66,000 fans showed up to watch.
Plenty more watched on TV. It was an event and became a memorable affair when the Huskers decided to honor former head coach Frank Solich, who was the last man to lead Nebraska football to a conference title (1999).
The first play of the scrimmage was a give to the fullback — the former position of Solich — and it was perfect. Things weren't perfect on the field, but things never are in the spring.
Still, there were a lot of encouraging signs, and here are some final thoughts on the Nebraska football spring game.
Don't overreact about anything
Some Nebraska football fans already need to be talked off the ledge. I saw some talking about how they think the Huskers are only going to win 3-4 games next season.
At the same time, other fans were over the moon about the performance. Nebraska football fans should be excited about Jeff Sims. He looked legit and impressed me as a thrower, as much as he did with his athleticism. He just seemed in control.
Sweet grab ?@_MarcusW11 x @HuskerFBNation pic.twitter.com/okShdktIkn

— Nebraska On BTN (@NebraskaOnBTN) April 22, 2023
The defense had a really good day overall. It allowed just two touchdowns and two field goals. Nebraska's defense also forced eight turnovers and got some quality pressure on the quarterback.
Tony White looks like the real deal. I don't think that's an overreaction based on his career. Yet, be cautious about overreacting to what we saw Saturday.
Matt Rhule gets it
I don't know how big of a role Rhule played in honoring Frank Solich this weekend, but Rhule is the perfect ambassador for Nebraska football. Giving it to the fullback was a perfect call.
First play: Fullback trap@HuskerFBNation opens spring game with a play to honor former FB Frank Solich, who is back in Lincoln and will be honored at halftime. pic.twitter.com/0edpo5ttKc

— Big Ten Network (@BigTenNetwork) April 22, 2023
You can feel the genuine passion in Rhule when it comes to Nebraska football. It's great to see him embrace Solich, Tom Osborne, and so many others from the past. He invited former Heisman trophy winner Eric Crouch to speak to the team last week.
It feels like he's building a bridge between the past and the future. You can also tell that Rhule and Trev Alberts are completely aligned. They share the same vision and that's important.
All eyes are on Casey Thompson, others
I'll be watching to see what Casey Thompson does. As a graduate, he does have the ability to transfer without having to sit out for a year.
Rhule said he would be meeting with each player this week to discuss where they stand. He told Husker 247, "We don't predict the future." But they will tell the players where they stand if there was a game today.
I'm wondering how that conversation will go with Thompson. If Rhule says that Sims would be the starter as of today, it would leave Casey with two choices: Stay and attempt to win the job or leave via the portal.
That's a big QB coming right at you.@JeffSims_10 x @HuskerFBNation pic.twitter.com/f2ZUfNVMpr

— Nebraska On BTN (@NebraskaOnBTN) April 22, 2023
I hope that he stays because you need more than one stating-caliber quarterback. Without Thompson on the roster, I'm not sure Nebraska has that based on what I saw Saturday.
We'll see what happens with Thompson, but departures are coming. The Huskers need to reduce their scholarships by double digits. Some will enter the portal. Others might take the option of "retiring" which essentially allows them to have their school paid for, without counting towards the scholarship limit as they wouldn't be on the team.
Roster movement is coming and it's going to be a storyline for the next couple of weeks.
A solid recruiting weekend
Nebraska football started the weekend with the commitment from Willis McGahee IV, a talented EDGE. I love the commitment and it seemed like a positive weekend overall.
Carter Nelson was on campus and seemed to really enjoy himself. Brandon Baker, the No. 1 tackle in 2024, visited for the second time this spring and indicated he could return for an official visit.
I don't know if any more commitments are coming soon, but it was a positive weekend for the Huskers, who had 24 recruits on campus including Brian Robinson, a four-star EDGE from Ohio I'm really excited about. According to Brandon Collier, the visit went really well and it seems like there is an opening in his recruitment.
This was a GREAT VISIT https://t.co/wF7JdJK7R2

— Brandon Collier (@BCollierPPI) April 23, 2023
After watching the Nebraska defense on Saturday, you have to feel like the Huskers helped themselves.
Rhule wasn't blowing smoke about the O-line
Bryce Benhart looks really good. He also played well. He wasn't perfect by any means and I need to do an extended look to get a better feel, but on the first watch, he was much better than a season ago.
In the running game, I was impressed by how he was able to get to the second level. Benhart was much more mobile and was definitely getting out of his stance better.
The pass protection wasn't perfect but Nebraska didn't have its preferred starting left tackle either. Ben Scott was a great addition. He jumped off the screen at me. I also thought Nouredin Nouili looked like a guy that has a shot to be drafted.
When Turner Corcoran went out with an injury, he stepped in at left tackle and held his own. He's going to be a good player this season and if Teddy Prochazka can get healthy, the offensive line won't be the wart it was last season.
It might even be a strength. I'm still a little worried about the depth and that's one position I'd like to see a transfer portal addition, assuming Nebraska is able to create enough room. A swing tackle would be perfect, although right now, Corcoran might be the guy, especially since Ethan Piper can easily step in as a starter.
In fact, with Piper saying he's getting snaps at center, you can easily see a scenario where he ends up as the backup for multiple interior spots, allowing Corcoran to serve as a backup tackle in a pinch.
All in all, I liked what I saw on Saturday and it did nothing to dissuade me from predicting a winning season and a bowl game in 2023 for Nebraska football.
For More Nebraska content, follow us on Twitter, like our Facebook Page, and Subscribe to the Husker Big Red YouTube Channel. You can also find our podcast on Apple or Spotify.