3 takeaways from Nebraska football win over Louisiana Tech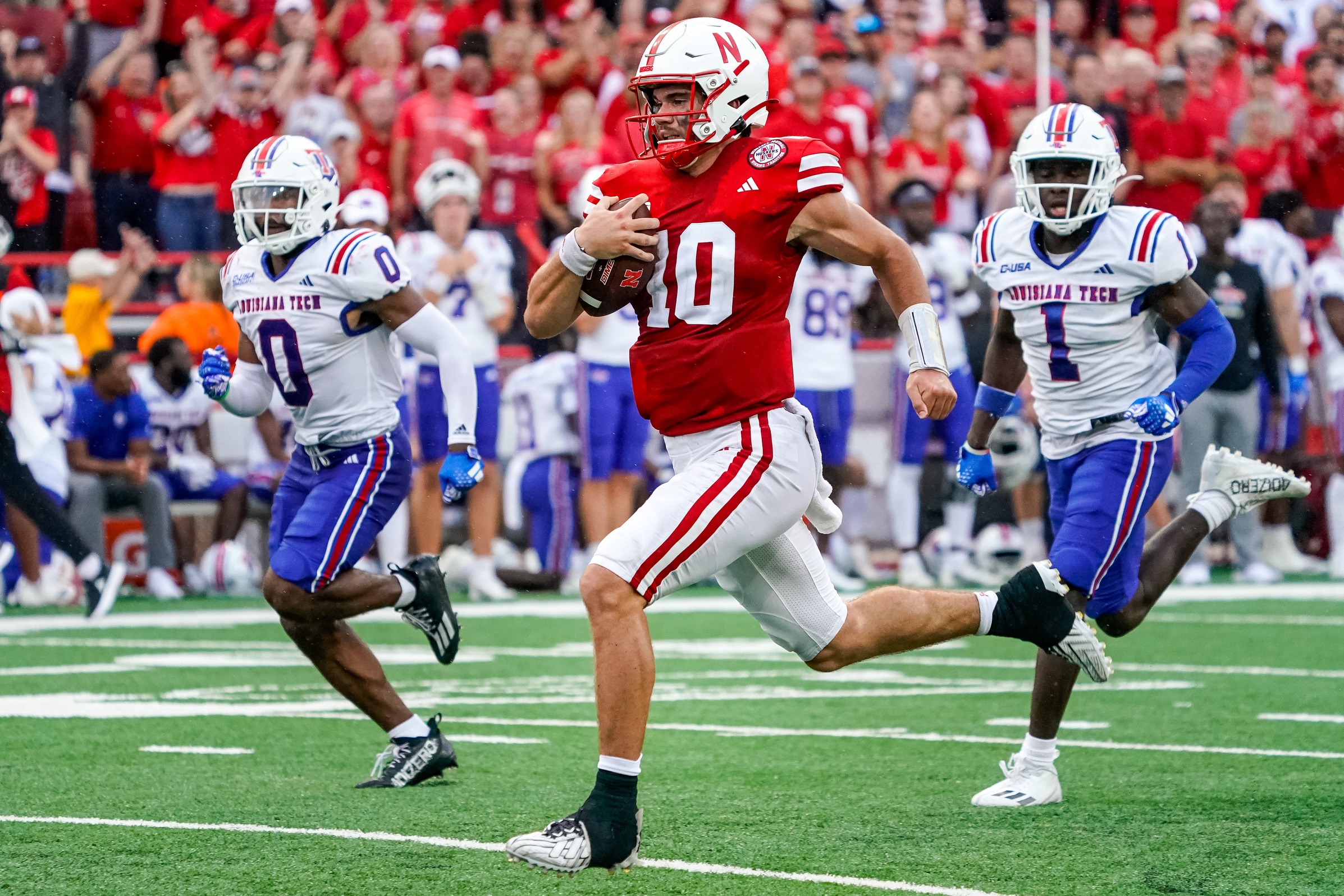 Nebraska football evened its record on Saturday against Louisiana Tech and here are three takeaways from the win.
Nebraska football found itself in a battle against Louisiana Tech at the half, but ultimately, the Huskers were able to dominate the line of scrimmage in the second half on their way to a 28-14 win.
Heinrich Haarberg had another solid outing. He was off some as a passer but he made plays when needed and in the fourth quarter when the game was still competitive, the Kearney native tossed a 29-yard touchdown pass to Thomas Fidone, before ripping off a 72-yard touchdown run that served as a dagger.
Nebraska's defense put together another stellar effort and held a rushing offense that was averaging nearly five yards per carry to 51 yards rushing. Louisiana Tech got some yards and points in garbage time after the stoppage but for the most part, the defense held its own.
On the opposite side of the ball, the offensive line responded at the half. The long drive to open the third quarter was capped by an Anthony Grant touchdown and it was some of his best running as a Husker.
Seeing Nebraska run for over 300 yards while holding their opponent to under 100 yards rushing feels like the old-school formula to success, and here are three takeaways from Nebraka's second win.
Haarberg continues to make his case for starting
Heinrich Haarberg might never look like an NFL quarterback, but the man knows what it takes to win football games. We'll have to see if that translates over to Big Ten play.
Michigan is going to be a lot different than Northern Illinois and Louisiana Tech. Yet, when he ripped off the 72-yard touchdown run, it made me think a little of T-Magic, who happened to be in the stadium as he was being inducted into the Nebraska Hall of Fame.
Haarberg isn't Taylor Martinez. He might not even be as talented as Adrian Martinez. But through two weeks, he's got zero interceptions. He's got four touchdown passes in the past three weeks, as well as two touchdown runs.
Haarberg has developed a connection with not only Fidone but Billy Kemp too. Jeff Sims also didn't look all that healthy when he was briefly in the game. So I'd at least expect Haarberg to start next week and if he keeps playing mistake-free football, it's going to be hard to take him out.
The offensive line stepped up when needed
I'm not sure what Matt Rhule or Donovan Raiola said to the offensive line at halftime but it worked. The Huskers were under 100 yards rushing in the first half and went for over 250 rushing yards in the second half to eclipse the 300-yard mark for the first time this season.
Nebraska came out with a fullback, as it did in the second half last week, and just played man ball. It might not work in the weeks to come, but it was gorgeous to see the offensive line impose its will, at least on the right side.
The left side is another issue. Turner Corcoran is going to be a problem in the Big Ten play, but you have to like the way Nebraska pounded the rock in the second half and how the offensive line responded from a poor first half.
Special teams need to be cleaned up
If you're going to rely on your defense to win, it helps to be elite on special teams and that hasn't been the case for Nebraska the past few weeks.
There was a fumble on the opening kickoff of the second half, which Nebraska recovered, but could have been costly. Tristan Alvano missed a field goal and while there was a successful fake field goal that led to a touchdown, things still need to be tightened up a little. The Huskers also to have find a replacement for Rahmir Johnson.
Brian Buschini had a stellar day and had four punts pinned inside the 20. That's a positive and the coverage units have been solid too. But if the Huskers are going to pull some upsets, they can't leave meat on the bone in the kicking game.
For More Nebraska content, follow us on Twitter, like our Facebook Page, and Subscribe to the Husker Big Red YouTube Channel. You can also find our podcast on Apple or Spotify.