Nebraska Football's offense is a mess, with no instant fix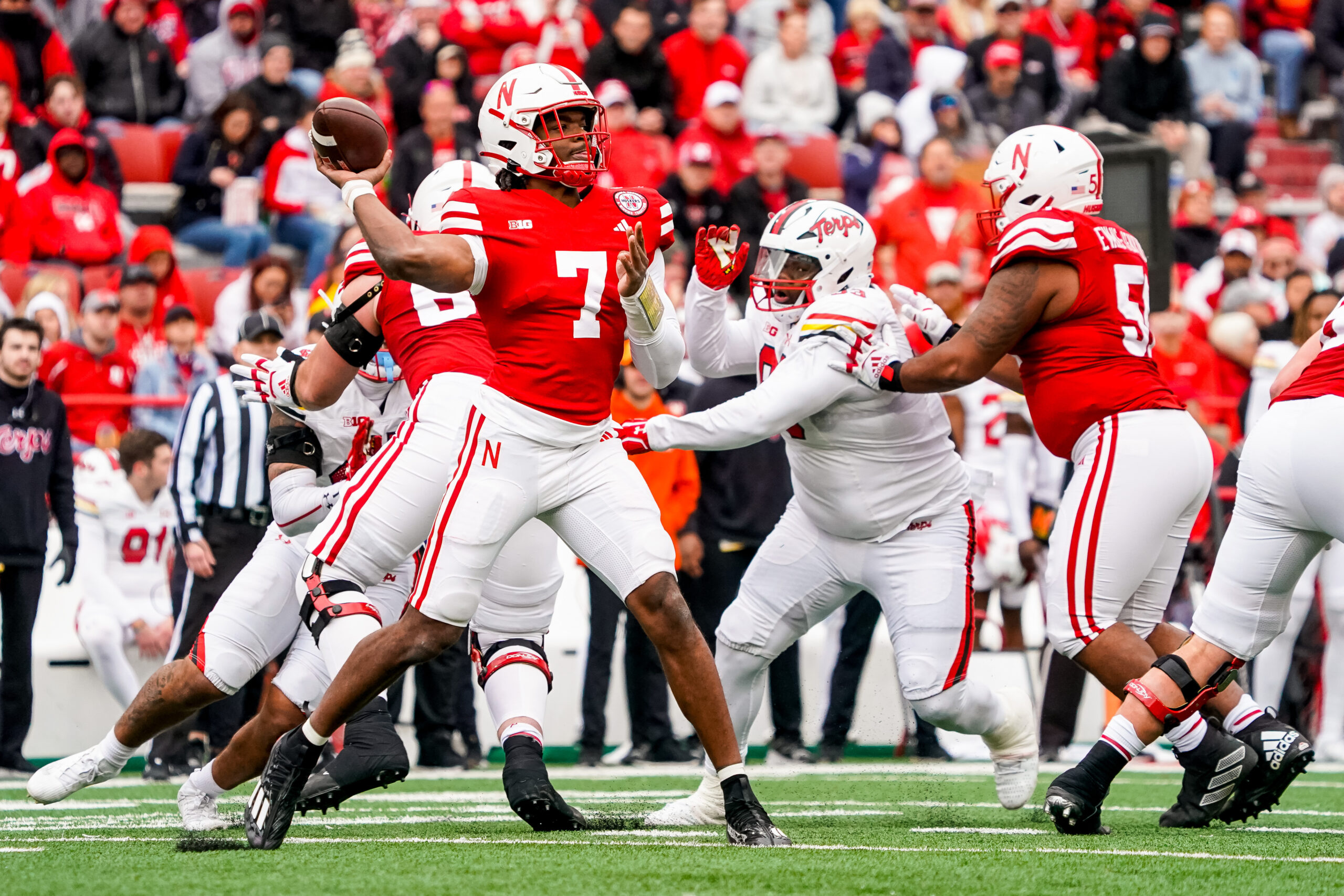 Nebraska football has a problem. A major problem at that. However, it is not a problem that can be solved quickly or easily. It is a two-pronged problem. The offense is a major issue right now. Offensive coordinator Marcus Satterfield is inconsistent. That was extremely evident on Saturday.
Let me just say: Satterfield has been inconsistent for the entire year. I have been a defender of his. Injuries have ravaged the offensive unit and the personnel has not been there. We have seen him try to run a version of the offense he wants to run. That is evident with how often he wants to pass the football. Truth be told, it's led to some questionable playcalling decisions.
Sure, Nebraska football is first in the conference with 1,858 rushing yards. That certainly sounds good on paper. However, Heinrich Haarberg is the team's leading rusher with 477 yards. Jeff Sims has another 156 yards. Running backs aren't getting enough touches. Emmett Johnson is a perfect example. He played really well on Saturday,  rushing the ball 17 times for 84 yards.
Johnson didn't get the ball in some key spots. The drive that led to the interception with just over three minutes in the fourth quarter would have been the perfect time for Johnson to get the ball. Instead, Satterfield tried to pass the football with Chubba Purdy and it led to an interception. Yes, this was a third-down play. Yes, Nebraska wanted to score. However, even taking the field goal would have been better than an interception. Unfortunately, the latter was the result.
Here's that 3rd down INT. For those who don't have Peacock. pic.twitter.com/iUe0gzrRO1

— Sam McKewon (@swmckewonOWH) November 11, 2023
Nebraska football had three quarterbacks play in Saturday's game. They threw for a combined 86 yards and four interceptions. They were not efficient at all. Saturday's loss should not be blamed entirely on Satterfield. Simply put, the Huskers do not have the quarterbacks to be effective enough on offense.
Inconsistent quarterback play for Nebraska football
Haarberg, who showed flashes early in the year, has regressed, and has joined Jeff Sims as being a turnover machine. Initially, Haarberg looked to be the clear-cut starter with Sims recovering from injury . However, he has not improved over the course of the season.
Chubba Purdy has not gotten enough playing time this season to truly determine how effective he will be. Truth be told, he may be the best option for Nebraska football right now.
Fortunately, Nebraska does have a talented quarterback coming in for 2024 in Daniel Kaelin. However, he will obviously be a freshman. Right now, there is no quick fix for the offensive woes. The offense is what it is right now. A transfer portal quarterback should be a priority for next season.
As for right now, we have an offense with inconsistent quarterbacks, and an offensive coordinator with inconsistent playcalling. The way he calls plays at times does not match up with his personnel. Some games he has called a decent game. Other games, he has been incredibly inconsistent. Saturday was one of those games.
Between those two things, the offensive unit has been incredibly frustrating. It appears the frustrations will not end anytime soon, at least this season anyway.