5 things we learned in brutal Nebraska football loss to Maryland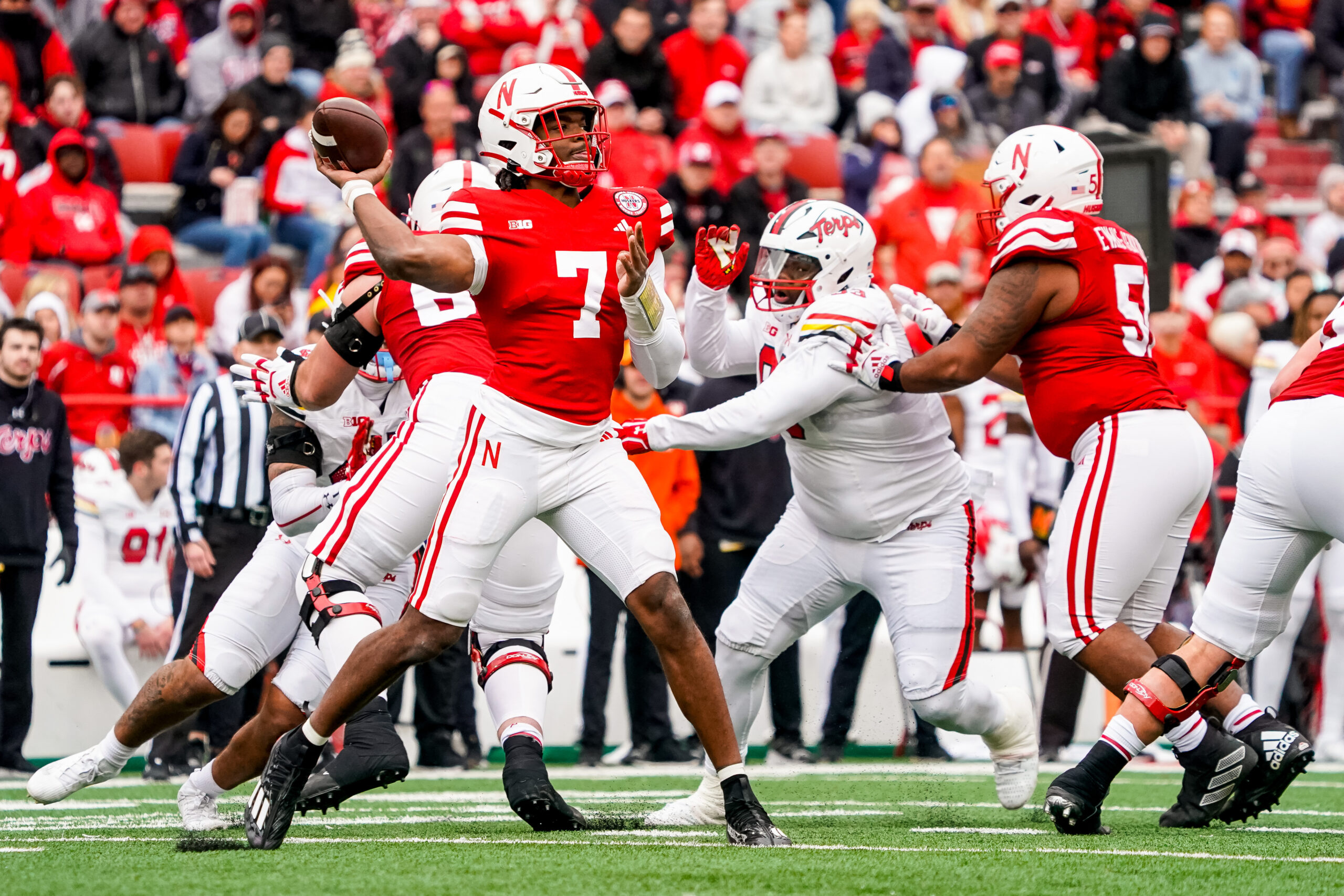 Here are five things we learned about Nebraska football in a brutal loss for the Huskers against Maryland.
Over the years, Nebraska football fans have experienced some heartbreaking losses, but the 13-10 defeat to Maryland on Saturday really takes the cake.
With under four minutes to go, with one of the best defenses in the Big Ten, maybe all of college football, Nebraska had the ball inside its opponent's 10-yard line.
Instead of running the ball on third down, taking the points, and trusting said defense. Marcus Satterfield dialed up a pass, leading to the fifth turnover of the game for Nebraska football, which is the 12th total over the past three weeks.
It led to a Maryland field goal and a buzzer-beating loss that leaves Nebraska stuck at five wins with only two games left at Wisconsin and home against Iowa.
It feels dire. Here are five things we learned.
Nebraska has the worst QB room in the Big Ten
It's depressing but it's true. At least Iowa can avoid an average of four turnovers per game. Nebraska football lost back-to-back games by one possession and they had a combined eight turnovers. It's unacceptable.
The fact that all three quarterbacks threw an interception in the same game has to be a record. It really makes you question why in god's name Nebraska would pass on that third down. Maryland had scored 10 points.
Even if they drove the field for a field goal to tie the game, you'd still get overtime. The one thing you couldn't do is turn it over.
But that's the only consistent thing this offense has done, outside of running the ball. It's disheartening and Matt Rhule probably feels sick to his stomach when trying to decide who still start next week.
Rhule owns the offensive failures
You can blame Satterfield all you want, but Rhule is the head coach. He's responsible for saying hey, "Hand it off, and let's kick." He didn't. The buck stops with him.
He also decided to hire Satterfield when it didn't seem like South Carolina even wanted him back. It was a guy that Rhule knew, which I understand. However, it was that same logic that led Nebraska football to Jeff Sims in the transfer portal.
He played for Geoff Collins. So Rhule liked him. As it turns out, that decision might have cost Nebraska a bowl game, because if this team had an average quarterback, it would be looking at 7-8 wins right now.
Michigan wasn't going to be won — signals or not. Honestly, Rhule's comments rubbed me the wrong way too about the refs and Michigan. It felt soft. No amount of signs was going to change the outcome of a game where Michigan pulled its quarterback in the third quarter.
The calls in Minnesota and Michigan State were bad too. No question. But Nebraska lost those games and on Saturday because the quarterback position is probably the worst in the power-5.
Finding a competent quarterback needs to be the first priority and this time around, Rhule needs to go for a big-timer — not some dude he knows. He might need to do the same at the offensive coordinator — as early as in a couple of weeks.
The season is on the brink of failure. It's as simple as that, all because of a historically bad offense and some of the worst quarterback play this program has ever seen.
Emmett Johnson is a bright spot
The only consistently good thing for Nebraska football in the last month has been running back Emmett Johnson who rushed 17 times for 84 yards. He has averaged 72.5 yards per game over the last month and has 290 total rushing yards. He's also averaged more than four yards per carry.
17 caries was a positive but right now, he's the best weapon this offense has. Johnson needs more touches and they should start trying to throw him the ball too. Johnson exploded for a 29-yard run and the redshirt freshman has been a bright spot over the past few weeks.
He's also got a great chance of becoming RB1 next season.
A championship defense has been wasted
There is nothing more the defense can do to get this program bowl-eligible. Yes, the defense should have gotten a stop after the last interception, but at some point, the offense has to do something.
This is the second time this season that the offense was in scoring position, in a 10-10 game and gave the ball away. It's also the second time the defense has only allowed 13 points and lost.
Ty Robinson and Nash Hutcmacher were incredible. It breaks my heart to see them playing their best football, only to have the offense repeatedly drop the ball. Both literally and figuratively.
Backs against the wall
The Huskers faced a similar situation against Illinois. Nebraska football was on the road, 0-2 in the Big Ten, and were looking at 0-3.
Matt Rhule's team played one of its best games of the season and won the game 20-7. That was the start of a three-game winning streak. Now, the Huskers have lost two in a row.
They can't lose four in a row to miss a bowl game. They just can't. Wisconsin has been struggling too, so winning at Camp Randall is possible. And you really don't want a bowl game to come down to Iowa.
At least I don't. We know how that's gone. Maybe the Blackshirts need to pitch a shutout.
For More Nebraska content, follow us on Twitter, like our Facebook Page, and Subscribe to the Husker Big Red YouTube Channel. You can also find our podcast on Apple or Spotify.