Watch: WR Trey Palmer shows off blazing speed at NFL Combine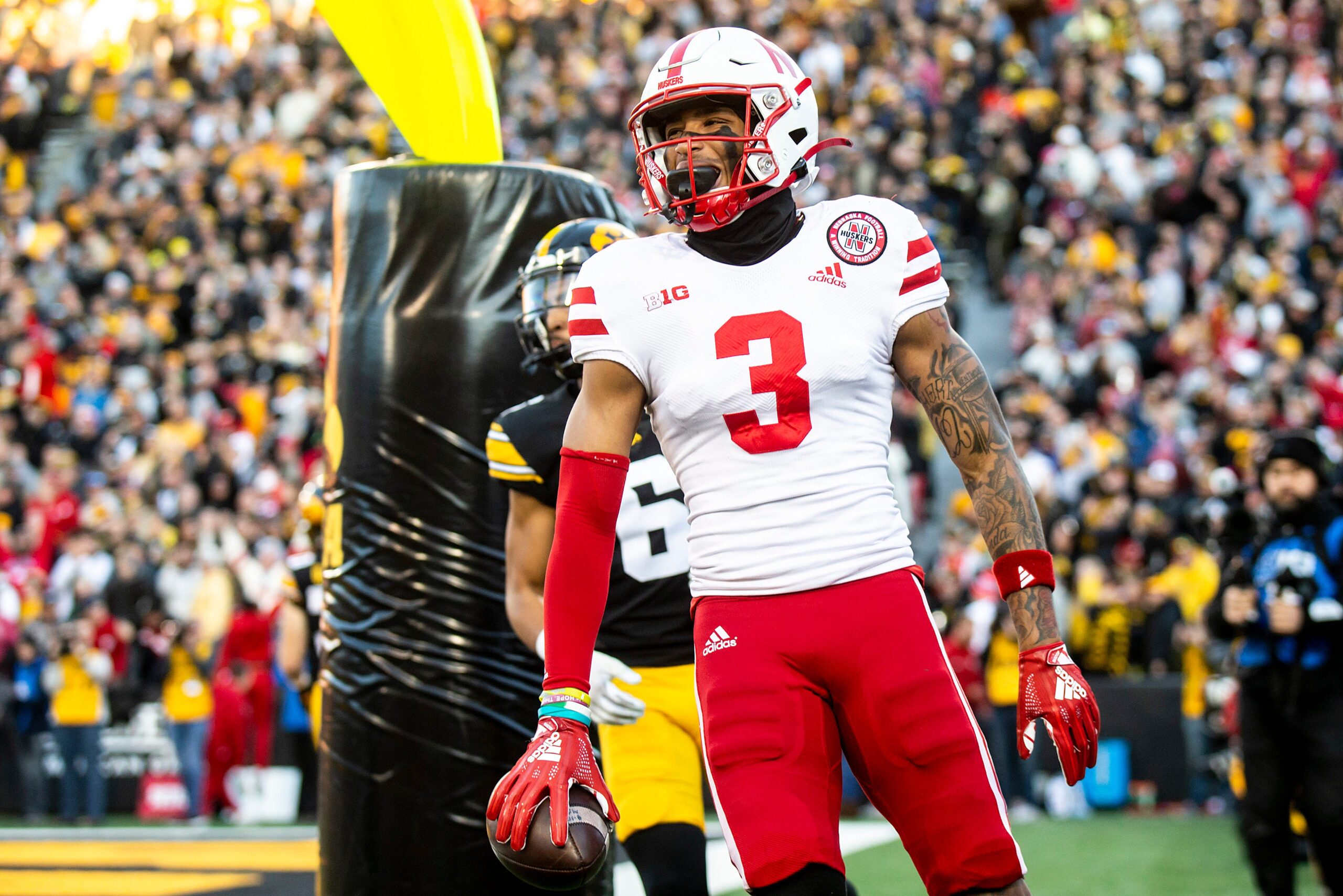 Nebraska football wide receiver Trey Palmer showed off his speed on Saturday afternoon at the NFL Combine. Palmer ran a 4.33 unofficial 40-yard dash. It was the fastest recorded time for a wide receiver up to that point in the afternoon.
Palmer also had a 10-yard split time of 1.51 seconds on the day.
The wide receiver still has several drills to work through, but his speed was undoubtedly the highlight up to that point in the day. His speed was on full display at Nebraska, where he recorded 71 catches for 1,043 yards and nine touchdowns. Deep balls and crossing routes were his specialty, and he showcased that speed on several occasions throughout the course of the season.
His explosive playmaking ability was a huge part of his game in Lincoln, as he tallied three games of over 100 receiving yards. This includes a 237-yard effort against Purdue on October 15.
It will be intriguing to see how his other measurements, up at the combine, but the speed shown on his 40-yard dash attempt was definitely notable. Currently, he is projected to be a fifth-round pick, per Husker247's Michael Bruntz.
Palmer could go earlier than that, as he has a skill set that would appeal to many NFL teams. His ability to run after the catch, and get open for deep passes makes him an intriguing late-round target. Currently, NFL NexGen stats has him with a score of 76. That ranks 15th among wide receivers at the Combine. His NFL.com scouting report projects him as an average backup or special teams player. Palmer does have speed, and he can excel on kick return.
4.33… YEA, @treythekiid3 IS FAST#NFLCombine March 2-5 on @NFLNetwork pic.twitter.com/UurULPwlFn

— Nebraska Football (@HuskerFBNation) March 4, 2023
Palmer may be projected as a lower-round pick, but there is certainly no denying his speed. At the very least, he showcased his speed in front of some of the brightest minds in the NFL, and that may be worth something in the end.
Nebraska Cornhuskers news: Wild stats for Nebraska football, Trey Palmer scores NFL TD, and more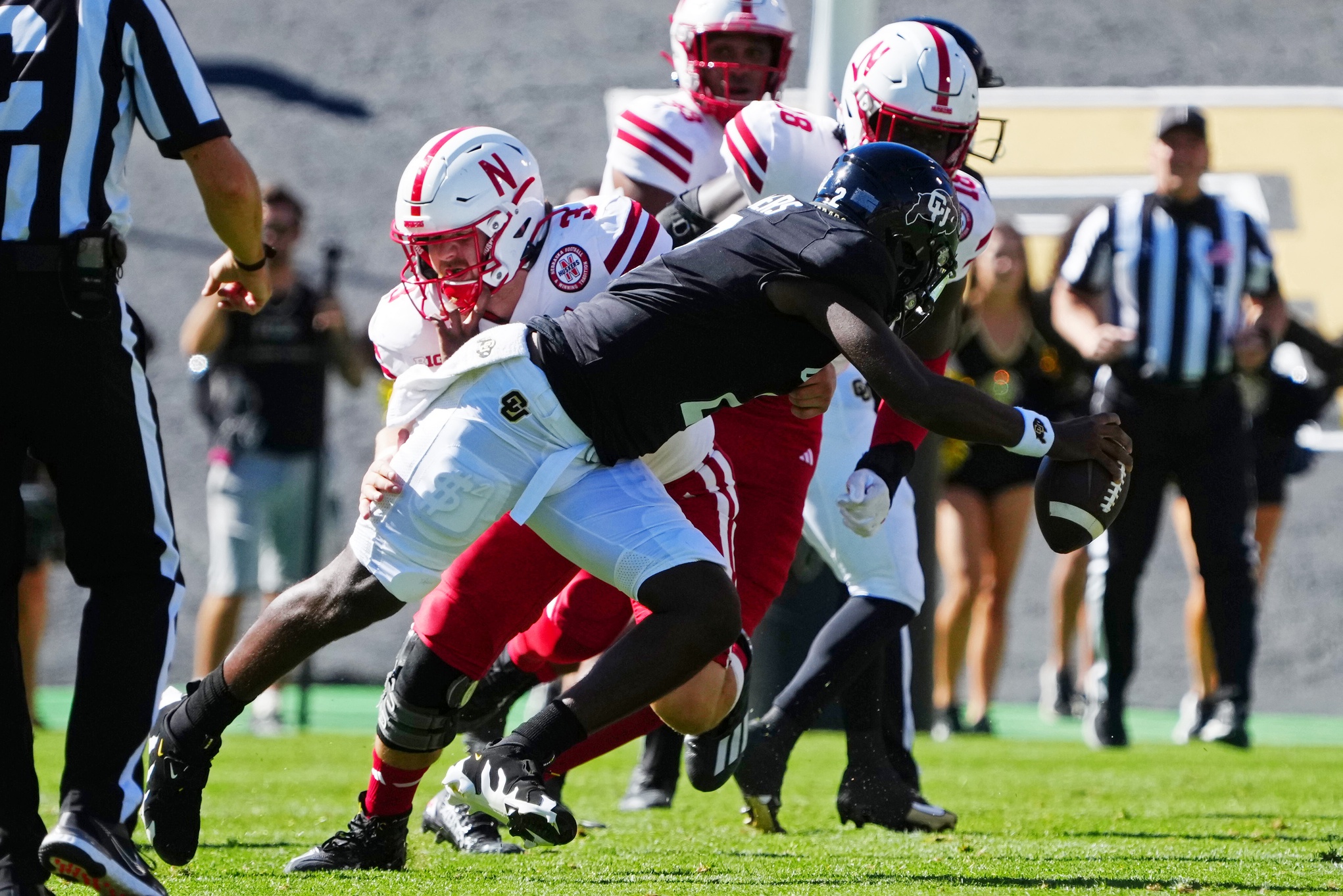 Looking at two wild Nebraska football stats, plus more in our Nebraska Cornhuskers news roundup from the weekend.
It wasn't a great weekend for Nebraska football as the Cornhuskers were humbled by Colorado on Saturday by the score of 36-14.
The Nebraska Cornhuskers were plagued by four turnovers, three from quarterback Jeff Sims in the first half. It was a disaster and the game wasn't even competitive for most of the second half.
It's certainly not how we imagined the Matt Rhule era starting. Outside of a garbage time touchdown, the Nebraska Cornhuskers have 17 points in two games. You aren't going to win doing that.
Jeff Sims is going to remain the starting quarterback if healthy. Rhule said Saturday he didn't consider making a change, so I doubt he would, but the Huskers need to get right against Northern Illinois this week.
The Huskers are currently an 11-point favorite according to DraftKings.
In terms of explaining the 0-2 start for Nebraska football. Well, it's easy when you consider that Nebraska has the worst turnover margin in college football. In fact, dating back to 2004, the Nebraska Cornhuskers are -105 in turnover margin, which is the worst in the Power-5 by a wide margin.
However, in one positive, Nebraska leads the FBS in sacks right now with 11. You wonder how many teams have been winless while leading the nation in sacks?
Former Nebraska Cornhuskers standout Trey Palmer catches first NFL touchdown
Trey Palmer's NFL debut was a successful one. Not only did the Tampa Bay Bucs upset the Minnesota Vikings, but Palmer caught two passes for eight yards, one of which was a seven-yard touchdown reception in the third quarter that gave the Bucs a 17-10 lead.
TREY PALMER FIRST NFL TD! #ProBigRed pic.twitter.com/9J46yKZbdq

— 247Huskers (@247Huskers) September 10, 2023
Yes, I wish Trey Palmer was still on the Nebraska roster right now, but it's good to see former Cornhuskers ball out and Palmer has been on a roll to start his NFL career.
Nebraska Cornhuskers sweep another volleyball match
Nebraska volleyball improved to 7-0 on Saturday with a 3-0 sweep of Long Beach State in Lincoln by the scores of 25-18, 25-8, and 25-21. The Huskers notched a .393 hitting percentage in the win and finished with 46 kills and nine blocks.
Freshman Harper Murray continued to shine and led the Huskers with 10 kills. She also contributed with three blocks. Merritt Beason managed nine kills, while Andi Jackson had eight. Jackson and Becca Allick were also solid around the net, notching four blocks each in the win.
The Huskers will be back on the court Tuesday night against Stanford. The match will be on the road at will start at 8 PM CST. Both teams were ranked in the top five last week. The match is set to be shown on ESPN.
For More Nebraska content, follow us on Twitter, like our Facebook Page, and Subscribe to the Husker Big Red YouTube Channel. You can also find our podcast on Apple or Spotify.
Nebraska Cornhuskers news: Top QB target to visit, volleyball day, and more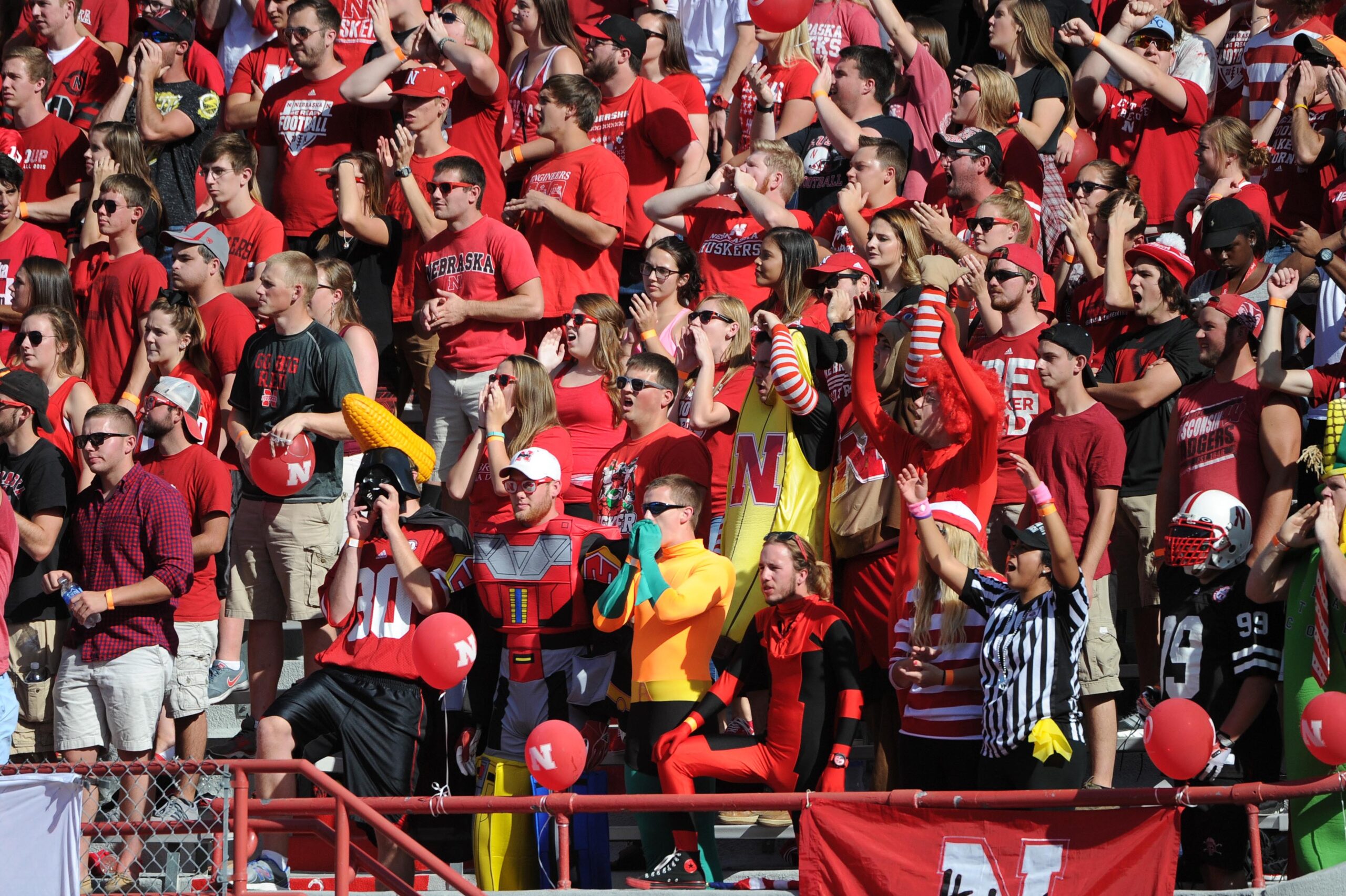 Nebraska football will host top QB target Alex Manske for an unofficial visit in September, plus volleyball day and more Nebraska Cornhuskers news.
Things are starting to pick up as far as Nebraska football and the 2025 recruiting class are concerned. The Huskers landed their third commitment, via in-state running back Conor Booth over the weekend, and now, their top QB target will be back on campus in September.
Alex Manske, a three-star quarterback out of the state of Iowa, has turned into the top target at the position for the Huskers since Stone Saunders chose Kentucky this summer.
Manske visited Nebraska football for one of its camps and impressed the staff. He's returned multiple times since then for visits and this visit on Sept. 16 — the same day as Brandon Baker — will be his fourth.
The Nebraska Cornhuskers are currently viewed as the leader for Manske via the On3.com prediction machine. The 6-foot-4, 205-pound quarterback has also visited Iowa (once) and Kansas State (twice) in 2023. So it feels like a regional recruitment and Nebraska football also feels like the leader right now.
Volleyball day will be historic for Nebraska Cornhuskers
For the first time ever, we'll get to see a volleyball match inside Lincoln Memorial Stadium and it's going to be quite the spectacle. Nebraska will take on Omaha at 7 PM CST on the Big Ten Network, following an exhibition between Wayne State and Nebraska-Kearney.
There are expected to be over 90,000 fans in attendance. We got a glimpse of the court on Tuesday night as the players took part in their practice in the stadium, and it looked unbelievable.
Today we make history. pic.twitter.com/ouZkUWfpi3

— Nebraska Volleyball (@HuskerVB) August 30, 2023
The Nebraska Cornhuskers are also looking to set some attendance records for women's sports and it seems like they have a pretty good chance of making that happen. Here's the records they are gunning for via Husker Online:
NCAA volleyball regular-season record: 16,833 – Wisconsin vs. Florida 2022
NCAA volleyball record: 18,755 – Nebraska vs. Wisconsin 2021 National title
American women's attendance record: 90,185 – USA vs. China FIFA World Cup final in 1999
World attendance record: 91,648 – Barcelona vs. Wolfsburg UEFA Champion League match in 2022
After dominating three opponents last weekend on their way to three consecutive sweeps, Omaha shouldn't give the Huskers any problems on the court. But this day is about much more than the final result.
It's about celebrating Nebraska volleyball and it's going to be a memorable day.
15 Nebraska football players survive NFL cutdown day
Tuesday was the day when NFL teams needed to get their rosters down to 53 for the start of the 2023 season. A number of former Nebraska Cornhuskers were waived by their teams, including Garrett Nelson and Travis Vokolek, however, 15 former Nebraska football players made NFL rosters.
Best I can tell, 15 former Huskers survived NFL cut day and made the active roster.

That includes 2023 NFL Draft picks Trey Palmer and Ochaun Mathis. #GBR #Huskers pic.twitter.com/qXXWsIaQJp

— Bill Schammert (@BillSchammert) August 30, 2023
Ochaun Mathis and Trey Palmer were two of them. They were the only Huskers selected in the 2023 NFL draft. Palmer has taken the Tampa Bay Bucs by storm. I personally haven't seen much about Mathis, but the pass rusher earned his way onto the Rams' 53-man roster, so congrats to both of those rookies.
Certainly, some of the players waived will be picked up in the coming days. Or guys like Nelson and Vokolek could find themselves on an NFL practice squad, which is the next best thing to making the 53-man roster.
Philly is the only team with two former Cornhuskers as Cam Jurgens and Jack Stoll made the final roster once again of the defending NFC champs.
For More Nebraska content, follow us on Twitter, like our Facebook Page, and Subscribe to the Husker Big Red YouTube Channel. You can also find our podcast on Apple or Spotify.
Nebraska Cornhuskers news: Travis Vokolek goes off, recruiting updates, and more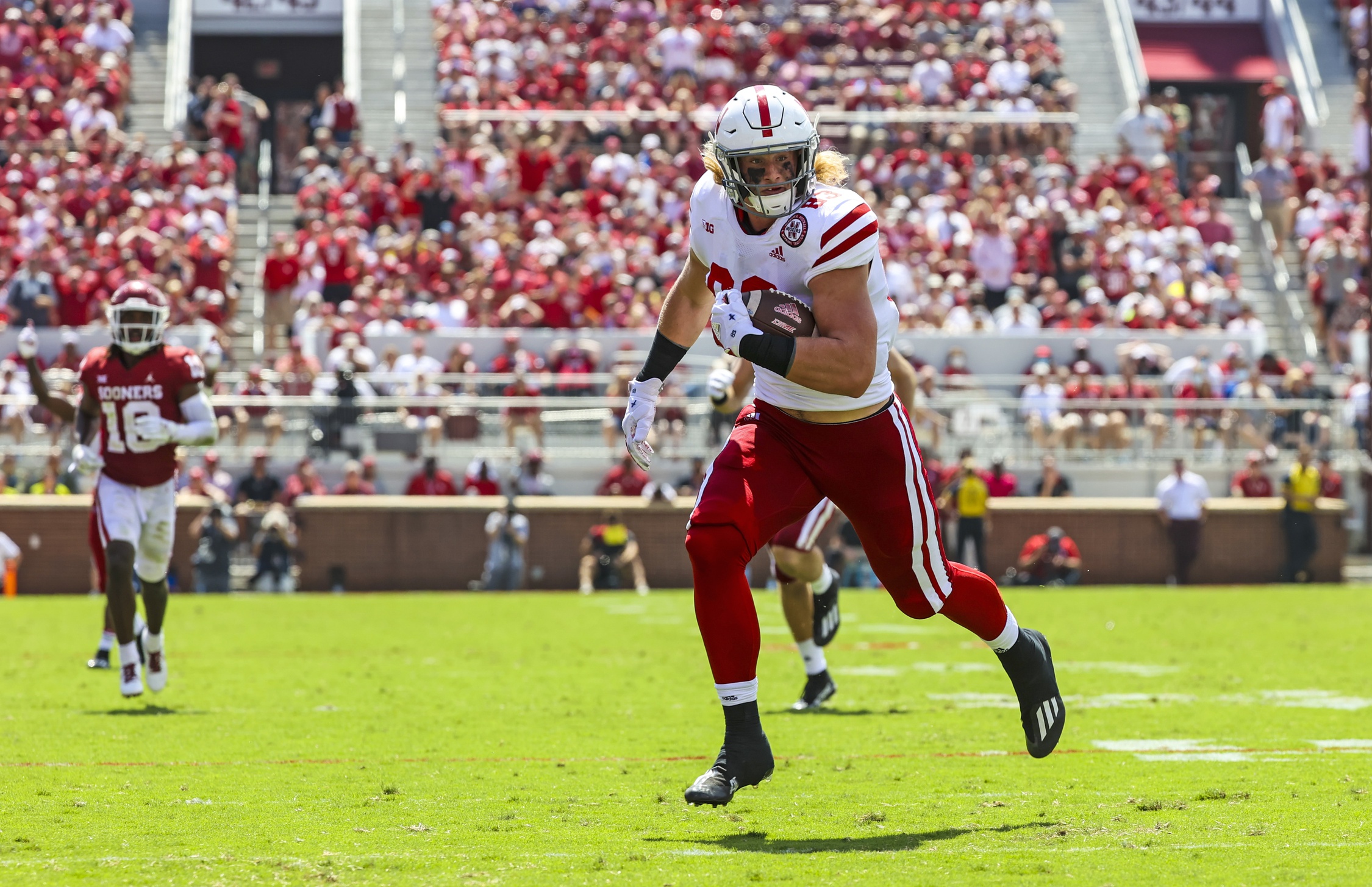 Former Nebraska football player Travis Vokolek went off in the preseason, plus more Cornhuskers news.
There have been some Nebraska football players standing out in the NFL preseason and on Monday night, Travis Vokolek joined the club, catching two touchdowns for the Baltimore Ravens.
The first touchdown reception for the former Nebraska football tight end came on a 17-yard completion. Vokolek then scored again in the fourth quarter on an eight-yard reception.
Vokolek finished the game with three receptions for 28 yards but certainly had to help himself in his quest to make the Ravens' 53-man roster. In the first preseason game, the former Nebraska Cornhuskers tight end caught two passes for 30 yards. Add in his blocking ability and he seems like a good fit for the league.
Nebraska football recruiting updates
Brandon Baker did an interview after his first high school game of the season and the five-star offensive tackle said he'll make a decision soon after his official visit to the Nebraska Cornhuskers on Sept. 16.
That provides a big opportunity for Nebraska. Getting the final visit, before a decision, definitely gives the Huskers a chance. Ohio State and Texas are the other contenders, along with Oregon and some other big-name programs.
But Matt Rhule was able to beat out Georgia for Carter Nelson. Who knows, maybe he can land a five-star tackle from California too. The Nebraska Cornhuskers have some momentum though, that's for sure.
In other recruiting news, Grant Brix was reportedly going to decide this week. However, according to what his high school coach told Husker 247 on Sunday, a decision might or might not come this week.
Brix said he wanted to commit before the start of his high school season. That's Friday, so we'll see if a decision is coming. The latest we heard on Brix was that he was down to Nebraska football and Oklahoma. He's the top player in Iowa in the 2024 class, as well as the No. 5 offensive tackle overall according to 247 Sports.
Casey Thompson named FAU's starting quarterback
Former Nebraska football starting quarterback Casey Thompson has been named the starter for Florida Atlantic this season. He's playing under former Texas head coach Tom Herman, so it's not a big surprise.
Thompson was solid for Nebraska last season when he was on the field. He has a tremendous deep ball and I wouldn't be shocked to see him have a really solid 2023 season.
I wish him nothing but the best.