3 takeaways from tough Nebraska Basketball loss to Michigan State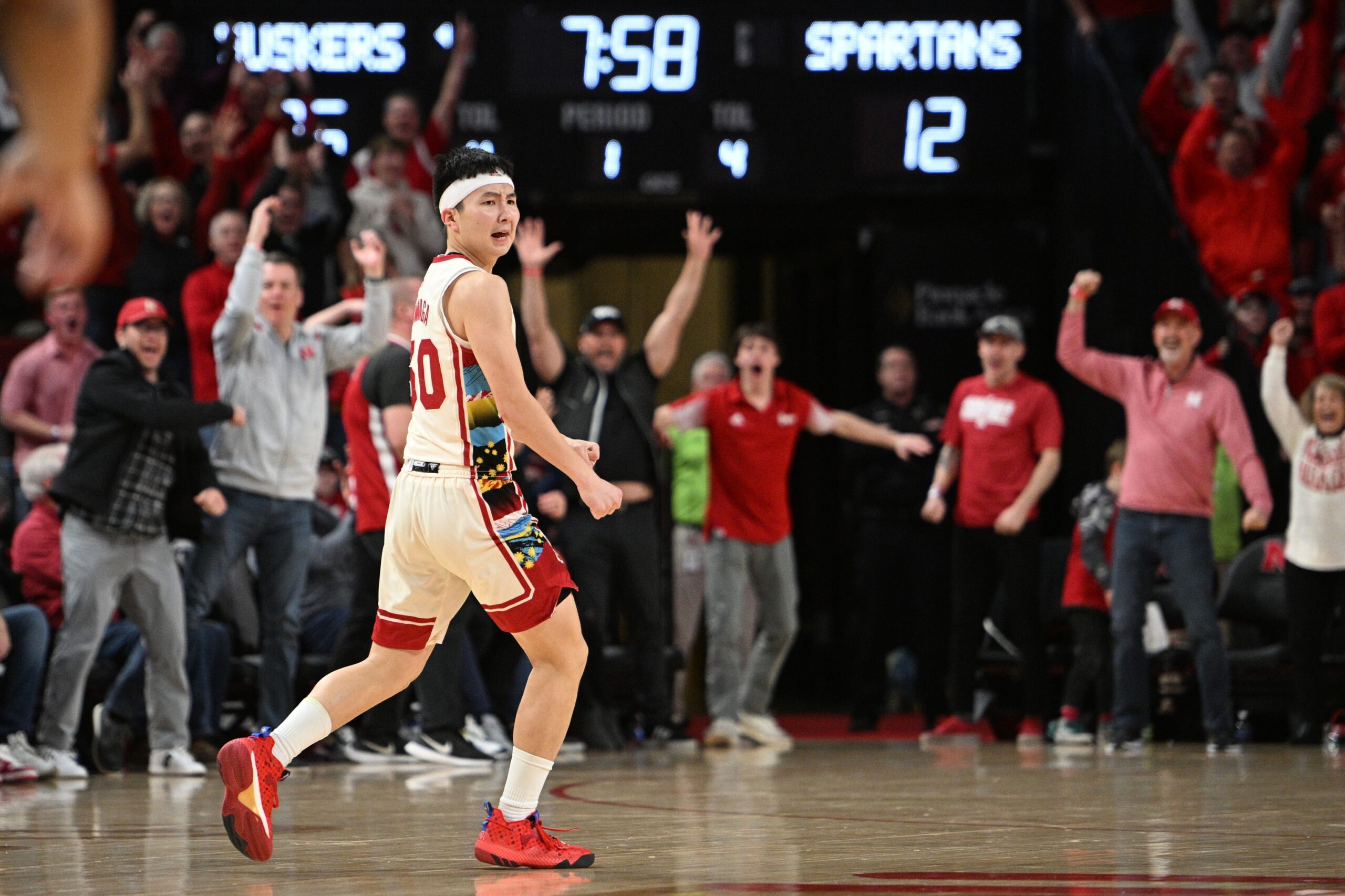 Nebraska basketball built a 15-point lead against Michigan State but collapsed and here are three takeaways for the Huskers.
Watching the second half of Nebraska basketball against Michigan State was like watching the air come out of a balloon. The Vault was rocking, only to be deflated by a barrage of second-half 3-pointers as the Spartans dominated the final 20 minutes of an 80-67 loss by Nebraska.
It's hard to explain getting outscored 54-29 in the second half of a must-win game, at home, but that's what happened to the Huskers who fell apart on both ends of the floor.
The defense was terrible. Yes, Michigan State made shots, but many of them were essentially wide-open looks. It was baffling to me how bad the defense was at times. The offense was terrible too and turned it over time and time again down the stretch.
Michigan State is a good team and a good program. Here are three takeaways from a brutal loss.
Nebraska basketball had the Spartans right where they wanted them
After a Keisei Tominaga 3-pointer put Nebraska up by 15 points, right after Sam Griesel made one, it seemed like it was going to be a good night for the Huskers.
The defense in the first half was outstanding and the Spartans went a long stretch without even making a field goal. In the second half, that would be the Huskers.
As good as this team has been over the past month, the second half was the worst half of basketball since the opening half against Michigan State on Jan. 3rd. There's no excuse for it and it's likely going to cost the Huskers a shot at the NIT.
A win over Iowa and a couple of wins in the Big Ten tournament will help, but Nebraska needed to improve its resume and missed a key opportunity to do just that.
Jamarques Lawrence is going to be a star
The game ended with a thud, but there were some fun moments before it went downhill. One thing I really enjoyed was the play of Jamarques Lawrence, who is growing rapidly in front of our eyes.
For the second straight game, Lawrence scored in double figures and finished with a career-high 15 points on 7-of-10 shooting. The way he was able to attack the basket really opened my eyes to the kind of playmaker he can be next season.
Lawrence has played solid defense since taking over the starting role. He's still got some work to do there as the four fouls showed last night, but his athleticism really stood out to me.
We don't know what the roster is going to look like next season and the biggest question is whether Tominaga comes back or not, but one name you can pencil into next season's starting lineup is Lawrence.
The freshman ranked 196th in the 2022 class appears to have been a really good find by Fred Hoiberg.
Tominaga could be a Nebraska legend
The game didn't end well but man, Keisei Tominaga is the most enjoyable Nebraska basketball player to watch literally in decades. In the last seven games, he's scored 20 points six times.
Tominaga was honored with other seniors on Tuesday night but he does have another year of eligibility. Of course, he could go back to Japan and make big money playing professional basketball. Staying at Nebraska is an option and the Huskers are working on an NIL deal, but Tominaga can only earn passive income, so there are limits.
Still, if his dream is to reach the NBA, which is why I believe he played college basketball to start, he should really return to Nebraska basketball. The big money deal in Japan isn't going anywhere and after next season, it would probably be even more lucrative.
Yet, if Tominaga goes back home, he's probably never coming back to the NBA. I could be wrong but that's just not normally the path guys take to the league.
If he does return, the hype and excitement for next season would be unbelievable. I hope it happens because frankly, I'm not ready to be done watching Keisei wear the scarlet and cream.
Go Big Red, beat Iowa.
For More Nebraska content, follow us on Twitter, like our Facebook Page, and Subscribe to the Husker Big Red YouTube Channel. You can also find out podcast on Apple or Spotify.