3 takeaways from Nebraska football's blowout loss to Michigan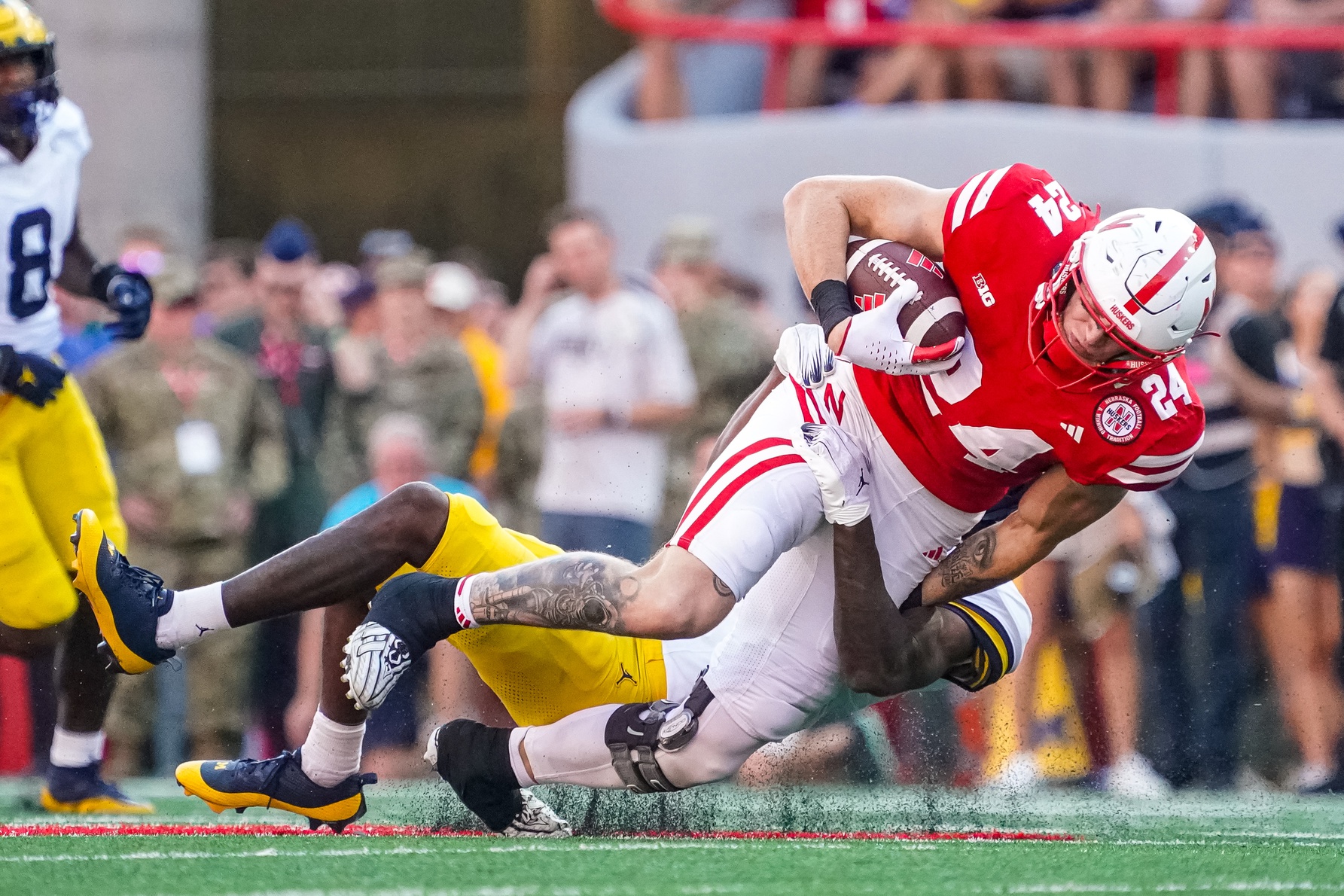 Nebraska football wasn't on the same level as Michigan on Saturday and here are three takeaways from the 45-7 loss.
There weren't a lot of encouraging things to take away from the 45-7 Nebraska football loss to Michigan on Saturday, other than the fact that the Huskers are in year one under Matt Rhule.
Jim Harbaugh's team looks ready to compete for a national title. Rhule's still looks like it's fighting to find a way to reach a bowl game.
That's OK. It doesn't mean Matt Rhule won't succeed. Things still could have gone better. Nebraska missed a field goal, was stopped on a fourth-and-one, and also had an early turnover.
None of those things helped. But they also wouldn't have mattered. Michigan was too good and that was the theme of the day for the Huskers.
Here are three takeaways.
Not a long-term setback
This game was always going to be the most difficult on the schedule. Michigan is ranked No. 2 in the nation for a reason and the Wolverines looked like they could be ranked No. 1 on Saturday.
Yes, there are things Nebraska could improve. This will be a learning experience but it's not an indictment of Matt Rhule. Michigan is just a juggernaut right now.
QB position still uncertain for Nebraska football
Heinrich Haarberg was put in a tough spot on Saturday. He competed and wasn't terrible completing 14-of-25 passes for 199 yards. The early interception and fourth-down stop stunted any momentum Nebraska could have built on offense.
The Kearney native was sacked three times. He also got just minus two yards rushing. Josh Fleeks and his long touchdown run were the only reason Nebraska finished with over 100 on the ground, as well as avoiding the shutout.
Considering the opponent, it's not enough to say that someone else should be starting. But we still don't know if Haarberg can produce against Big Ten teams. My guess is that's why Rhule has continued to say that Jeff Sims is the starter and when healthy, I'm sure he'll get his chance.
The Blackshirts were disappointing
I still think Nebraska football is pretty good on defense but the Huskers didn't offer much resistance Saturday against Michigan. The Wolverines averaged 4.88 yards per attempt on 51 rushing attempts and many of those were taken by backups in the second half.
McCarthy, Kalel Mullings, and Blake Corum all scored rushing touchdowns before the first-team offense was pulled and the Michigan offensive line did a much better job of controlling things than I expected.
It was like the Wolverines viewed Nebraska's defense as a challenge. Nebraska had the leading rush defense in the Big Ten going into Saturday. Yet, the Wolverines moved Nebraska where it wanted and didn't get hardly any pressure on McCarthy.
Again, Michigan is a different animal. So let's not overreact. But I was hoping for more from the Blackshirts.
For More Nebraska content, follow us on Twitter, like our Facebook Page, and Subscribe to the Husker Big Red YouTube Channel. You can also find our podcast on Apple or Spotify.