5 things we learned in Nebraska football win over Northwestern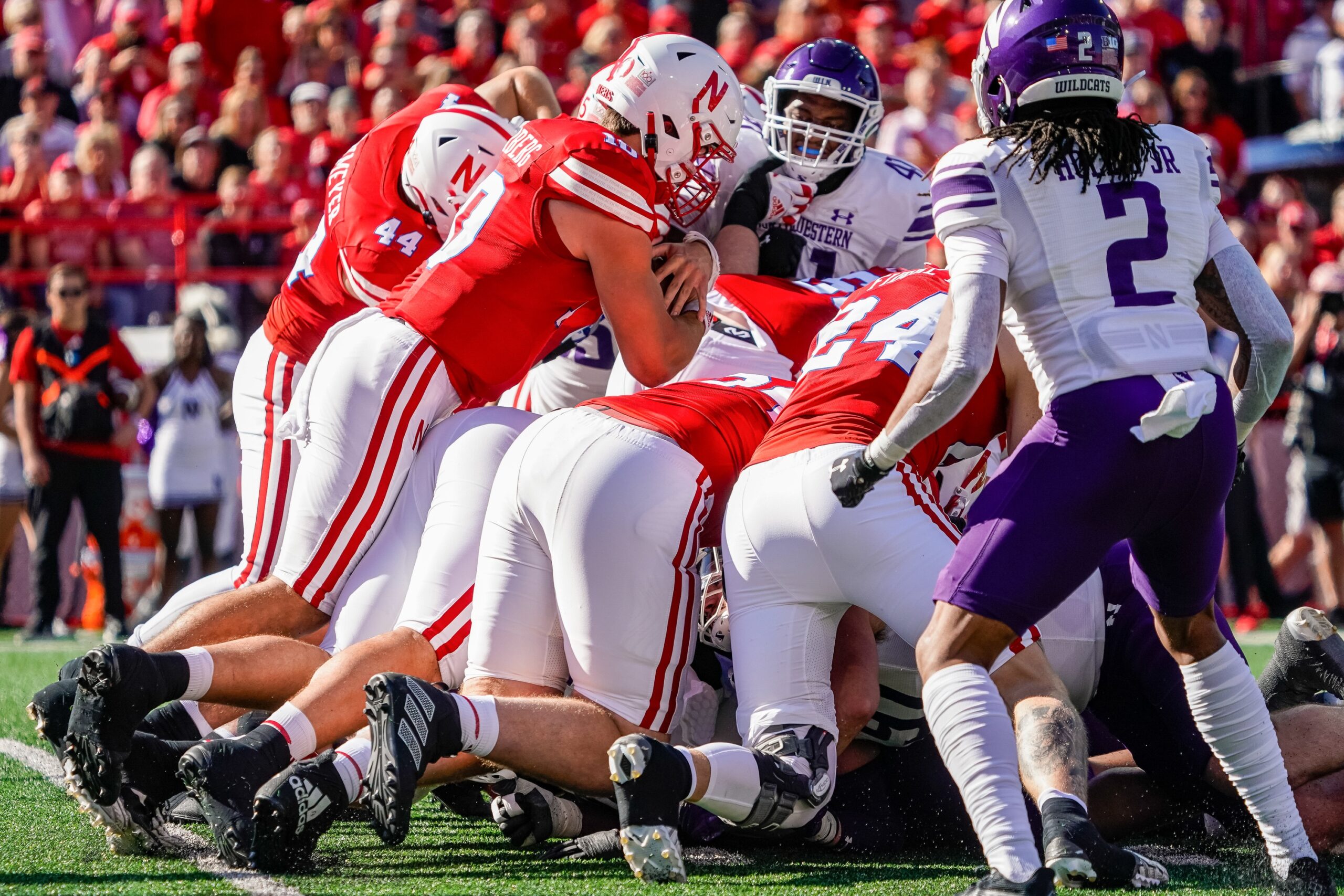 Here are five things we learned from the Nebraska football win over Northwestern.
It wasn't pretty, but Nebraska football is 4-3. The Huskers had issues taking care of the ball and frankly, moving the ball against Northwestern.
Yet, the Blackshirts saved the day. Nebraska football finished with eight sacks and nine tackles for loss. The Huskers also didn't allow a touchdown, which was the difference between winning and losing.
Matt Rhule will be the first to tell you it wasn't perfect. But Nebraska is two wins away from a bowl game and half a game back in the Big Ten West. Here's what we learned from the 17-9 win over Northwestern.
The defense does it again
In back-to-back Big Ten football games, Nebraska's defense has allowed just 16 points and one touchdown. The Huskers terrorized Northwestern QB Brandon Sullivan. They allowed a couple of big plays, but both times, they held in the red zone.
Nebraska forced just one takeaway but it was at a crucial time. The offense turned the ball over twice on its own side of the field to start the game and Nebraska allowed three points.
If you give up 10 or 14 in that situation, it's an entirely different game. Nash Hutcmacher was incredible and so was Ty Robinson. The pass rush was relentless and with five games to go, I'm confident saying this is one of the best defenses in the Big Ten conference.
I still contend it might be the best in the Big Ten West.
Nebraska football has offensive issues
A few weeks ago I told you guys that the offense wasn't going to dramatically improve this season. There are too many injuries and not enough playmakers.
Saturday was rough though. Losing Billy Kemp on top of all the other wideouts is brutal and so is the loss of Ethan Piper. He's one of the best offensive linemen and leaders on this team and will be hard to replace.
I questioned the decision to come out throwing against Northwestern, but if the plays were executed, it probably would have worked. One of the interceptions was on Haarberg. The other was on Fidone who had a pass go off. his fingers for an interception.
Running back Emmett Johnson had some positive moments though. He had a run for 24 yards and Haarberg had a run of 20. You had to love the belly-option pass and seeing Malachi Coleman get into the end zone.
With Kemp and Marcus Washington out, Coleman and Jaidyn Doss have to step up. Saturday was a good step in the right direction.
Nebraska is a defensive team but that being said, the offense has to take better care of the ball. The 163 rushing yards were a positive but getting 248 yards against Northwestern is a disappointment.
Nebraska is learning how to win
There were plenty of moments where the Huskers could have wilted. But you can see the mental toughness instilled by Matt Rhule and it's all the small little things that matter.
Isaac Gifford fought across a couple of offensive linemen to get Cam Porter on the ground on a screen pass. If Gifford doesn't make that stop, Porter probably gets 40-50 yards and maybe even a touchdown.
Omar Brown chased a dude down from behind to prevent a touchdown and Malcolm Hartzog did the same after giving up a long reception. In both of those instances, the Huskers held in the red zone, so the hustle plays saved Nebraska eight points.
Add in the points saved by Gifford and those three effort plays could be the three most important plays in the game and in years past, I'm not sure those would have happened. This team just has a different mentality.
Nebraska is changing the narrative and learning how to win.
Some of these freshmen are dudes
Malachi Coleman caught the touchdown pass and used his incredible speed to get there, but he wasn't the only first-year player who had a big impact in the win.
Princewill Umanmielen was all over the place playing the jack position, notching seven tackles, a tackle for loss, and a sack. Cameron Lenhardt also had two tackles, plus a tackle for loss. He was doing a great job of getting pressure in the backfield too.
Pass rushers are some of the most important players on the field and Nebraska football got two really good ones in Rhule's first recruiting class. Coleman and the wideouts are starting to make an impact too.
It's a sign that Rhule's staff also knows how to get talented players to produce. Scott Frost signed plenty of four-star recruits but few played like it. Even Bryce Benhart and Turner Corcoran have taken big leaps this season, as have Robinson and Hutmacher on defense.
Yes, you need to recruit elite talent. You also have to be able to develop it and Matt Rhule is showing that won't be an issue for Nebraska football any longer.
Heinrich Haarberg is Nebraska's quarterback
I know Matt Rhule said that Heinrich Haarberg was QB1 this past week. Yet, that faith was tested quickly against Northwestern and Rhule never flinched.
One of Haarberg's strengths has been his ability to protect the ball. But he threw interceptions on the first two series of the game. He also dropped a snap. At times, it was ugly. But when he needed to drop a dime to Malachi Coleman, he did it for a 44-yard touchdown — the game-winner.
Haarberg also muscled his way into the end zone on a huge run, as well as running for first downs twice on third-and-seven or longer. The fact that Nebraska scored two touchdowns, despite being putrid on offense most of the day, proved to be the difference.
With this defense, Nebraska might only need 20 points to win every game on the rest of the schedule. But getting there could be an adventure.
That being said, it seems like this is Haarberg's show, and on Saturday, Matt Rhule's action of sticking with him after the worst possible start only reinforced that.
For good or bad, Nebraska football is rolling with the Kearney kid.
For More Nebraska content, follow us on Twitter, like our Facebook Page, and Subscribe to the Husker Big Red YouTube Channel. You can also find our podcast on Apple or Spotify.