5 things to watch for Nebraska football vs. Michigan State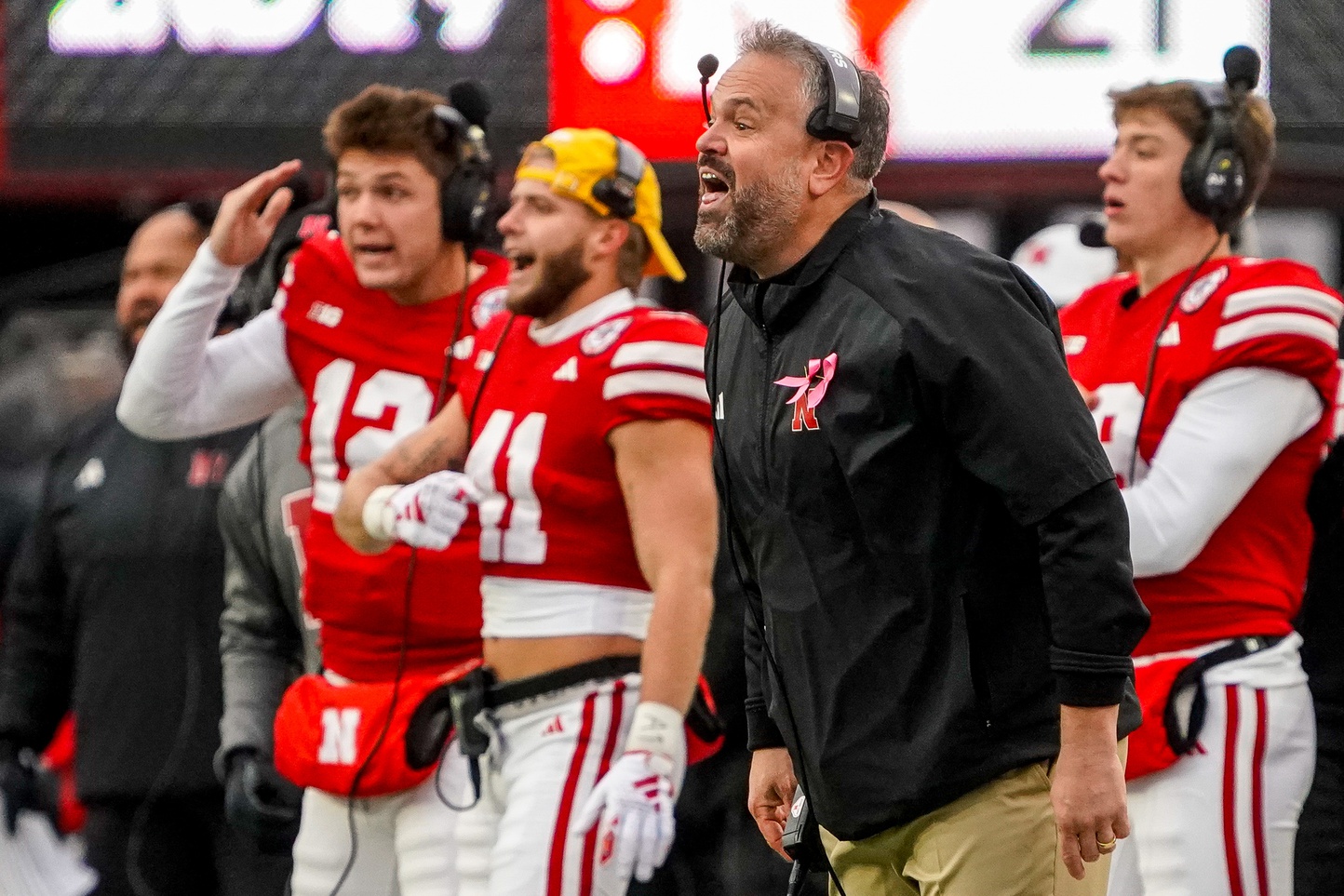 The Huskers can get win No. 6 this week against Michigan State and here are five things to watch for Nebraska football.
With every win for Nebraska football, each game gets more important. The Huskers can clinch a bowl game on Saturday against Michigan State and opened as a three-point favorite.
Michigan State (2-6, 0-5) has really struggled. Mel Tucker got hired and Harlon Barnett is the interim head coach. He's yet to win a game and the Spartans haven't beaten a Power-5 opponent this season, let alone someone in the Big Ten conference.
That being said, Michigan State and Nebraska are 14th and 11th in the Big Ten in scoring respectively. It could be a game where points are hard to come by and here are five things to watch for the Spartans and Huskers.
Another test for Nebraska football
The first step of building this program is getting to the point where Nebraska is winning the games it's supposed to win. Nebraska has done that this season under Matt Rhule and against this Michigan State team, this is a game the Huskers should win.
Nebraska turns the ball over too much, but so do the Spartans. Michigan State will be starting a freshman quarterback regardless of who is under center.
If the Huskers play defense like they have and limit takeaways, they should win and cover the spread. They'll have to handle success though and there's definitely going to be pressure to get that sixth win.
A test for the running game
Michigan State's defense isn't great. But the Spartans are solid in a couple of areas: third-down defense and against the run.
Michigan State is tied for sixth in the Big Ten allowing 3.6 yards per rushing attempt. Teams have mostly taken advantage of the Spartans' poor pass defense, which ranks 13th in the Big Ten in yards allowed per game. MSU has also surrendered 16 touchdown passes which is the worst in the conference.
The problem is that Nebraska ranks 13th in the Big Ten in passing yards. Only Iowa ranks worse in passing yards per game. Heinrich Haarberg is 5-1 as a starter and he's had some moments as a passer. He threw two touchdown passes last week and has TD passes of more than 40 yards in back-to-back games.
But all of that is connected to the running game. Emmett Johnson has had 70 yards or more in back-to-back games, but Haarberg will need a better effort than he had against Purdue. He'll need an explosive run or two, which won't be easy against the Spartans' stingy run defense.
Turnovers, turnovers, turnovers
If you're sick of turnovers, you might want to look away on Saturday. Hopefully, the Huskers can solve their turnover issue. However, Michigan State has been just as bad.
Both teams have given the ball away 19 times this season, which is tied for 125th in the FBS. That's a good sign for the Blackshirts who have done a great job of taking the ball away the past two weeks.
The special teams got a touchdown against Purdue. It would be a great week for the defense to do the same and against Michigan State, the opportunities will be there.
Yet, there will be opportunities for MSU too, because Nebraska's ball security has been horrible.
Who wins on third down?
Michigan State's third-down defense was ranked in the top three prior to it playing Michigan, but the Spartans still rank 20th in the FBS in third-down stops, allowing just 31 percent conversions. Nebraska football ranks 81st in converting third downs (38 percent) so this will be a key game within the game to watch on Saturday.
Haarberg has been sneaky good on third downs. He's struggled at times too, but it seems like there are at least one or two long drives per game. However, that could be difficult against the Spartans, because of their ability to get off the field on third down.
Who starts at quarterback?
Michigan State has two options: Katin Houser and Sam Leavitt. They are each freshman, although Houser is a redshirt. Between the two of them, they have attempted just 110 career passes (all this season) and have three touchdowns and four interceptions.
Leavitt came on last week in relief and threw a touchdown against Minnesota. Houser has started the last three games but is 0-3. The Spartans were up on Rutgers 24-6 in his first start before it all fell apart. Leavitt was 8-of-12 against Minnesota and also ran six times for 52 yards.
Houser isn't much of a runner and it feels like Leavitt will be the guy. Both were former four-star recruits so they have talent, but their lack of experience is something Nebraska DC Tony White should be able to take advantage of.
For More Nebraska content, follow us on Twitter, like our Facebook Page, and Subscribe to the Husker Big Red YouTube Channel. You can also find our podcast on Apple or Spotify.