5 things to watch for Nebraska football vs. Louisiana Tech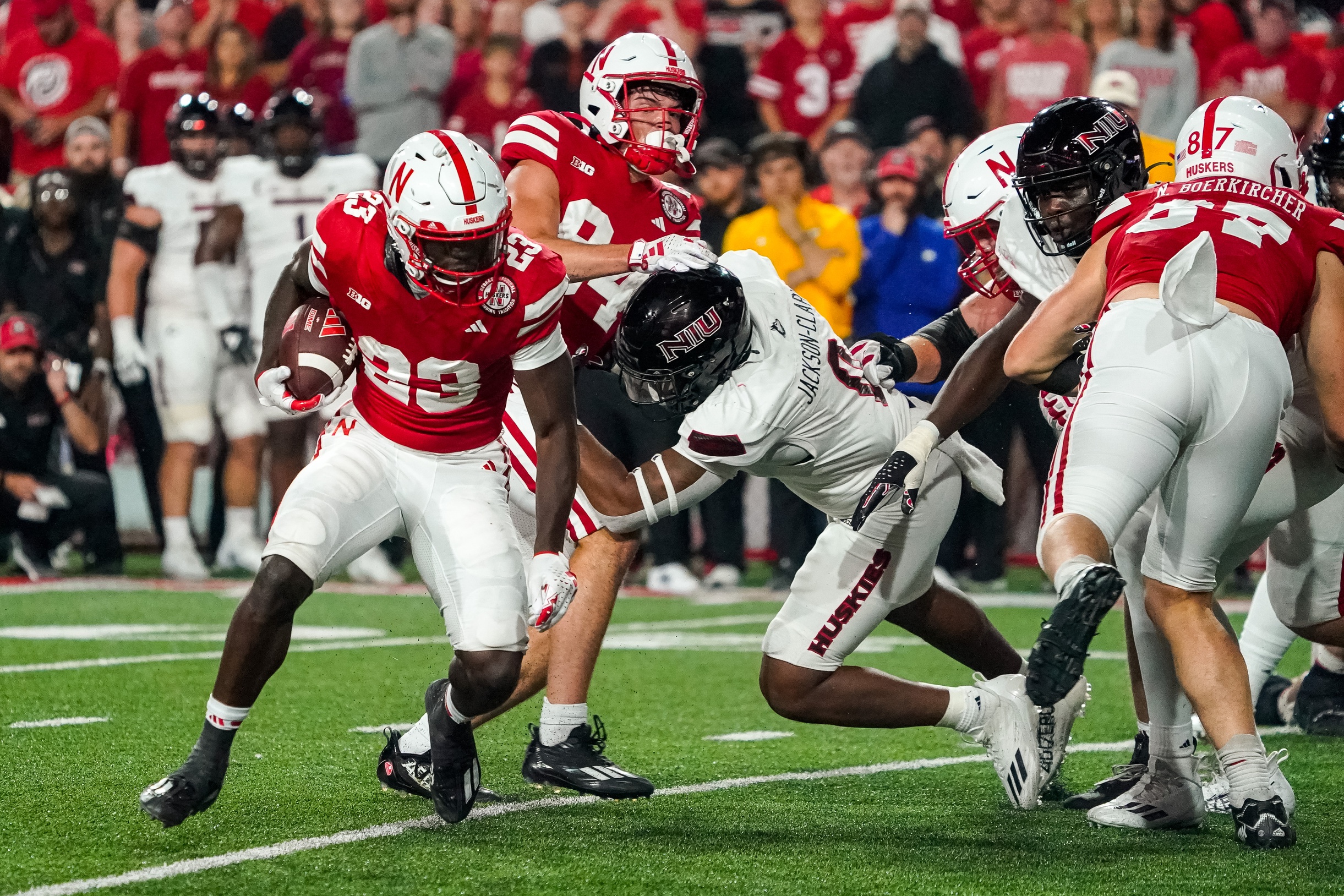 Nebraska football will be looking for win No. 2 on Saturday against Louisiana Tech and here are five things to watch.
As the Huskers get set for their second home game of the 2023 season, as well as the final non-conference game for Nebraska football, there are plenty of lingering questions.
We do know that Gabe Ervin and Rahmir Johnson are out for the season. That means Anthony Grant will be the bell-cow running back this week, although we don't know who will start at quarterback.
There are some other things to explore in the Nebraska football vs. Louisiana Tech matchup and here are five things to watch for the Huskers on Saturday.
Who will start at quarterback?
It sounds like the quarterback reps are being split about 50-50 this week among Jeff Sims and Heinrich Haarberg. Last week, Sims was the No. 3 quarterback so it might be a stretch for him to play Saturday.
Matt Rhule even said that while Sims was throwing well, he wasn't moving the way the coaching staff wanted. The quarterbacks have shouldered a heavy load in the running game so far this season and if Sims ankle isn't 100 percent, there's no sense in bringing him back early.
Haarberg completed 14-of-24 passes last week and had two touchdowns. He also impacted the game with his running ability and a similar gameplan to last week wouldn't be a big surprise.
Can Anthony Grant protect the ball?
Anthony Grant is a proven performer. He was just shy of 1,000 yards last season, so there's no doubt about his ability. Grant just needs to prove he can take care of the ball.
Even if he can't, Grant is going to be the No. 1 back. He's probably going to get about 20 carries per game. So far, Grant has 16 carries for 74 yards and a touchdown.  Emmett Johnson is another talented dude who deserves some opportunities but the Huskers have to be able to rely on Grant and that starts this weekend.
Nebraska should be in line for a few more sacks
The Huskers are ranked third in the country in terms of sacks with 14 total and 4.67 per game. That's good news for Nebraska football and bad news for Louisiana Tech. The Bulldogs have played four games but have also allowed 11 sacks or nearly three per game. That ranks Louisiana Tech 110th per game.
We don't know if Nebraska will have Cameron Lenhardt this weekend, but I don't know that it matters. The defensive line has been winning against everyone and if the Huskers can apply pressure to Louisiana Tech Hank Bachmeier, it should greatly improve their chances of avoiding an upset.
Louisiana Tech can run the ball too
Sonny Cumbie is known for his fondness of throwing the ball, but the Bulldogs average 181 yards per game and have two running backs with more than 200 rushing yards and each averages at least 7.3 yards per carry.
Keith Willis Jr. has 33 attempts for 240 yards and three touchdowns. Tyre Shelton is also over 200 yards and has just 21 carries. Louisiana Tech is throwing for 225 yards per game. Smoke Harris is a dangerous threat at receiver and has 288 yards as well as 24 receptions.
But a huge key for Nebraska football will be the run defense. The Huskers are allowing just 1.7 yards per rush. The first three teams were also held under 60 yards rushing so Louisiana Tech will have its work cut out for it in terms of matching its season averages.
The Bulldogs haven't seen a D-line pairing like Ty Robinson and Nash Hutcmaher so far this season.
Avoiding the turnover bug
With a defense that's playing really well and a running game that's second in the Big Ten going into conference play, the Huskers shouldn't have problems with Louisiana Tech.
However, turnovers are a quick way to even the playing field. Nebraska football only gave the ball away once last week and it would be great to see them put up a zero in that category for the first time in 2023.
If Sims plays, we'll see if he can take care of the ball. Grant needs to do the same and although Haarberg did well last week, it would be to get through a game without any turnovers by the quarterback.
For More Nebraska content, follow us on Twitter, like our Facebook Page, and Subscribe to the Husker Big Red YouTube Channel. You can also find our podcast on Apple or Spotify.