3 takeaways from Nebraska Basketball win over Penn State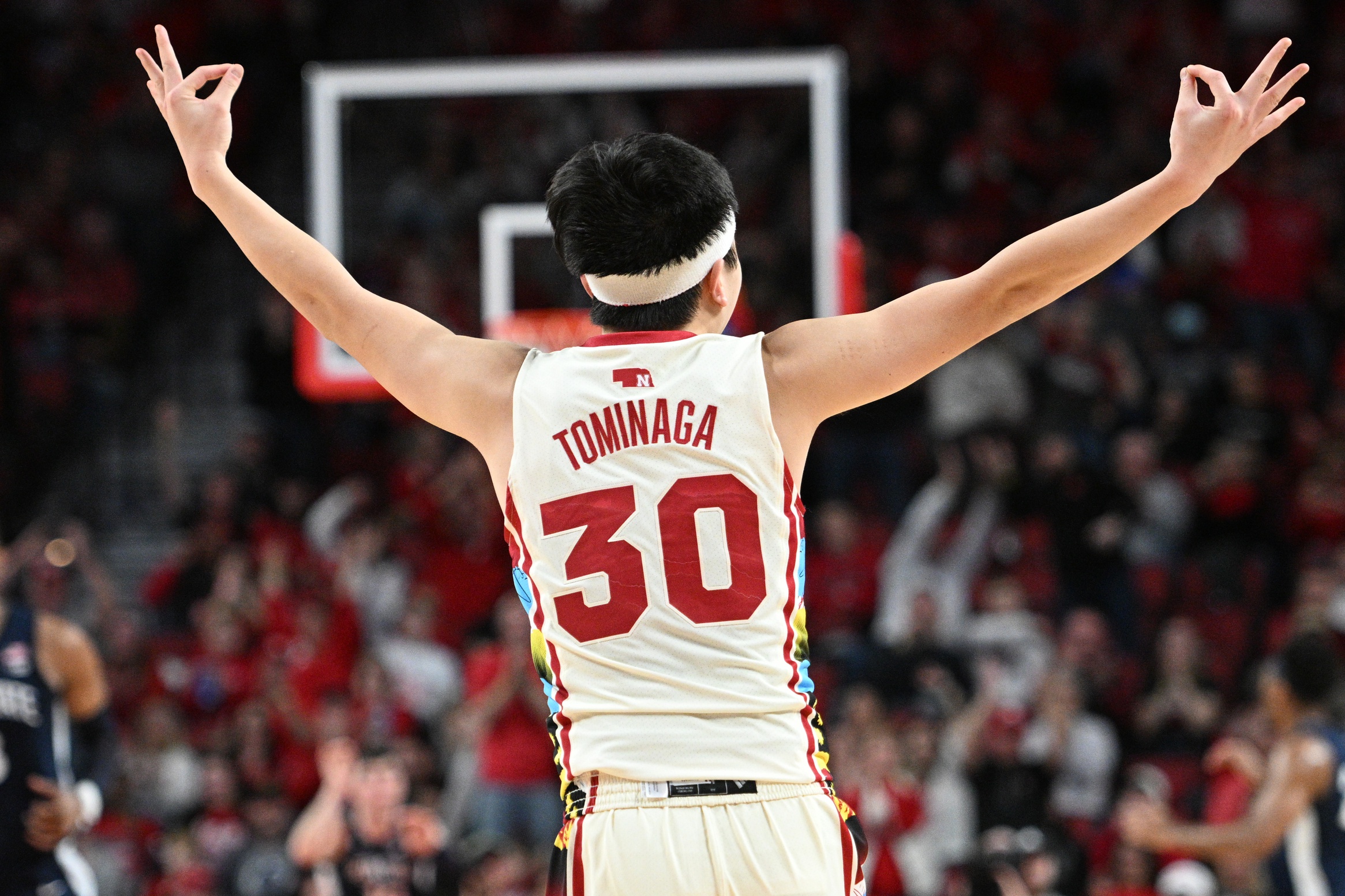 Nebraska basketball desperately needed a win and got one Sunday thanks to an incredible performance from Keisei Tominaga.
The last few weeks have been rough for Nebraska basketball and its fans. The optimism that once surrounded this team has faded and the hopes of postseason play seem very slim
But for one day at least, inside the Vault, Nebraska basketball gave their fans something to cheer about. The Huskers defeated a really solid Penn State team — one fighting for the NCAA tournament — 72-63.
The defense allowed 14 3-pointers to the Nittany Lions. I'd have never expected Nebraska to win doing that, however, I also didn't expect Keisei Tominaga to hit five triples of his own and score 30 points.
Sometimes, it takes an outlier performance to win a game, and here are three takeaways from the victory over Penn State for Nebraska.
Keisei Tominaga needs to start going forward
Sunday's game against Penn State was the sixth start of the season for Tominaga and it wasn't the first time that he's gone off. He came in averaging 10.3 points per game and has now made 43 3-pointers this season.
The junior set the tone for the Huskers and he's the kind of player that just tends to get hot. His defense is questionable at times but it has also gotten a lot better than last season. Derrick Walker and Sam Griesel are really good players but they don't have the shotmaking of Tominaga.
He's got one year remaining and frankly, for the rest of his career, the kid probably needs to be in the starting lineup. He can cook in a way no one else on this roster can.
Nothing fancy
Tominaga's big day definitely helped Nebraska basketball beat Penn State. However, a lot of it was just good, fundamental basketball. The Huskers only turned the ball over seven times. That number was 19 in the loss to Illinois. Nebraska had been turning it over more than 15 times per game during its recent losing streak and just taking care of the ball was vital.
The offense notched 17 assists on 27 buckets and even though Penn State had an 18-point advantage on 3-pointers, Nebraska outscored Penn State 38-20 on 2-pointers. The Huskers also made 10 free throws compared to one for the Nittany Lions and got the charity stripe 14 times compared to four.
It might not be the thing fans remember but if you only turn the ball over seven times and only foul six times, you are going to win a lot of basketball games.
A confidence boost for Nebraska basketball
The Huskers have seven regular-season games left and they would need five to finish above .500 for the season. That would make them eligible for the NIT.
Making that tournament was my goal at the start of the season. If Juwan Gary and Emmanuel Bandoumel hadn't gotten hurt, it might have happened. It's still possible. It seems unlikely but getting this win could set the stage for a strong finish.
Nebraska was able to close strong last season by knocking off a few ranked opponents. The Huskers are at home in four of the last seven games and none are against teams ranked in the top 25. They need to sweep at home and get one on the road.
First, though, the Huskers needed a reason to believe again. Tominaga and someone like Jamarques Lawrence, who scored 11 points, grabbed nine rebounds, and dished out three assists, are going to gain more confidence.
Everyone but Walker and Griesel should be back next season. So not only is it a chance to grow for the future but it's a chance for this group to show what it can do. Hoiberg's job is still on the line and every win he can get in the coming weeks will help.
There might not be many after this, yet confidence is a big deal and Nebraska should have some after beating Penn State.
For More Nebraska content, follow us on Twitter, like our Facebook Page, and Subscribe to the Husker Big Red YouTube Channel.