5 position battles for Nebraska Football heading into fall camp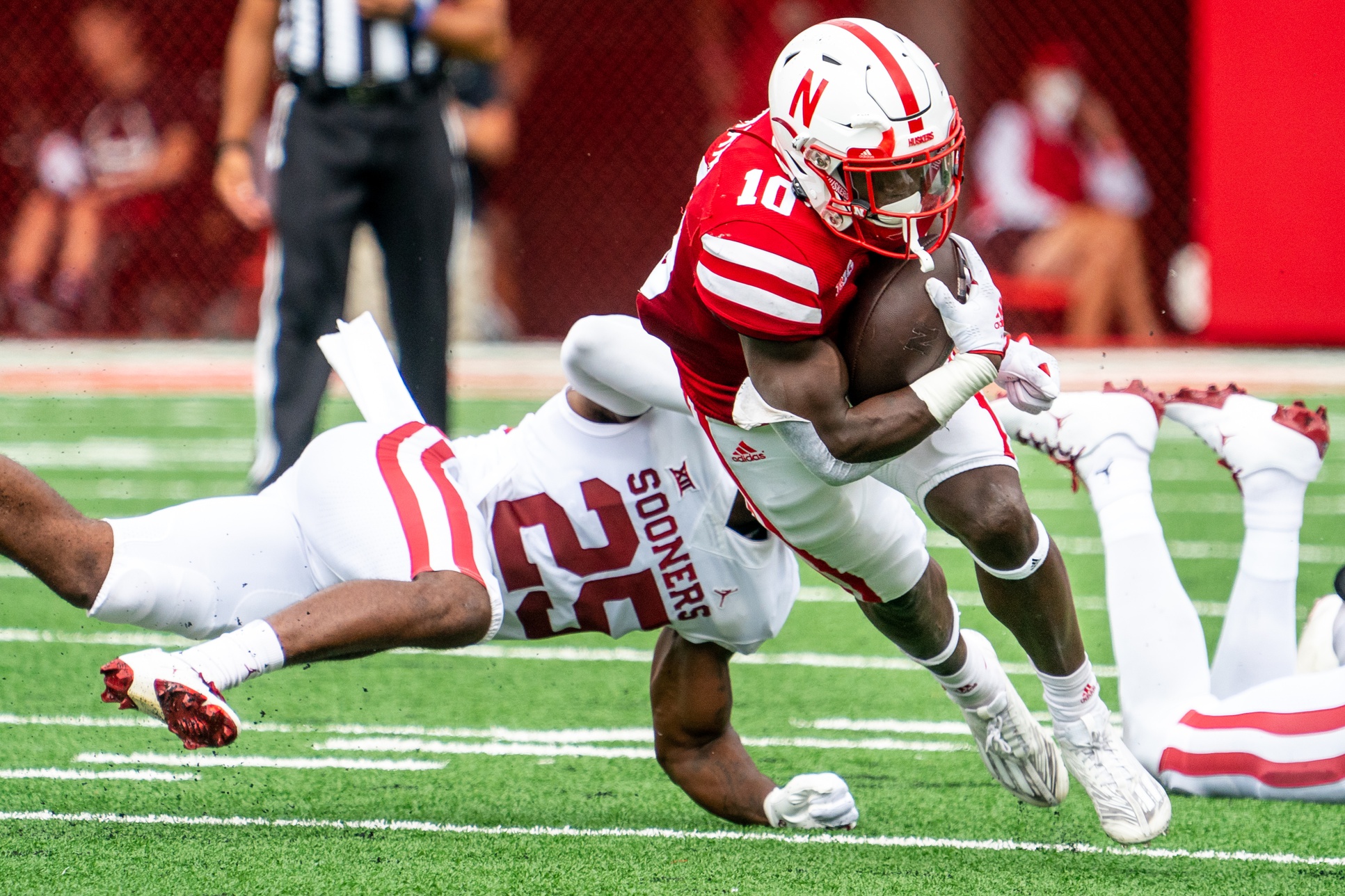 Fall camp is less than 10 days away for Nebraska football and here are the top five position battles for the Cornhuskers in fall camp.
Nebraska football will report for fall camp on July 30th. Practices will commence the next day. It will be an exciting time and with a new coaching staff, there are plenty of questions to answer.
There are going to be a bunch of position battles to watch too. You got an idea of what the depth chart is in the spring. Yet, that's always a work in progress. Players have progressed since then and others have joined the roster such as top-ranked 2023 recruit Malachi Coleman, who wasn't an early enrollee.
Some positions are settled. Nobody is going to challenge Jeff Sims to be the starting quarterback for instance. But there are some interesting position battles looking ahead to fall camp and here are five that Nebraska football fans should watch for.
Running back
Anthony Grant was the starter last season and nearly rushed for 1,000 yards. At times, I thought Grant could have gotten a little bit more. At other times, he did an incredible job to get one or two yards.
With an improved offensive line and some coaching from EJ Barthel, I'm intrigued to see what Grant can do. However, it's not going to be easy to hold off Gabe Ervin for the starting job.
Ervin has never really been healthy during his first two seasons. He won the starting job as a freshman and flashed a little in 2022. In recent pictures for the official roster, Ervin looks absolutely ripped.
Rahmir Johnson will be a factor too and don't forget about Emmett Johnson or Kwinten Ives. But this feels like an Ervin-Grant battle for the starting job, even though both will see plenty of carries.
Wide receiver
This might be the most interesting position battle to watch. Billy Kemp has locked down a starting job. He'll be the top slot guy and will play some on the outside too.
But the other spots will be the subject of heated competition. Marcus Washington is back from last season and he really came on down the stretch. But Nebraska football has a new coaching staff, as well as a new quarterback, and his connection to Casey Thompson, doesn't do much good now that Sims is slinging it.
Zavier Betts is also the real deal. If his head is on straight, which is certainly appears to be since he did the work to become academically eligible, he's a top-150 talent. Betts flashed some dynamic playmaking early in his Nebraska football career and I'm really excited to see what he'll do this season.
Add Malachi Coleman to the list, along with some other talented freshmen, as well as veterans like Isaiah Garcia-Castaneda and Josh Fleeks, and you have an interesting position battle that will play out during fall camp.
Offensive line
One of the biggest objectives for Matt Rhule in his first season as Nebrasa football head coach is improving the offensive line. That alone will lead to a win improvement.
The good news is that there are some solid pieces in place. Teddy Prochazka is a former top-100 prospect. He's also 6-foot-10, 320 pounds. If that mammoth of a man can stay healthy (five stars in two seasons) Nebraska will be much better off.
If Teddy is healthy, he will play left tackle. If he's not, my guess is Turner Corcoran will get the first chance to play there. However, I'm trying to figure out how Ethan Piper fits into the mix. He's heading to Big Ten Media Days which makes me feel like the staff at least views him as a starter.
The staff could see itself having six offensive line starters and I see that. Nouredin Nouili is back after being suspended last season. Many have penciled him in to start at guard. However, Piper is going to have something to say about that.
All in all, having six starting-caliber players isn't a bad thing. I actually like what I saw from Henry Lutovsky too. Bryce Benhart and Ben Scott both feel like sure-fire starters to me and looking at the group, I have to agree with coach Rhule that the O-line will be much better than people expect.
EDGE/pass rush
You'll notice that the updated Nebraska football roster doesn't have any position as EDGE. The Huskers actually have just three defensive positions listed: defensive line, linebacker, and defensive back.
It's an idea I really like. Tony White has preached versatility with his defensive scheme and that's going to pay off for Nebraska football, which was too predictable in the past.
It's clear to me that MJ Sherman and Chief Borders will both see time at the JACK linebacker position. I could also see them getting opportunities as an EDGE too. Sometimes, the two positions will be the same.
If Sherman starts and you drop him down to be an EDGE rusher, then you have a 4-2-5. That's where someone like Cameron Lenhardt or Princwill Umanmielen could get on the field early. I don't know 100 percent that those freshmen will start but they will see the field a lot.
Blaise Gunnerson and Jimari Butler need to take advantage of this opportunity if they ever want to become contributors. Gunnerson is listed as a D-lineman. Butler is listed as a linebacker. Regardless, they will need to pressure the quarterback or they aren't going to stay on the field.
Same with Lenhardt and Umanmielen. The pass rush is a major question mark and one or two of the four guys listed will need to emerge with some productivity in 2023.
Linebacker
We touched on linebacker a little with Borders and Sherman. Sherman seems like the starting JACK to me but that was after the spring game a lot can change. Butler could play in that spot, as can Borders and Maverick Noonan, who also stood out this spring.
All four of those guys should see snaps. Just like on the defensive line, there will be plenty of players rotating. Nick Henrich and Luke Reimer are the presumed starters at the inside positions, but John Bullock saw significant playing time in the spring game, plus I'm excited to see what Eric Fields and Dylan Rogers can do as freshmen.
In short, there's a lot of talent for three starting positions, so it will be interesting to see how White deploys it all during the 2023 season.
For More Nebraska content, follow us on Twitter, like our Facebook Page, and Subscribe to the Husker Big Red YouTube Channel. You can also find our podcast on Apple or Spotify, or purchase our Husker Big Red Merchandise. 
3 keys to a victory for Nebraska football vs. Louisiana Tech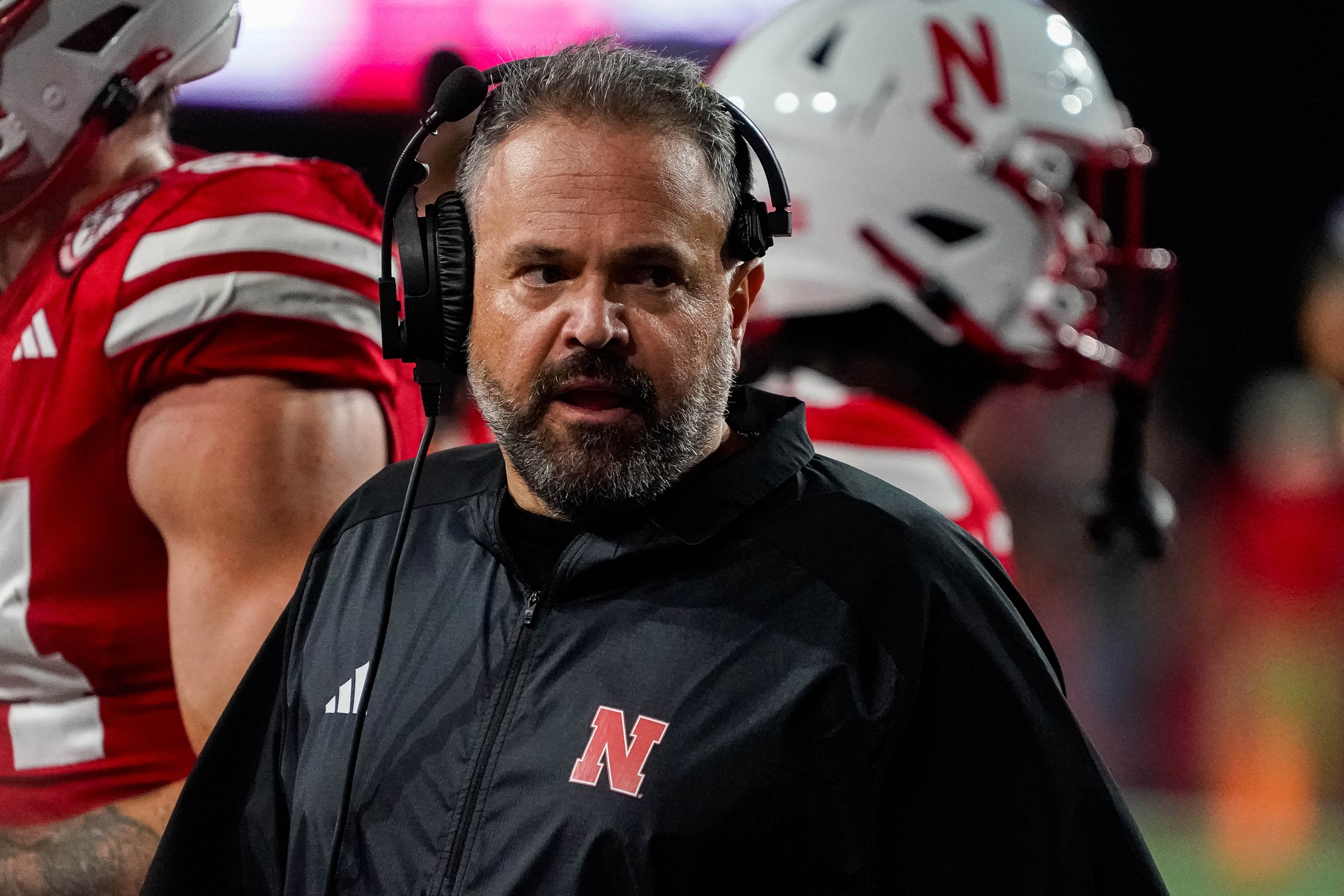 Nebraska football will be looking for a second straight win on Saturday and here are three keys against Louisiana Tech.
For the second week in a row, Nebraska football will be at home. It's the second of three straight home games and the Huskers will be looking to take advantage of their incredible home-field advantage once again.
Before big bad Michigan comes to Lincoln on Sept. 30, Nebraska football will have a final non-conference game against Louisiana Tech. The Bulldogs are 2-2 but have been really up and down in the second season under head coach Sonny Cumbie.
Louisiana Tech runs an air-raid offense but does have a couple of talented running backs. Quarterback Hank Bachmeier is a Boise State transfer but is questionable for the game on Saturday due to a shoulder injury.
The defense ranks 100th in scoring defense. Louisiana Tech is 63rd in scoring offense and while Nebraska football has its own question marks, such as who will start at quarterback? The Huskers are a 19-point favorite and here are three keys to a win on Saturday.
Keep stuffing the run
When you think of Louisiana Tech, you don't necessarily think of a running team, but the Bulldogs average 5.1 yards per attempt and 181 yards per game on the ground. True freshman Keith Willis has 240 rushing yards and averages 7.3 yards per attempt. Tyre Shelton averages 10.2 yards per attempt and is also over 200 yards for the season.
But if there is one thing Nebraska football has excelled at it is run defense. The Huskers have held each of their opponents to fewer than 60 yards rushing. They also rank among college football's top five in rushing yards per game (46.3) and rushing yards allowed per attempt (1.7).
If that continues on Saturday, I feel really good about Nebraska's chances of winning without incident. Yet, if the Bulldogs can find success on the ground, things could get interesting.
Hit the quarterback, whoever it is
Whether it's Bachmeier or Jack Turner who has thrown for 146 yards and a touchdown this season, as well as an interception, Nebraska football needs to hit the quarterback and it should have an easy time getting home.
Louisiana Tech ranks 110th in the FBS in terms of sacks allowed per game. The Bulldogs have allowed 11 total and that's an average of 2.75 sacks per game. Nebraska football is in the top five in college football with 14 sacks total and 4.6 per game.
The Huskers have done a great job of getting pressure from different levels. Tony White has done a great job of creating blitzes and the defensive line is also winning one-on-ones.
This feels like a game where the Huskers shouldn't have a problem getting four or five sacks, especially if Nebraska football is able to build a double-digit lead and pin its ears back.
Run the damn ball
It's not ideal that Nebraska football lost two of its top three running backs to season-ending injuries, but the Huskers should be licking their chops this week.
Louisiana Tech is allowing 4.9 yards per rushing attempt which doesn't bode well against a Nebraska ground game that is second in the Big Ten, ranked in the top 25 nationally, and averages 5.1 per rush.
Nebraska is getting 209 yards per game and the quarterbacks have been a big part of it. Whether Jeff Sims gets the start of Heinrich Haarberg, I expect plenty of quarterback runs again.
With Anthony Grant taking over as the bell cow, Nebraska is going to need to lean on its quarterbacks and even if Haarberg isn't the starter, I want to see both utilized in the running game, because it has been one of the most effective parts of the offense through three games.
For More Nebraska content, follow us on Twitter, like our Facebook Page, and Subscribe to the Husker Big Red YouTube Channel. You can also find our podcast on Apple or Spotify.
Nebraska Football lands athletic playmaker in JD Crisp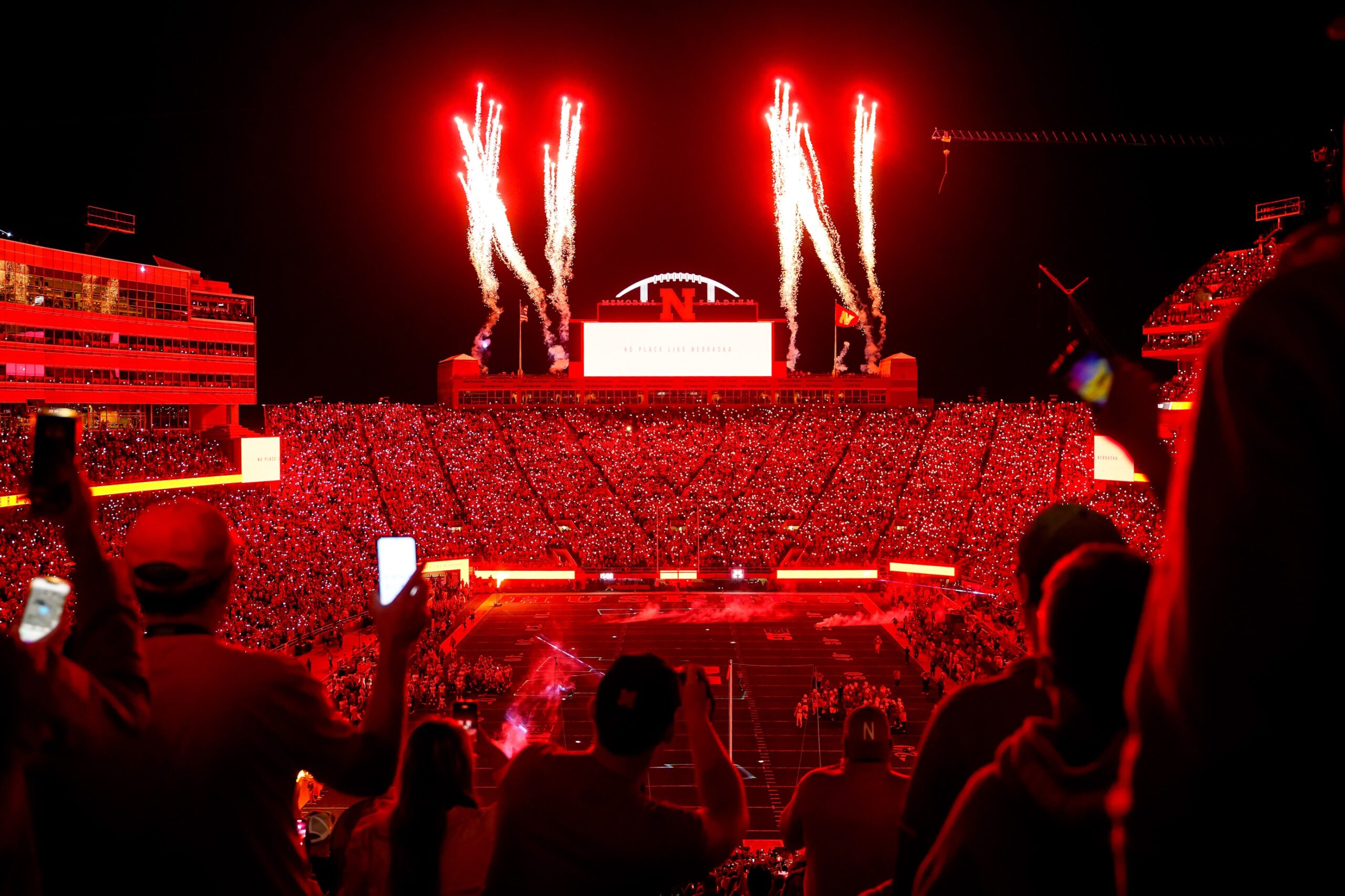 Nebraska football continues to recruit for the 2024 class. They picked up a commitment from 2024 wide receiver JD Crisp on Wednesday afternoon. Crisp played both sides of the football in high school, playing both defensive back and wide receiver for Second Baptist High School.
He is not ranked in the 247Sports regular or Composite Rankings. However, he does have a solid offer sheet.  Crisp had seven offers in total, including one from Minnesota. He was officially offered by the program on September 16 and quickly made his decision.
It's also worth noting that his recruitment was active throughout the summer. He attended Texas A&M Aggies camp on June 14. At the very least, he garnered interest from a prominent Texas school. That is notable in of itself.
#Nebraska has picked up commitment No. 25 in the 2024 recruiting class from DB/WR recruit JD Crisp from Cypress (Texas) Second Baptist. Crisp recently visited Nebraska and committed to the #Huskers on Sunday following his visit. pic.twitter.com/IDzfYCw64e

— Bryan Munson (@BryanMunson_) September 20, 2023
What could he bring to Nebraska football?
It's interesting that he is a two-way player. He played both the receiver and safety positions in high school. As far as Nebraska is concerned, I could certainly see him playing at receiver. He has as a tremendous amount of athleticism, and played mostly on the outside and high school. Crisp was very good at catching in space, and making contested catches and tight windows.
Playing receiver would make sense for him, given Nebraska's lack of depth at the position moving forward. He has the agility and ability to become a solid piece if developed properly.
Nevertheless, he has overall qualities that could make him a good safety as well. This coaching staff loves the opportunity to work with athletes and molding them as they see fit. His ability to fire off the football and read a play certainly stands out.
The commitment of Crisp adds to a 2024 recruiting class that ranks 24th overall nationally. The class itself is stacked with talent. It currently has 25 commitments in total.
It will be interesting to see what Crisp can do for Nebraska football. He is definitely more of a project player. Nevertheless, his athleticism and speed is intriguing. One of this coaching staff's strengths is identifying how players fit into the program. They will have to do that with Crisp.
5 things to watch for Nebraska football vs. Louisiana Tech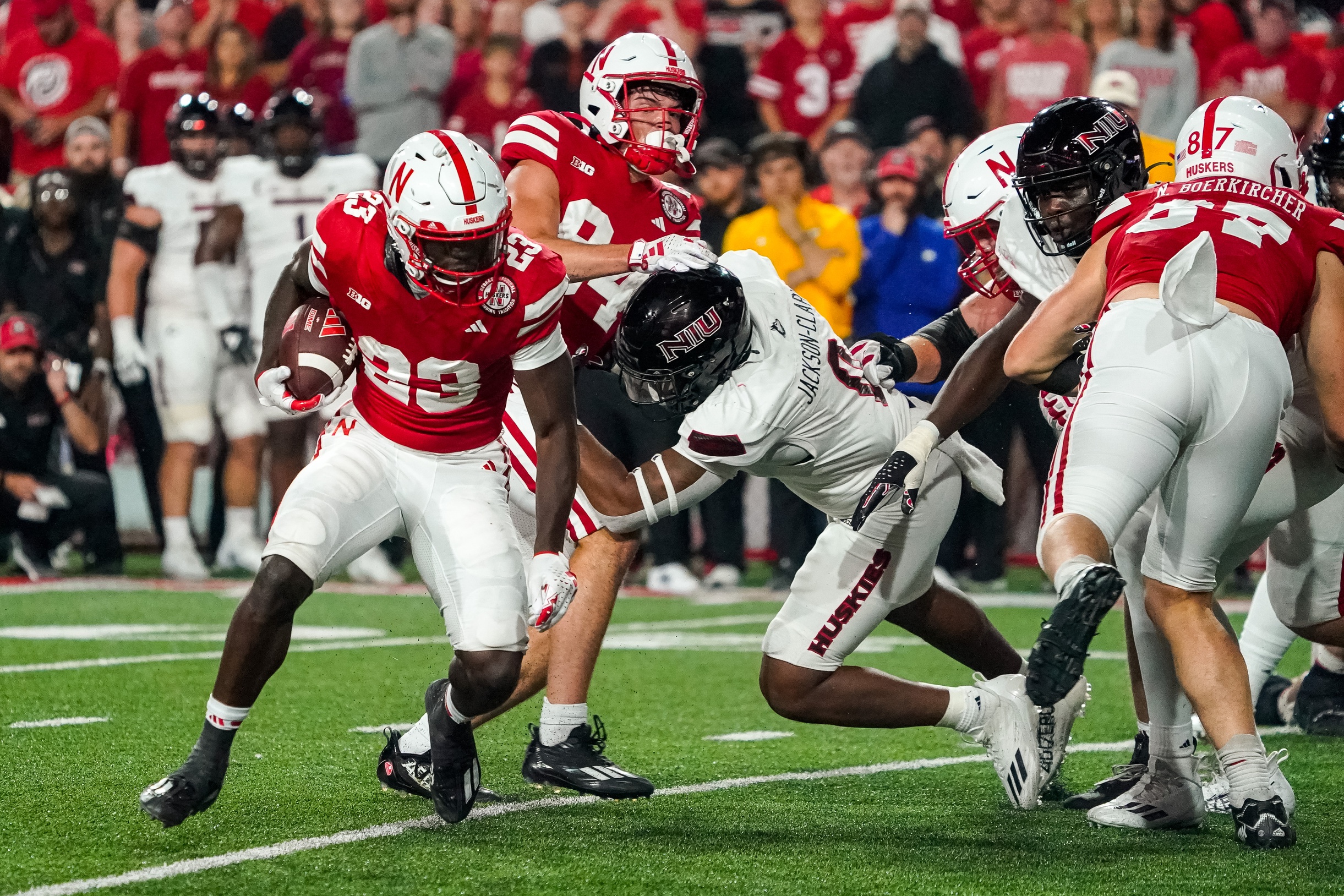 Nebraska football will be looking for win No. 2 on Saturday against Louisiana Tech and here are five things to watch.
As the Huskers get set for their second home game of the 2023 season, as well as the final non-conference game for Nebraska football, there are plenty of lingering questions.
We do know that Gabe Ervin and Rahmir Johnson are out for the season. That means Anthony Grant will be the bell-cow running back this week, although we don't know who will start at quarterback.
There are some other things to explore in the Nebraska football vs. Louisiana Tech matchup and here are five things to watch for the Huskers on Saturday.
Who will start at quarterback?
It sounds like the quarterback reps are being split about 50-50 this week among Jeff Sims and Heinrich Haarberg. Last week, Sims was the No. 3 quarterback so it might be a stretch for him to play Saturday.
Matt Rhule even said that while Sims was throwing well, he wasn't moving the way the coaching staff wanted. The quarterbacks have shouldered a heavy load in the running game so far this season and if Sims ankle isn't 100 percent, there's no sense in bringing him back early.
Haarberg completed 14-of-24 passes last week and had two touchdowns. He also impacted the game with his running ability and a similar gameplan to last week wouldn't be a big surprise.
Can Anthony Grant protect the ball?
Anthony Grant is a proven performer. He was just shy of 1,000 yards last season, so there's no doubt about his ability. Grant just needs to prove he can take care of the ball.
Even if he can't, Grant is going to be the No. 1 back. He's probably going to get about 20 carries per game. So far, Grant has 16 carries for 74 yards and a touchdown.  Emmett Johnson is another talented dude who deserves some opportunities but the Huskers have to be able to rely on Grant and that starts this weekend.
Nebraska should be in line for a few more sacks
The Huskers are ranked third in the country in terms of sacks with 14 total and 4.67 per game. That's good news for Nebraska football and bad news for Louisiana Tech. The Bulldogs have played four games but have also allowed 11 sacks or nearly three per game. That ranks Louisiana Tech 110th per game.
We don't know if Nebraska will have Cameron Lenhardt this weekend, but I don't know that it matters. The defensive line has been winning against everyone and if the Huskers can apply pressure to Louisiana Tech Hank Bachmeier, it should greatly improve their chances of avoiding an upset.
Louisiana Tech can run the ball too
Sonny Cumbie is known for his fondness of throwing the ball, but the Bulldogs average 181 yards per game and have two running backs with more than 200 rushing yards and each averages at least 7.3 yards per carry.
Keith Willis Jr. has 33 attempts for 240 yards and three touchdowns. Tyre Shelton is also over 200 yards and has just 21 carries. Louisiana Tech is throwing for 225 yards per game. Smoke Harris is a dangerous threat at receiver and has 288 yards as well as 24 receptions.
But a huge key for Nebraska football will be the run defense. The Huskers are allowing just 1.7 yards per rush. The first three teams were also held under 60 yards rushing so Louisiana Tech will have its work cut out for it in terms of matching its season averages.
The Bulldogs haven't seen a D-line pairing like Ty Robinson and Nash Hutcmaher so far this season.
Avoiding the turnover bug
With a defense that's playing really well and a running game that's second in the Big Ten going into conference play, the Huskers shouldn't have problems with Louisiana Tech.
However, turnovers are a quick way to even the playing field. Nebraska football only gave the ball away once last week and it would be great to see them put up a zero in that category for the first time in 2023.
If Sims plays, we'll see if he can take care of the ball. Grant needs to do the same and although Haarberg did well last week, it would be to get through a game without any turnovers by the quarterback.
For More Nebraska content, follow us on Twitter, like our Facebook Page, and Subscribe to the Husker Big Red YouTube Channel. You can also find our podcast on Apple or Spotify.