Projecting Nebraska Basketball depth chart for 2023-24 season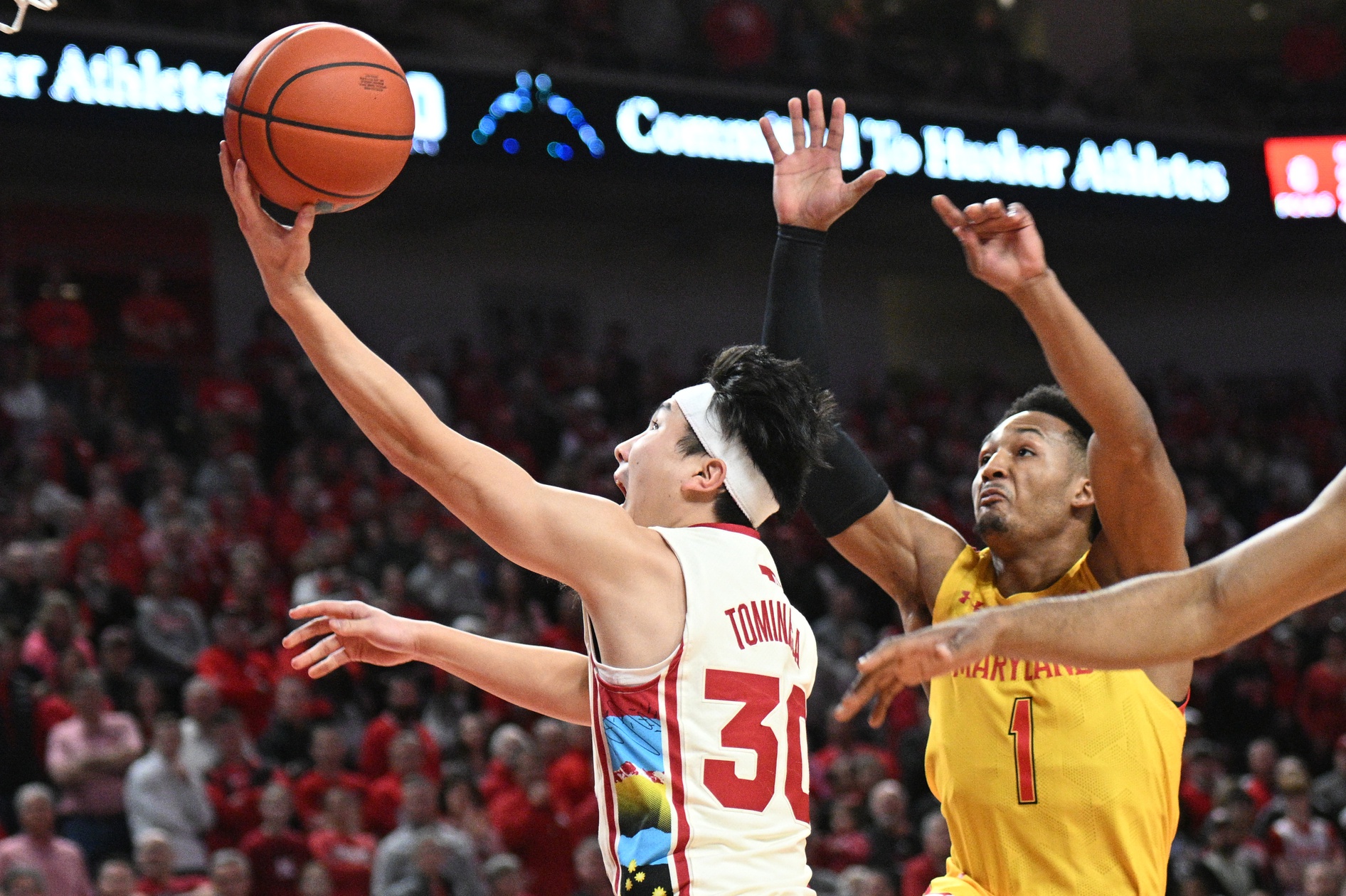 Now that we know that Keisei Tominaga is back for Nebraska basketball, here's our projected depth chart for 2023-24.
If you didn't catch the press conference this week that featured Fred Hoiberg and Keisei Tominaga, you should. The excitement was palpable and frankly, Nebraska basketball fans should be excited.
The return of Tominaga is incredibly exciting. The guy averaged 14 points a game in Big Ten play and averaged 17 points as a starter for Nebraska basketball in 2022-23. Imagine what he'll do in a full season.
As important as some of the transfer portal additions were, Hoiberg was correct in saying Tominaga was the biggest offseason move for the Huskers. He's an elite scorer and his return has Husker fans talking about a potential NCAA tournament berth.
While that's a realistic goal, let's remember that the Big Ten is brutal. We also haven't seen a single game. However, in the mindset of looking ahead, we should be able to make out a pretty good Nebraska basketball depth chart, and here's my projection, as of now (with 11 players) heading into the 2023-24 season.
Point guard: Ahron Ulis; Jamarques Lawrence, Ramel Lloyd, and Sam Hoiberg
Ahron Ulis is an addition I like the more I study him. There will be more opportunities for him to show off his playmaking skills with Nebraska and Hoiberg believes he can get him to shoot the ball better too.
If there's one thing Fred Hoiberg knows — it's shooting and offensive basketball. He was really in his element last season and now that the Huskers have the talent of a mid-level Big Ten squad, we're going to see what the head coach can really do.
Ulis started for Iowa last season, so there's no jump up in competition to worry about. He's got a low-turnover rate and while he only averaged six points a game, he'll be just fine running the show.
Hoiberg indicated Jamarques Lawrence could be part of the point guard competition which is smart. He's too good to keep off the floor and he can play some point guard. I don't know if I want him doing it full-time, but with Keisei taking up most of the minutes at the two, it's a good way to get Lawrence on the floor.
Lawrence was impressive down the stretch and is a solid defender, can get to the bucket, and is a stellar shooter. Outside of Tominaga, he's as talented as anyone on this roster. That's why I see him getting some minutes here along with potentially Sam Hoiberg (in a pinch) and Ramel Lloyd.
Two-guard: Keisei Tominaga, Lawrence, Brice Williams, CJ Wilcher
This is pretty obvious. Tominaga is going to start every game at the two-guard spot for Nebraska basketball. Hoiberg said he and the coaching staff were watching the NBA playoffs to get new ideas to create shots for Tominaga, which fired me up even more for next season.
I loved when Hoiberg used him as a screener. Tominaga was really good in that action. He's also tremendous at moving without the ball and cutting to the hoop. I'm certain he'll get more ball-screen opportunities and I wanted to see him grow as a playmaker and defender — both of which are needed if he wants to get drafted.
Lawrence should also see some time at the two and I think Brice Williams could play there in certain spots if Nebraska is looking for a really big lineup. I even wonder if we'll see Tominaga ever run the point, accompanied by the Williams, Juwan Gary, Josiah Allick, and Rienk Mast. That's an intriguing five if someone can run the point.
Nebraska basketball fans shouldn't forget about CJ Wilcher. I definitely see him having a role off the bench, especially with the way the roster is constructed. There aren't a ton of 2/3 players and Wilcher can slide into that role if need be and some younger guys aren't quite ready.
Small forward: Brice Williams, Gary, Wilcher, Eli Rice, Lloyd
This was the most difficult decision for me but I really think Williams will find his way into the starting lineup at Nebraska. He's 6-foot-7, a solid 3-point shooter, and averaged 13.8 points per game for Charlotte.
For his career, Williams is a 39-percent 3-point shooter. Two years ago, he shot 43 percent. He's also got really good length and does a solid job on the boards (5.3 per game). He also averaged over an assist per game, as well as 0.8 steals.
In short, Williams does a lot and even though I could see him as the sixth man off the bench, he's just too good in my opinion. The Huskers could play big and start Juwan Gary at the three, with Josiah Allick at the four.
That's the other very realistic starting lineup and think that will be the call on some nights. But my prediction is that Williams starts the majority of the games at the three.
Power Foward: Juwan Gary, Josiah Allick, Brice Williams
As you get into the frontcourt, you can see Nebraska basketball is a little light on 3/4 guys. Gary is perfect for that role and played it well for the Huskers in 2022-23.
Gary proved to be a valuable defender on many of the athletic fours you can see in the Big Ten. He's also a reliable rebounder, shooter, and all-around offensive player.
Allick could see time at the four in bigger lineups. Like I said, I think he'll even start some games there. But with Allick also serving as a backup five in some spots, he seems more valuable coming off the bench.
There are options though and good ones, which Hoiberg seemed really excited about.
Center: Rienk Mast, Blaise Keita, Josiah Allick
This is probably the most straightforward for the Huskers as it seems pretty clear that Rienk Mast will be the starting center after transferring from Bradley.
Mast and Allick will probably see most of the minutes. Both guys are under 6-foot-10, but they are each solid low post scorers. The one thing Nebraska needs more of is rim protection.
Blaise Keita will be relied on for that. His offensive game needs work and he's been recovering from injury this offseason. However, he seems healthy and Nebraska will need his defensive prowess around the rim.
If there was another addition to be had via the transfer portal, a backup center, another point guard, or a 3/4 would be ideal. However, Nebraska didn't have enough rim protection a year ago and that's still an issue.
Overall, I really like this roster and as you can see, Nebraska has lots of versatility, lots of lineup options, and hopefully, lots of different ways to win basketball games during the 2023-24 season.
For More Nebraska content, follow us on Twitter, like our Facebook Page, and Subscribe to the Husker Big Red YouTube Channel. You can also find our podcast on Apple or Spotify.
Nebraska Cornhuskers news: Jeff Sims still not 100 percent, a flip attempt, and more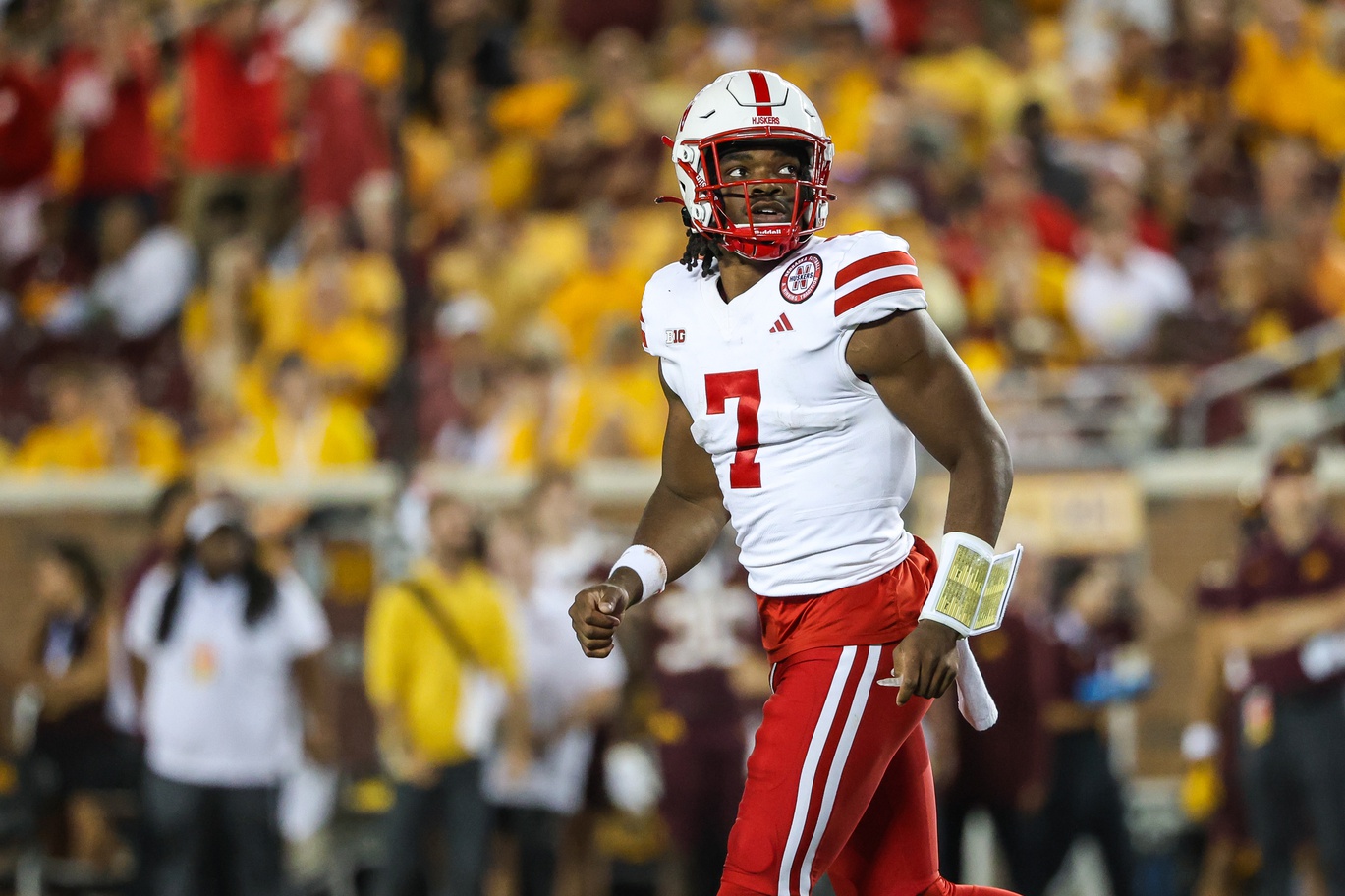 Nebraska football QB Jeff Sims still isn't 100 percent, plus more Nebraska Cornhuskers news.
One thing we know for sure about the Nebraska football quarterback situation is that we won't know anything until kickoff on Saturday against Louisiana Tech.
Matt Rhule said that he won't be making any announcements prior to the game, similar to last week, about the starting quarterback. Marcus Satterfield told reporters on Tuesday that Sims took "50-55 percent of the snaps" so he's improving, but according to Rhule, he's still not 100 percent.
Matt Rhule said on Huskers Radio Network that QB Jeff Sims is not yet at 100 percent with QB draws, running the option or scrambling after his ankle injury.

He thought Heinrich Haarberg did a "great" job managing the game vs. NIU, including running the huddle, subs, reads etc.

— Abby Barmore (@Abby_Barmore) September 19, 2023
Rhule indicated that Sims is throwing the ball well. The Nebraska Cornhuskers just want to see some more movement skills out of their starting quarterback. One of the starting quarterbacks I should say since Sims and Heinrich Haarberg were listed as co-starters this week on the depth chart.
We'll see how it plays out. If Sims is healthy, I expect that he will get the start or at least play, but with how thin Nebraska football is at running back, both quarterbacks will probably be needed, especially with their prowess for pounding the rock.
Nebraska Cornhuskers aiming to flip Michigan State 4-star
Andrew Dennis is a 6-foot-5, 275-pound offensive lineman rated as a four-star prospect by the 247 Sports composite rankings. He's out of Mt. Pleasant, Michigan, and has been committed to Michigan State since April but Nebraska football is one of many programs to throw out a recent offer.
After an amazing conversation with @s_kwilli32 I am blessed and honored to receive an offer to play football at the University of Nebraska!!!! @CoachMattRhule @AllenTrieu @Rivals_Clint@ESPNRittenberg @TheD_Zone @samspiegs @JimLahde@BernreuterHugh @SamAliSports@BGreenReports pic.twitter.com/9eDm7JkjBW

— Andrew (AJ) Dennis (@andrewdennis_08) September 19, 2023
We don't know if Dennis has any plans to visit Nebraska football. He's been offered by Auburn, Stanford, Penn State, and Purdue just since Monday. I wouldn't get too serious worrying about Dennis until he takes a visit to Nebraska, but if that happens, watch out.
It's at least a name to keep on the radar and a decommitment definitely seems possible with the situation going on at Michigan State with Mel Tucker getting fired.
Nebraska Cornhuskers Big Ten basketball schedule released
We knew which teams Nebraska basketball would play in the 2023-24 Big Ten season but got the official schedule on Tuesday. The Huskers released it on their official Twitter account.
Go B1G Red.

🗓️ https://t.co/ustbApU7Yc | #GBR pic.twitter.com/7s42V3pCZe

— Nebraska Men's Basketball (@HuskerMBB) September 19, 2023
Nebraska basketball will open Big Ten on December 6th against Minnesota on the road. Fred Hoiberg's first conference home game will be against Michigan State on December 10th.
The schedule is fairly balanced in terms of the home and road games. The Huskers have consecutive home games twice on the conference schedule. Nebraska has also back-to-back road games twice.
My first impressions though, are that Nebraska basketball is capable of a winning season in Big Ten play, which would definitely keep Fred Hoiberg in place and likely, would give the Huskers a realistic shot at making their first NCAA tournament since the 2014 season.
For More Nebraska content, follow us on Twitter, like our Facebook Page, and Subscribe to the Husker Big Red YouTube Channel. You can also find our podcast on Apple or Spotify.
Nebraska Cornhuskers news: Matt Rhule runs a tight ship, momentum with Caleb Benning, and more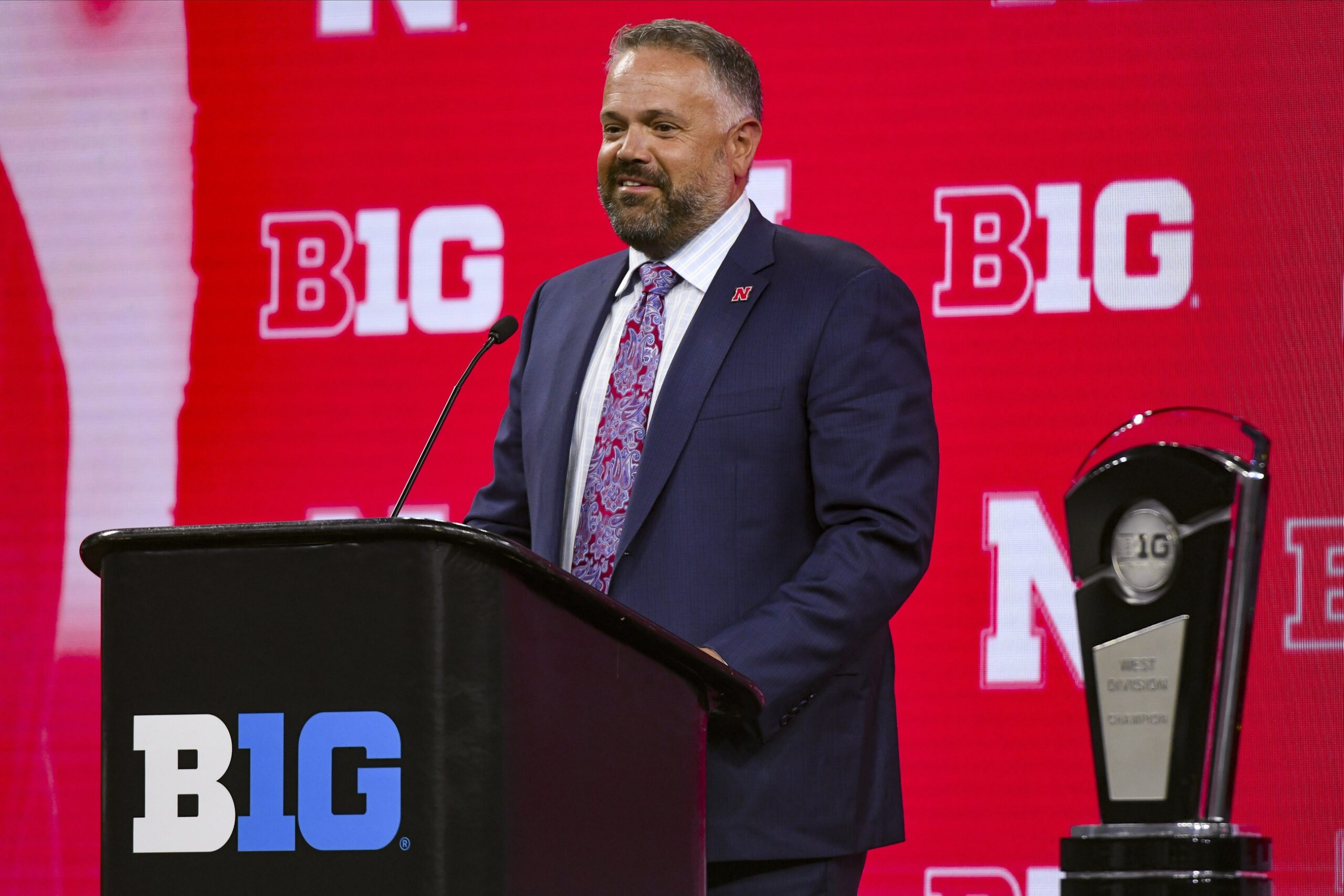 The Nebraska Cornhuskers opened fall camp on Monday and Nebraska football head coach Matt Rhule runs a tight ship, plus a Caleb Benning update, and more.
You got the idea that Nebraska football head coach Matt Rhule was going to take an old-school approach when he announced the Nebraska Cornhuskers would be spending the first two weeks of camp in the dorms.
But on Monday, the old-school approach continued.
Over the weekend, there were tons of rumors circulating among Nebraska football fans on Twitter about Myles Farmer and his status for the 2023 season. As it turns out, he was suspended by coach Rhule.
Rhule didn't say why, just that Farmer didn't live up to the standard. Rhule did say it was up to Farmer and his actions in regard to returning to the Nebraska Cornhuskers this season. Farmer started 11 games last season for Nebraska fotoball and was one of the team's leading tacklers.
Another starting defensive back, Marques Buford is also missing the start of camp due to injury rehab.  Omar Brown and Corey Collier will have to step up, but the progress of Farmer will be something to watch.
Nebraska football making an impression on Caleb Benning
It's clear that Nebraska football is trending up in the recruitment of in-state athlete Caleb Benning. The 5-foot-11, 183-pound defensive back/wide receiver, visited the Huskers again on Monday to take in practice.
All told it was the third unofficial visit of the past week for Benning. He visited early last week when the dead period ended and was also part of the "Cookout" on Sunday when more than 30 Nebraska football recruits were on campus.
In an interview with Steve Marik, Benning has even talked about a potential update to his timeline. He's been saying that he will announce a commitment in December, but if he decides to commit sooner, I think that would be a great sign for Nebraska football.
Our @Steve_Marik caught up with Omaha Westside 2024 ATH Caleb Benning today. See his thoughts on his latest trip to Lincoln plus a potential updated timeline @NebraskaRivals 👀👀

— Greg Smith (@GregSmithRivals) July 31, 2023
I know the Huskers could land Amare Sanders and I hope they do. However, that shouldn't impact Benning. Nebraska football is showing that he's a priority and my prediction is that he's N before it's all said and done.
More Nebraska Cornhuskers news
The Nebraska basketball team made its debut on the trip to Spain and won its first game in overtime. Nebraska only had six scholarship players available, so you can only take away so much, but Brice Williams was spectacular with 28 points, five rebounds, and four assists in the 89-84 win over the Madrid All-Stars. CJ Wilcher had 18 points and 10 rebounds. Jamarques Lawrence pitched in with 14. Rienk Mast was playing with the Netherlands in international play and also had a stellar showing, scoring 26 points and making 6-of-10 3-pointers. So far, so good for the Nebraska Cornhuskers in terms of the portal.
While plenty of highlights and photos surfaced from day one of Nebraska football camp, maybe the highlight that stood out the most was Tristan Alvano's 50-yard field goal in practice. The freshman is battling for the starting kicking job and my money is on him to win it.
For More Nebraska content, follow us on Twitter, like our Facebook Page, and Subscribe to the Husker Big Red YouTube Channel. You can also find our podcast on Apple or Spotify, or purchase our Husker Big Red Merchandise.
3 thoughts on commitment of Matar Diop to Nebraska basketball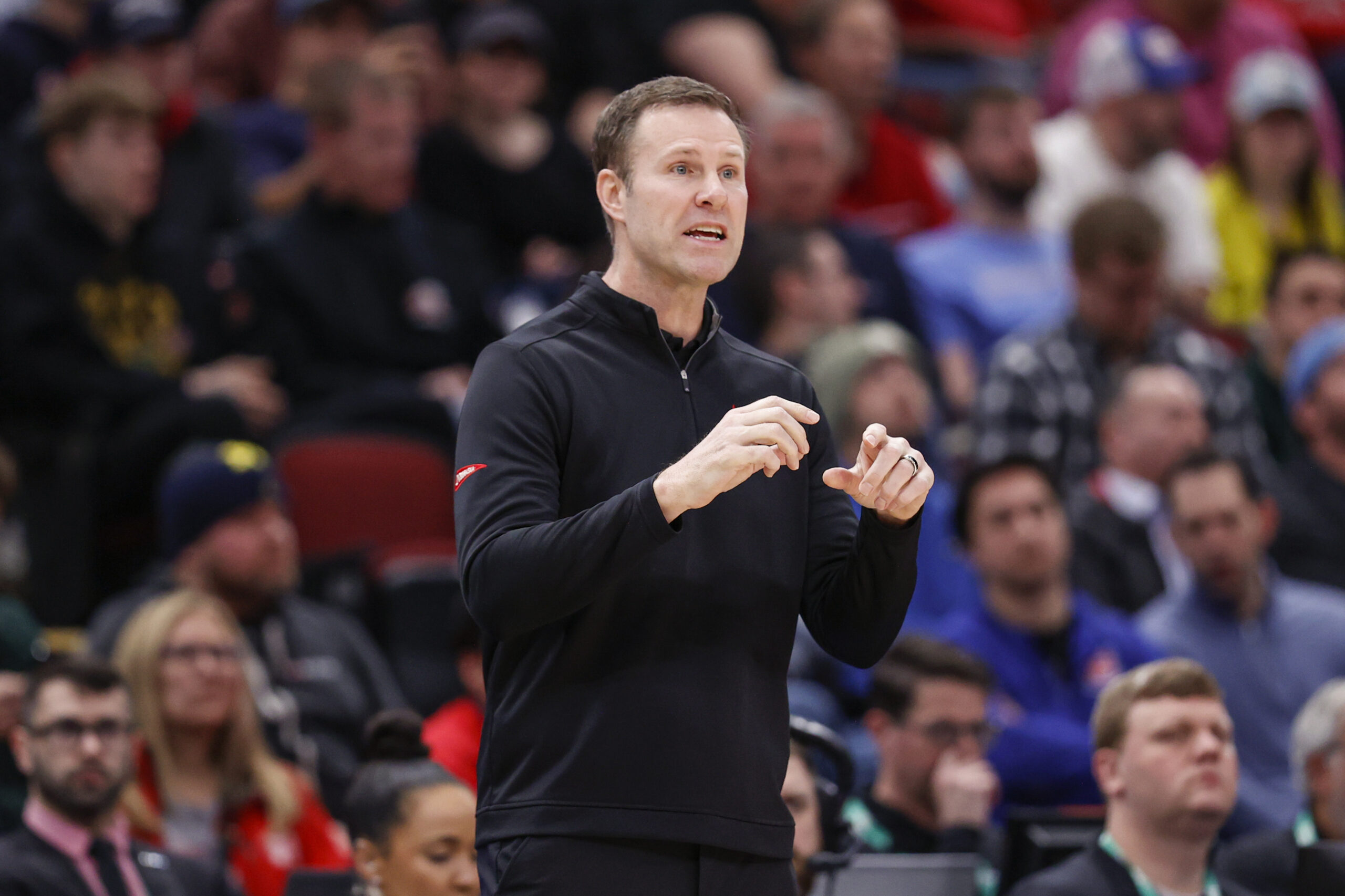 Fred Hoiberg landed another player for the 2023 Nebraska basketball roster on Sunday with the commitment of Matar Diop and here are three thoughts for the Huskers.
It was fair to wonder if Nebraska basketball was going to add another scholarship player for the 2023-24 season, but we got the answer on Sunday with the commitment of Matar Diop.
Diop is a 6-foot-9 power forward. He's not ranked according to the 247 Sports composite rankings and doesn't even have a 247 Sports profile that I could find.
However, Diop is from Senegal and recently spent time with the NBA Africa Program. Here are some highlights from his time there.
Nebraska basketball needed a big man and has a lot to offer Diop, so this makes sense for both sides — here are three thoughts on his commitment.
ALLAH DID!!@HuskerHoops pic.twitter.com/ErXWp83oQh

— Matar Diop (@dmatar832) July 23, 2023
An upside addition for the Huskers
Diop is eligible to play in 2023 for Nebraska baskeball which was the first question most Husker fans had. However, I wouldn't expect to see Diop on the floor a ton this season if at all.
Blaise Keita is going to have a role off the bench as a 4/5 man. If he gets injured or if there is another injury in the frontcourt, Diop could see some minutes.
Yet, this feels a lot like the Eli Rice commitment except Diop will spend his extra year as a redshirt. Rice took an extra year and went to the IMG Academy.
Some recruiting sites had Diop listed as a 2024 recruit, so he could have had that plan too. But Seton Hall, Ole Miss, Arizona State, Saint Joseph's, and Charlotte all offered. Those are some high-major offers and this is a really good get this late in the recruiting cycle.
You can see from Diop's highlights that he's an exceptional athlete. He also looks like a plus defender but he gets above the rim with ease and will be one of the most athletic players on the Nebraska basketball roster.
Diop is also really raw. I doubt he's quite ready for Big Ten basketball. Yet, after a redshirt season, he could be ready to be a rotational piece in 2024-25.
Nebraska basketball is a great place for Diop to develop
Ernie Ziegler, a current Nebraska basketball assistant spent time as a coach with NBA Africa Program via Husker Online, which could be why the Huskers knew about Diop.
But that's another good reason why the program will be a good fit. Diop has raw talent and the Huskers will know how to develop him. Even though most of Diop's points happen around the basket, he does show the ability to make 3-pointers.
Diop's shot will need work and few will be better to aid him than Fred Hoiberg. The former NBA player and head coach will help develop the fundamentals needed to have a future in pro basketball.
All the raw tools are there — it's just going to take time which Nebraska has especially if Diop redshirts.
What about the final roster spot?
I'm wondering if Nebraska basketball will leave it open (Huskers have one scholarship available). I wouldn't hate if Fred Hoiberg gave it to his son because he earned based on his play last season.
At the same time, Nebraska could hold it in case another transfer comes available. Hoiberg probably doesn't need the scholarship to pay for college. It would be a sign of respect more than anything.
I believe that Fred will probably go into next season with one open scholarship. You never know when a player could be available and as of right now, Nebraska has a pretty solid roster going into the 2023-24 season.
For More Nebraska content, follow us on Twitter, like our Facebook Page, and Subscribe to the Husker Big Red YouTube Channel. You can also find our podcast on Apple or Spotify, or purchase our Husker Big Red Merchandise.