Nebraska Football: Donovan Raiola right to feel optimistic about OL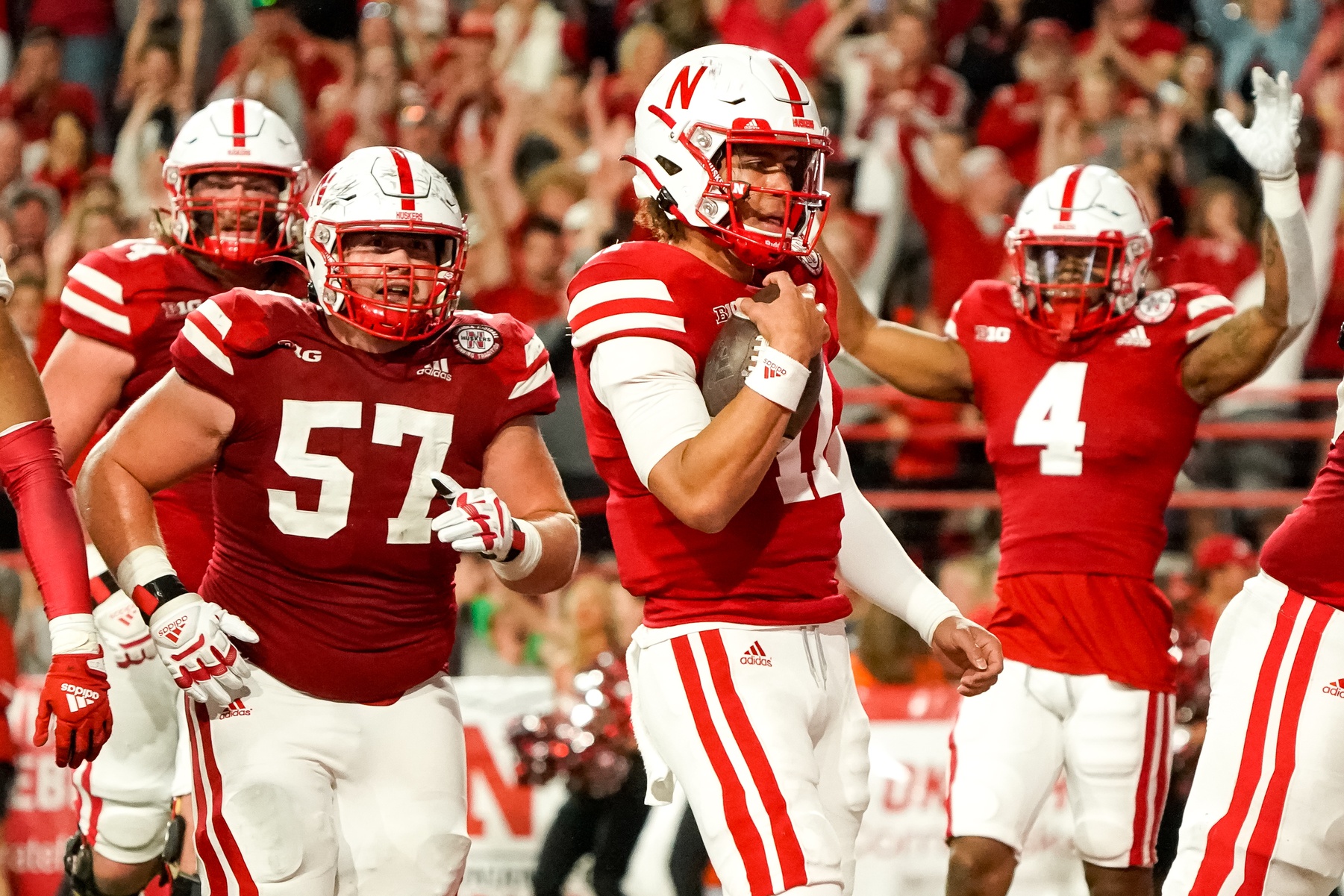 The Nebraska football offensive line struggled mightily at the beginning of the 2022 season. However, they got stronger as the schedule went on, and they were able to finish the season strong. Take for example, the season finale against Iowa. Nebraska's offensive line only gave up two sacks during the game, and that led to a strong offensive output from quarterback Casey Thompson.
The Iowa game was a reaffirmation that the line was beginning to gel. The contest against Wisconsin for example was another instance. They only allowed three sacks to the Badgers. Ideally, zero sacks would be a better statistic overall. Nevertheless, the numbers above serve as a reminder that the line came a long way last year, as they were able to hold things together again strong defensive lines.
Nebraska  football ranked 91st in the FBS with an average of 2.7 sacks allowed per game, according to statistics from TeamRankings.com.
At the beginning and the middle parts of the year, it seemed like Thompson was running for his life.  The lack of development in players such as Bryce Benhart and Teddy Prochazka was noticeable, and transfer Hunter Anthony seemed in over his head at times.
Offensive line coach Donovan Raiola met with the media on Wednesday.  He saw improvement with the line, and it is a position group that is going to be under the microscope for 2023. Raiola maintained a workmanlike focus. even with his future uncertain last season. That being said, he noticed improvement in the unit himself, as transcribed by the Omaha World-Herald's Josie Whelan.
Raiola is looking to build on the improvement he saw from his offensive lineman from last season — "as the year went on they improved every game. …  they got better and better and better."
They did get better to some degree, and there was statistical improvement. Nevertheless, the coach will have to have a strong year, after a roller coaster season last year. With new players such as Ben Scott, and a new group of 2023 lineman, he may have a bit more to work with.
Nebraska Football to honor Frank Solich at Spring Game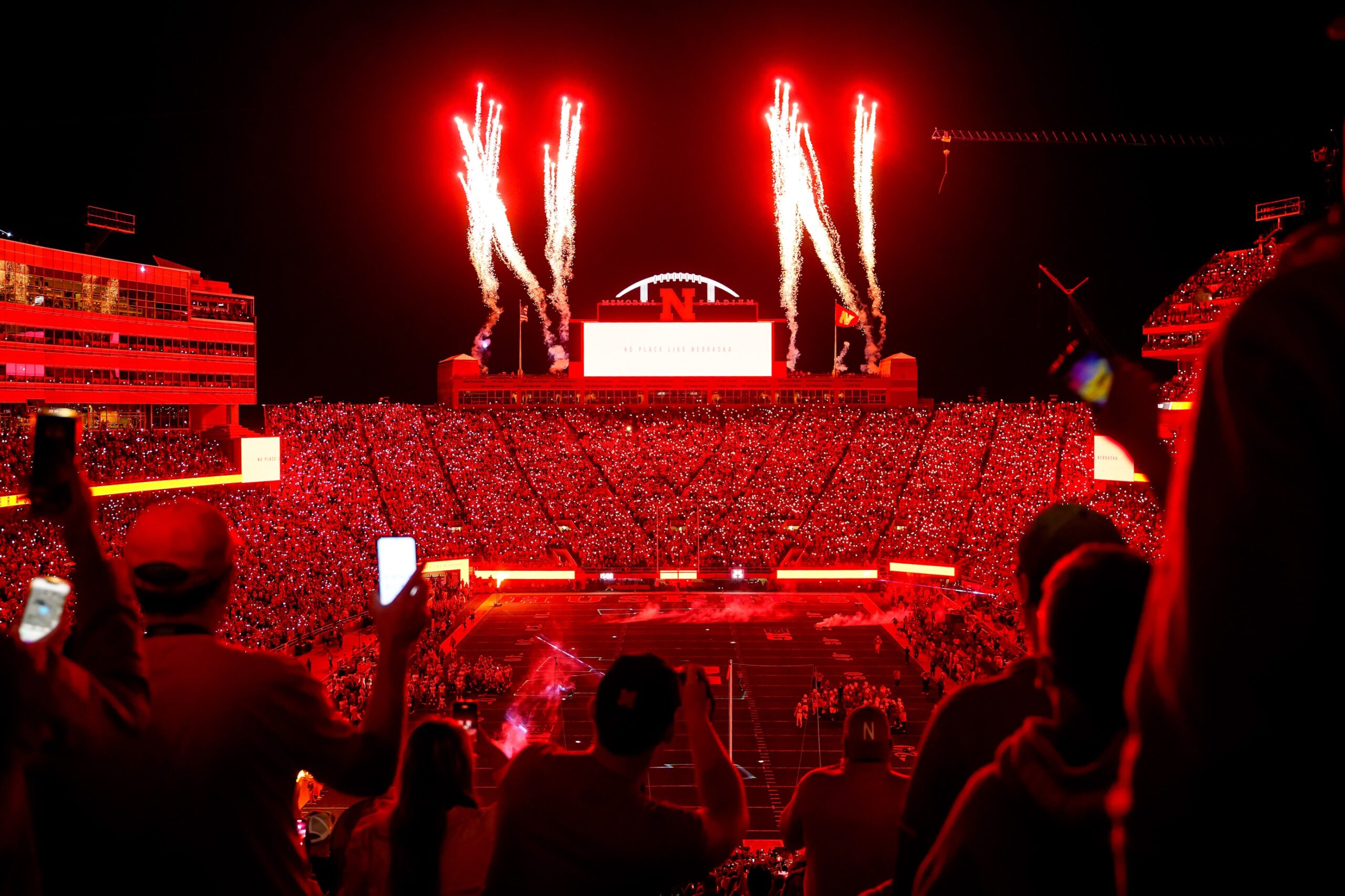 Nebraska athletic director Trev Alberts announced on Wednesday that former Nebraska football head coach Frank Solich will be honored at the Nebraska spring football game on April 22.
Solich coached at Nebraska from 1998-2003 as the head coach. He first began as the Nebraska running backs coach from 1983-1997 and served as the Nebraska freshman had coach from 1979-1982.
The Huskers enjoyed success under his leadership, as they won a Big 12 Championship in 1999 and won three Big 12 12 North Division titles from 1999-2001. Solich was fired by then Nebraska athletic director Steve Pederson after a 9-3 season in 2003.
Since the firing, Nebraska football is never achieved the same level of success. Bo Pelini was able to help the Nebraska football program win Big 12 North Division titles from 2008-2010 as well as a Legends Division title in 2012. However, he was never able to fully achieve the success that Solich was able to bring to the table.
Honoring a Husker legend.

Frank Solich. Memorial Stadium. April 22nd.#GBR pic.twitter.com/pVUD5dcgDQ

— Nebraska Football (@HuskerFBNation) March 29, 2023
Success away from Nebraska football
To add insult to injury, Solich had success at Ohio. He coached at Ohio from 2005-2020 and was able to capture four MAC East division championships in 2006, 2009, 2011, and 2016. He was the MAC Coach of The Year in 2006.
Nebraska football will be able to honor a person who played a big role in the program's history. Moreover, they will be doing so in a proper way. This is a major announcement for Nebraska football, as they look to honor a key figure in the program's history. It will be exciting to see him return, and be a big part of what is sure to be a fun weekend, with several recruits on hand as well.
Things are looking up for the Nebraska football program, and that includes honoring a legend. I know I will be glued to my seat for the festivities.
Nebraska Football: Huskers experimenting with two-way players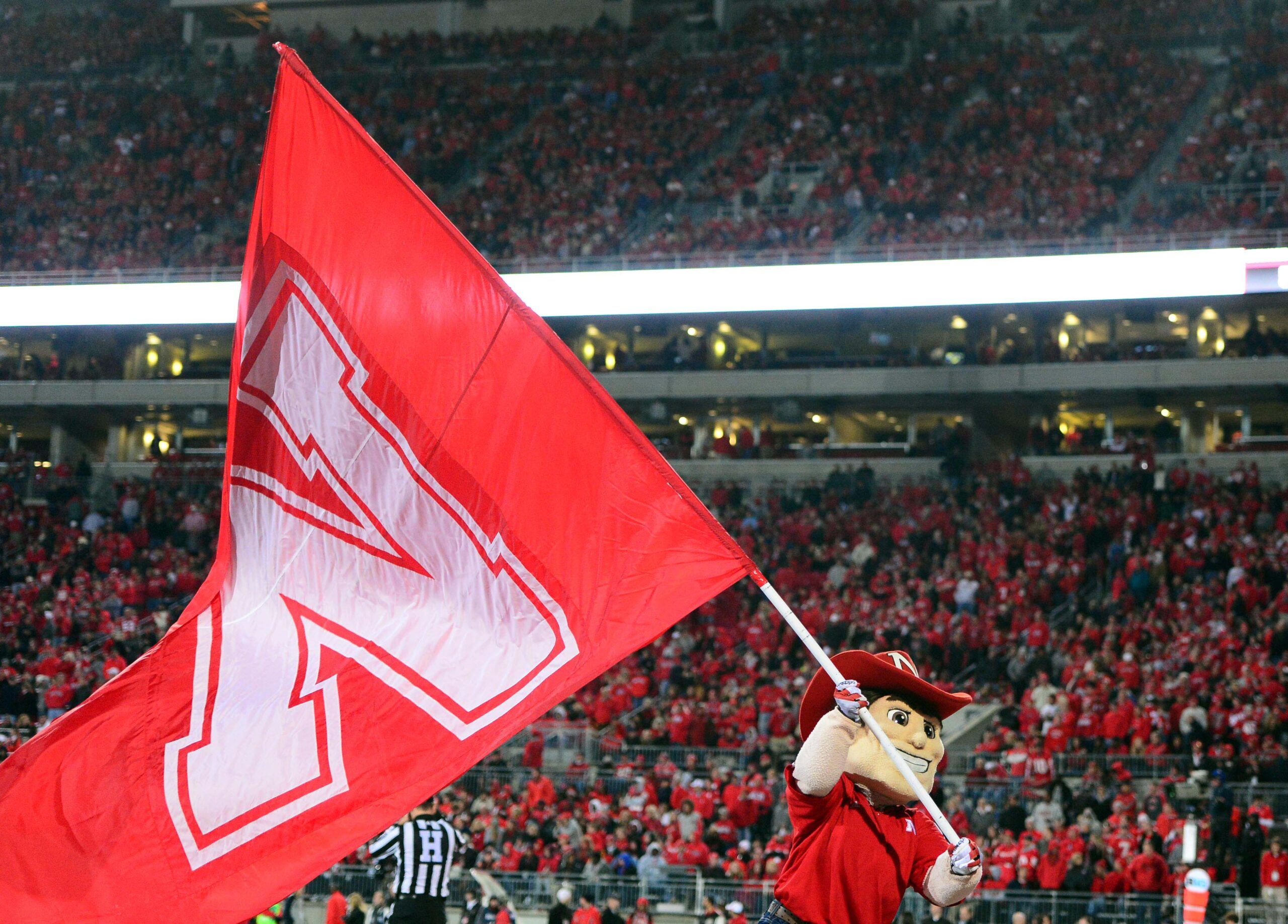 There were several interesting news tidbits to come out of Nebraska football practice on Tuesday. Head coach Matt Rhule covered several things in his press conference, and noted a position change in the process.
The coach indicated that former tight end AJ Rollins is playing at the defensive line position.
Rollins was part of the 2020 recruiting class, and appeared in five games as a redshirt freshman last season. He was wearing a gray jersey on Tuesday, which means that he is serving as a two-way player for this Nebraska football coaching staff, per Sam McKewon of the Omaha World-Herald.
Jalil Martin, who played defensive back last season was also in a gray jersey. He was working with the wide receivers.
Now, the coaching staff wants to possibly see if a player like Rollins could switch positions. He has the size to be a defensive end, measuring in at six-foot-six, 220 pounds. He also has speed, which works well at both the tight end and defensive end position. His length and strength could also serve as assets, as he could collapse the pocket as a  defensive lineman.
It is an interesting experiment for sure, as this is another case of the coaching staff trying to figure out which position works best for a player. The tight end room is already crowded, with Thomas Fidone and Arik Gilbert headlining the position. It makes sense that they would try Rollins somewhere else for that reason as well.
This also kind of lines up with offensive coordinator Marcus Satterfield's theory. He wants to get as many athletes on the field as possible. Yes, this is not exactly an offensive move, but it shares the same theory. Having Rollins at least try defensive line is proof of that. It also shows Rollins willingness to try to help the team in any way he can.
It will be interesting to see if the defensive line idea sticks for the Nebraska football coaching staff and Rollins. It's at least worth a shot, which is what spring ball practice is for.
Nebraska Football: Casey Thompson returns to practice on Tuesday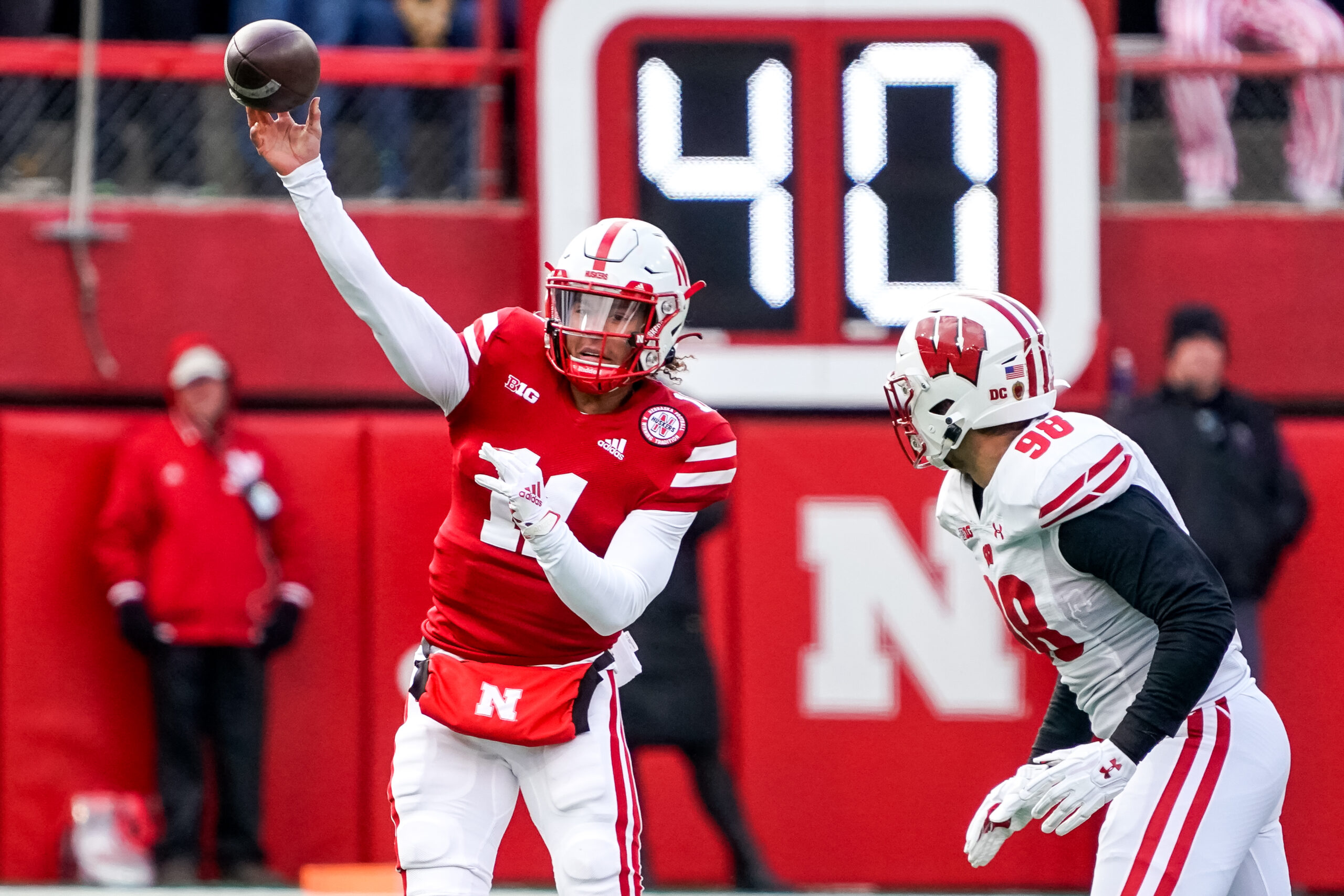 There was a familiar face back at Nebraska football practice on Tuesday, as quarterback Casey Thompson was back in the fold per The Athletic's Mitch Sherman.
Thompson was very limited according to The Athletic's Mitch Sherman. The quarterback continues to recover from offseason shoulder surgery.
The return of Thompson in practice is a good sign, given that he is a likely candidate for the top quarterback spot this season. He threw for 2,407 yards, 17 touchdowns, and 10 interceptions. His 63.1% completion percentage was just a shade under his number from 2021 when it was 63.2.
Thompson finished the season strong in 2022, throwing for five touchdowns and no interceptions. This included going 20-of-30, throwing for 278 yards, three touchdowns and zero interceptions in the season finale against Iowa on November 25.
Another Morning With Matt at Nebraska spring practice. Casey Thompson and Logan Smothers are with the QBs.

Thompson is delivering short throws today. He's been cleared to use that shoulder in some limited form. pic.twitter.com/jRqmRty1ld

— Mitch Sherman (@mitchsherman) March 28, 2023
Good news for Nebraska football
This is certainly a good sign for the Nebraska football program, as it allows Thompson to get in some extra work before the spring game. It would be reasonable to expect him not to go to crazy the spring, as he continues to rehab his shoulder. Nevertheless, any reps are certainly a positive sign.
The quarterback will look to lead a revamped offensive unit that includes Anthony Grant and Ajay Allen at the running back position, as well as Thomas Fidone and Arik Gilbert at the tight end position. The wide receiver room looks to be full of talent as well, which should bode well for Thompson.
In any event, this is a good step for Thompson as he looks to work his way back. It will be interesting to see what his workload is, and how the program manages that throughout the rest of spring ball. The spring game itself is set to take place on April 22.