Nebraska Football defensive depth chart projection before spring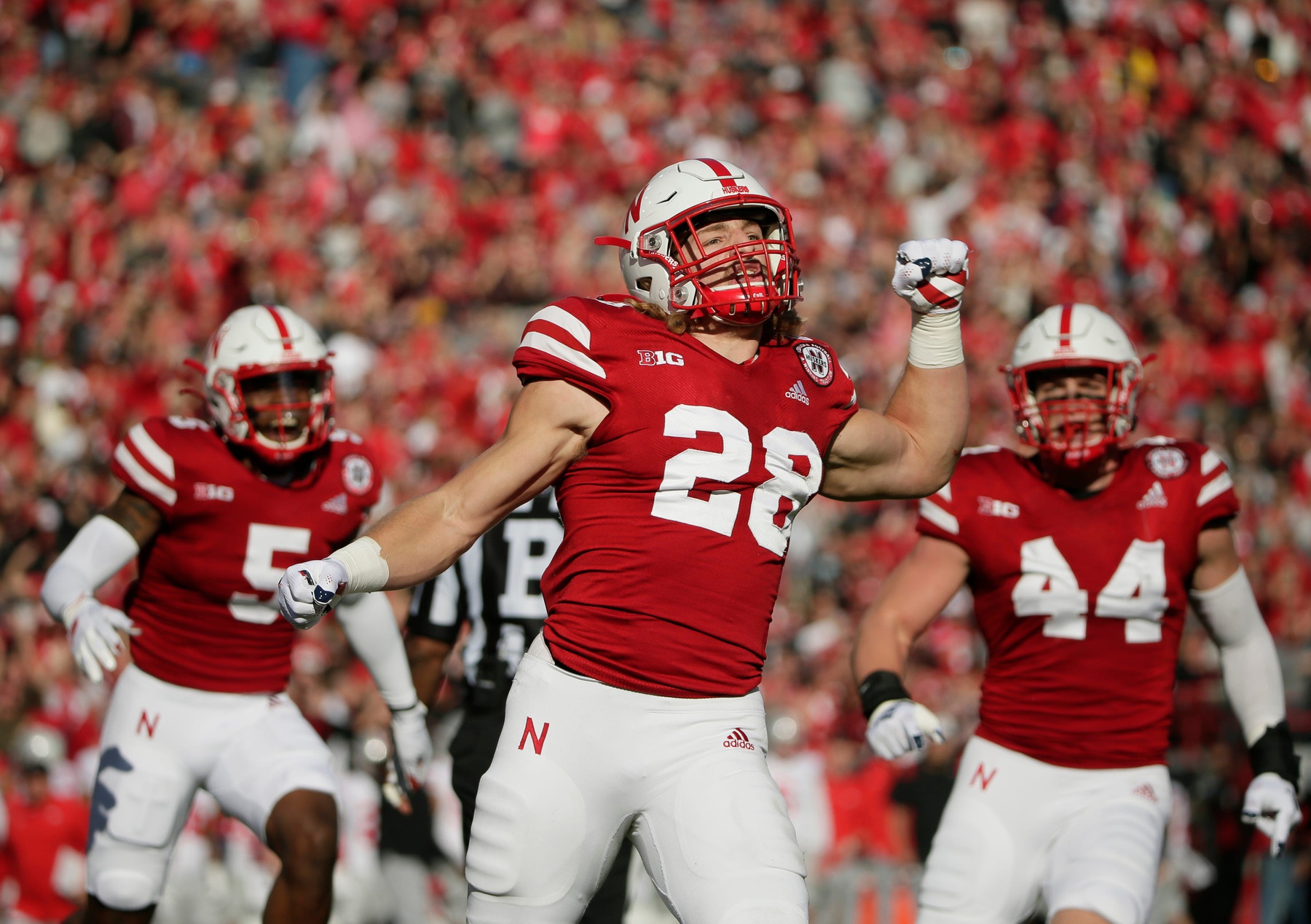 As Nebraska football gets ready to hit the field for spring practice on Monday, here are our thoughts on the Huskers' defensive depth chart.
Spring practices start in just a few days for the Nebraska football program. It will be an exciting time as we start to get a better idea of what the team will look like next season.
There are going to be a number of departures after spring ball. That's to be expected. We should also get a better idea of what the depth chart will look like, although there is plenty of time for that to change.
Injuries also have an impact as Casey Thompson will be limited this spring due to a shoulder injury that he suffered last season. It's just a reminder that things will change before the fall. That being said, here's our look at the Nebraska football defensive depth chart prior to spring ball (here's the offensive depth chart).
D-Line: Ty Robinson, Nash Hutmacher, Elijah Jeudy; Backups: Stephon Wynn Jr., Ru'Quan Buckley
The defensive line isn't that easy to project because we don't know exactly how Tony White is going to employ all of his defensive linemen. Right now, Nebraska football has 13 players listed as D-linemen and there is a difference between them and the EDGE position, although players could move between both.
Cameron Lenhardt and Maverick Noonan are listed as D-line, not EDGE, at least for right now. But I wouldn't worry too much about positions right now, especially for some of the freshmen.
Beyond that, when it comes to Nebraska football's defensive line, I'd measure play by snaps more than who is the starter or not, because that will depend on formation.
Ty Robinson is likely going to see the most playing time. He's 6-foot-6, 310 pounds and I could see him getting snaps as a three-technique, a five-technique, and potentially even as a nose. I think Hutmacher, who is 6-foot-4, 330 pounds, and played well at the end of last season, is going to see a lot of snaps in 2023.
If anyone is built to play the nose tackle position on the Nebraska roster, it's probably Hutmacher. Buckley is a big body and it will be interesting to see what he can accomplish this spring. Jeudy is another guy I expect to push for a starting job and be among the top snap-getters up front next season on defense.
EDGE: MJ Sherman, Chief Borders; Blaise Gunnerson, Jimari Butler,
What's interesting is that Sherman and Borders aren't listed as EDGEs on the roster. Both are linebackers and that's where the 3-3-5 can come into it.
Borders is fast. He can rush the passer but also has the ability to play as more of a traditional outside linebacker. At Florida, he mostly played on special teams and that's also true for MJ Sherman.
Sherman is 6-foot-3, 250 pounds and the hope is that he can be one of the Huskers' top pass rushers this season. Gunnerson and Butler shouldn't be ignored. Remember, Butler was going to enter the transfer portal before returning after some other pass rushers left for the NFL.
Both of those guys have had success and have played quite a few snaps. I'd like to see another pass rusher added in the spring transfer portal window, but you can't have everything you want and I feel pretty solid about this group which could also include Noonan, Kai Walin, Lenhardt, and others.
Linebacker: Luke Reimer, Nick Henrich, Eric Fields
Reimer and Henrich are both going to start next season as linebackers for Nebraska football. Each dealt with injuries last season and Henrich missed a number of games down the stretch.
Reimer is a guy that makes a ton of impact plays. His quickness has improved over the years and he plays faster than he is anyway because of his instincts and ability to diagnose plays.
Henrich is very similar. He's a solid tackler and while he struggles in coverage at times, you know what you're going to get from these two. Eric Fields isn't on campus for spring ball but by the time he joins the program this summer and gets to fall camp, I have a feeling he'll play his way up the depth chart.
Nebraska football needs a run-and-hit linebacker and Fields is exactly that. He can run sideline-to-sideline and there's a reason Matt Rhule was so excited about his commitment.
Beyond that, I've always felt that Isaac Gifford would be a better linebacker than safety, and am interested to see where he ends up this spring.
CB: Quinton Newsome, Malcolm Hartzog; Tommi Hill, Braxton Clark;
Nebraska football isn't that deep at cornerback. Newsome and Hartzog are both quality starters and are back from last season.
That's a good place to start, but the spring will be about developing more depth. It sounds like there's a chance that Tommi Hill is going to switch back to defensive back and with all the numbers at wide receiver, that seems like a good idea.
Braxton Clark could have another chance after struggling in limited time last season. Nebraska football could use another cornerback in the transfer portal, otherwise, the Huskers will need a freshman or two to step up as Hartzog did last season.
S: Myles Farmer, Maques Buford; Nickel: Isaac Gifford; Reserves: Omar Brown, Corey Collier, Javin Wright;
Just like at cornerback, Nebraska has returning starters coming back in Farmer, Buford, and Gifford. Isaac started 10 games last season with eight at nickel and two at safety. So whether he sticks as a defensive back or plays more of a nickel linebacker role, he's going to play a lot.
The same can be said about Farmer and Buford. Those guys are locked in as the starters and to me, I feel like Collier has a shot to crack the top three after transferring from Florida. He didn't play a lot last season but he's a former four-star prospect and is someone I've got my eye on this spring, as well as other guys in the mix for the two-deep.
For More Nebraska content, follow us on Twitter, like our Facebook Page, and Subscribe to the Husker Big Red YouTube Channel. You can also find out podcast on Apple or Spotify.