It's official: Jordyn Bahl announces transfer to Nebraska Softball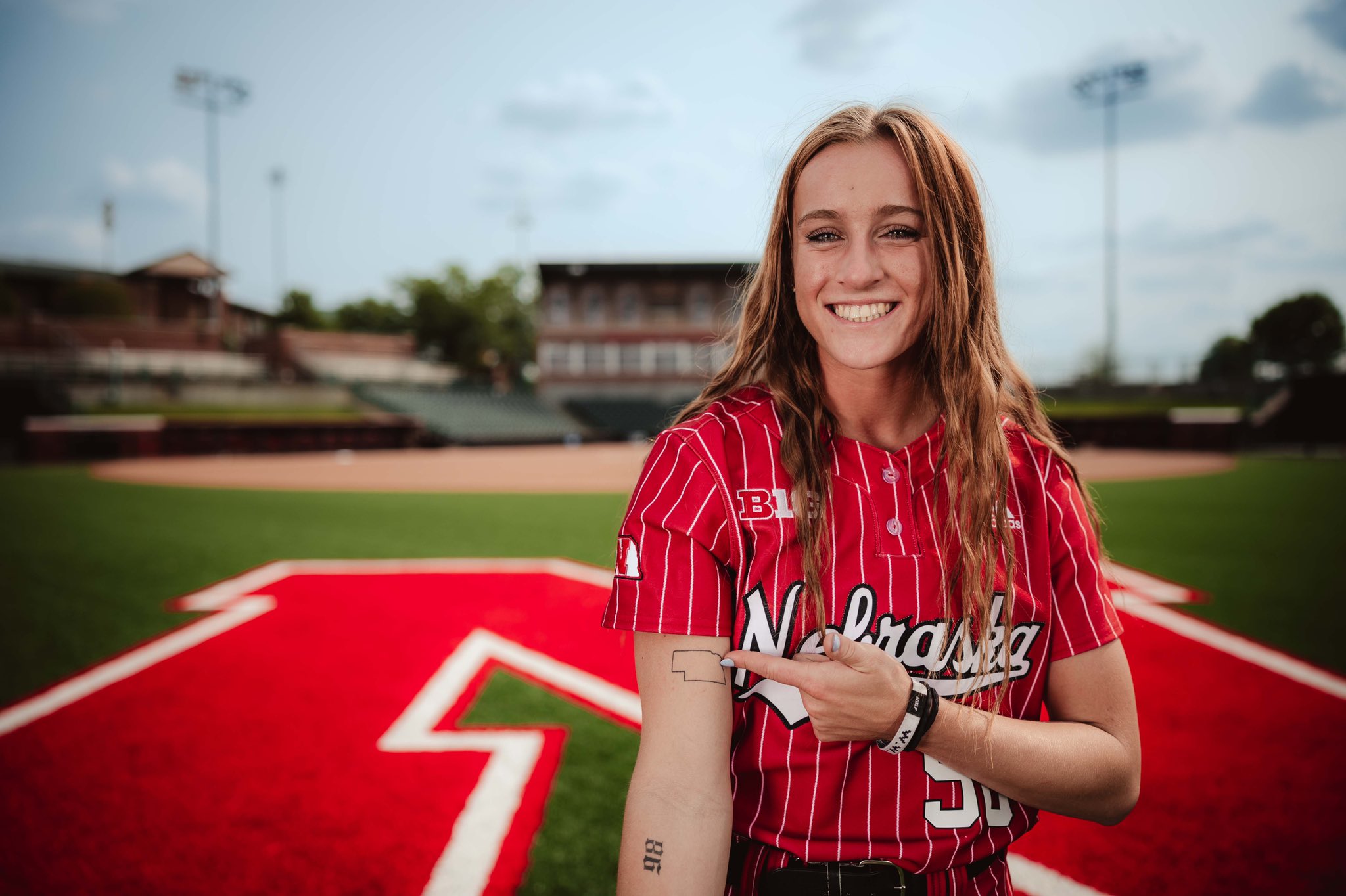 The rumors have been rampant for days but Nebraska softball has officially landed elite pitcher Jordyn Bahl.
When former Oklahoma ace Jordyn Bahl entered the transfer portal this past week after leading the Sooners to a second straight national championship in the women's college world series, fans of the Nebraska Cornhuskers could hardly contain their excitement.
Bahl said in her tweet announcing the move, that she was going "home." Everyone felt like that meant Nebraska, but on Thursday morning, Jordyn Bahl made it officially official as she announced on Twitter that she would play for the Huskers next season, along with posting pictures in a Nebraska uniform and with the staff.
Holy shit its official! https://t.co/RIvfo0gwtP

— HuskerBR (@HuskerBr) June 15, 2023
It's hard to put into words how huge this is for the Nebraska softball program. The Huskers made the NCAA tournament last season and were one of the better teams in the Big Ten.
Pitching was a big weakness though and anyone who knows anything about softball knows that pitching is everything. A dominant pitcher in softball is even more important than an elite quarterback in football, especially because there isn't a limit on how much they can pitch, unlike in baseball.
Jordyn Bahl was arguably the best pitcher in college softball last season. In two seasons, Bahl has posted a 48-1 record. Her ERA his past season was 0.90 and she averaged nine strikeouts per seven innings. As a freshman, she was insanely good too, posting a 27-0 record and an ERA of 0.10.
It will be interesting to see if any players follow Bahl to Nebraska softball via the transfer portal. Her catcher at Oklahoma has entered the portal and that seems like a natural fit.
However, all that stuff will get figured out. For now, it's time for Nebraska fans to celebrate as Jordyn Bahl is coming home as one of the most significant athlete additions via the transfer portal in Cornhusker history.
For More Nebraska content, follow us on Twitter, like our Facebook Page, and Subscribe to the Husker Big Red YouTube Channel. You can also find our podcast on Apple or Spotify.
Nebraska Cornhuskers news: A new crystal ball, a top-5 win for volleyball, and more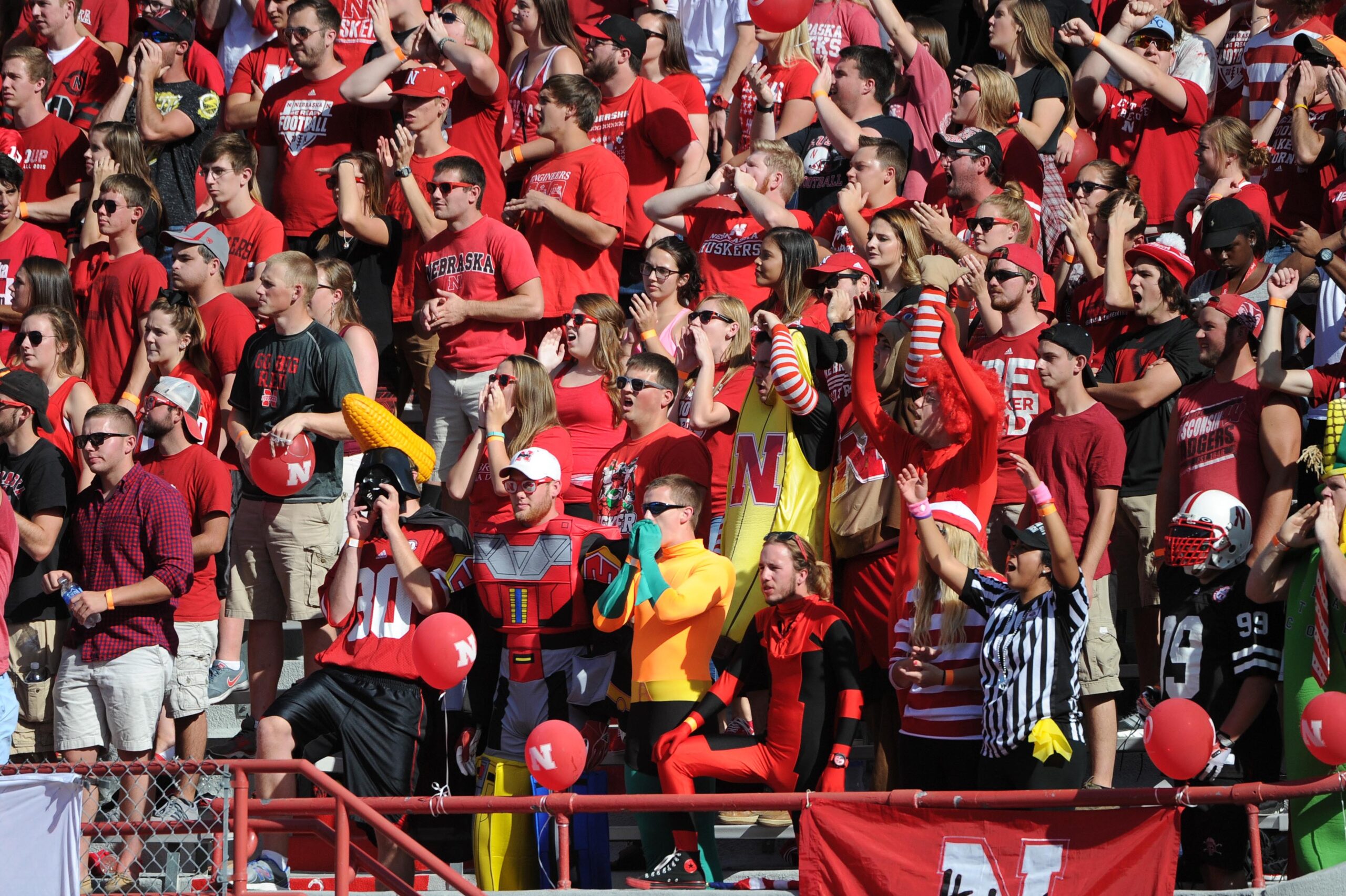 The Nebraska Cornhuskers cruised past top-five Stanford in volleyball, plus a key crystal ball for Nebraska football.
There have been a few key names Nebraska football fans have been watching in the 2024 recruiting class and one of them is three-star athlete Caleb Benning.
Benning is obviously a Nebraska football legacy and took three visits within a week's time to see the Huskers before the final dead period. However, many folks wondered if the Huskers wanted to take Benning. But that doens't seem like a question anymore.
I've said all along that Benning was going to stand out this fall. His game has always impressed me and if he didn't get hurt during his junior season, his recruitment would have taken off even more. So far in 2023, he's got 11 receptions for 186 yards and two touchdowns on offense, as well as 14 tackles, three tackles for loss, two interceptions, and a pass breakup.
I'm not sure why there haven't been more offers but Benning has balled out this season and in a recent game, hauled in a touchdown pass over Dae'vonn Hall.
Bottom line: Benning can play and on Tuesday, Nebraska football got another crystal ball projection to win his commitment.
Lincoln Saturday 👀 @s_kwilli32 pic.twitter.com/IAiyQHJV85

— caleb (@CalebBenning1) September 12, 2023
Benning will be visiting the Nebraska Cornhuskers again this week for the Northern Illinois game. That seems like a positive sign and outside of top-100 dudes like Brandon Baker and Grant Brix — Benning is a priority target, so this crystal ball from Michael Bruntz of Huskers247 is a great sign.
The 5-foot-11, 185-pounder that plays wide receiver and defensive back, is ranked No. 763 overall according to the 247 Sports composite rankings, and No. 6 in the state of Nebraska.
A huge win for Nebraska Cornhuskers volleyball
For the first time since the 2008 season, Nebraska volleyball defeated fifth-ranked Stanford and did so with a 3-1 victory in Palo Alto on Tuesday night by the scores of 25-23, 25-16, 19-25, and 25-21.
🪓 TIMBERRRRR pic.twitter.com/WvCWR49srk

— Nebraska Volleyball (@HuskerVB) September 13, 2023
Freshman Harper Murray continued her stellar season with a big-time performance as she notched 12 kills, four blocks, and three aces while hitting .417. Merritt Beason also had a strong outing for Nebraska volleyball, leading the way with a team-high 15 kills.
Another freshman, Andi Jackson, hit .462 and had seven kills. Bekka Allick also played an important role around the net with seven kills, a .500 hitting percentage, as well as a career-high eight blocks.
With the combination of veteran talent and elite freshman, such as setter Bergen Reiley who had 37 assists, seven digs, and three kills, the Huskers are going to be tough to beat and they should only get better.
Another top-20 opponent looms Sunday as Kentucky comes to Nebraska. The match will start at 6:30 CST.
Another key visitor for Nebraska Cornhuskers
In other Nebraska football recruiting news, the Huskers will host 2024 in-state quarterback Anthony Rezac for a visit this weekend for the Northern Illinois game.
He's a three-star recruit in the 2024 class and is teammates with Benning. Nebraska football hasn't offered him yet, but Rezac has been stellar this season, and with the QB woes so far in 2023, it has people wondering if the team should take two quarterbacks.
Rezac has 530 yards passing this season, which isn't a huge number, but he's completing 75 percent of his throws. He also has seven touchdowns and zero interceptions. The 6-foot-4, 195-pounder also has 19 carries for 230 yards and five rushing touchdowns. That's 12 yards per attempt.
We'll see if an offer comes, but the kid is a player and Nebraska football would be wise to take him in the 2024 class along with Daniel Kaelin.
For More Nebraska content, follow us on Twitter, like our Facebook Page, and Subscribe to the Husker Big Red YouTube Channel. You can also find our podcast on Apple or Spotify.
Nebraska Cornhuskers news: Wild stats for Nebraska football, Trey Palmer scores NFL TD, and more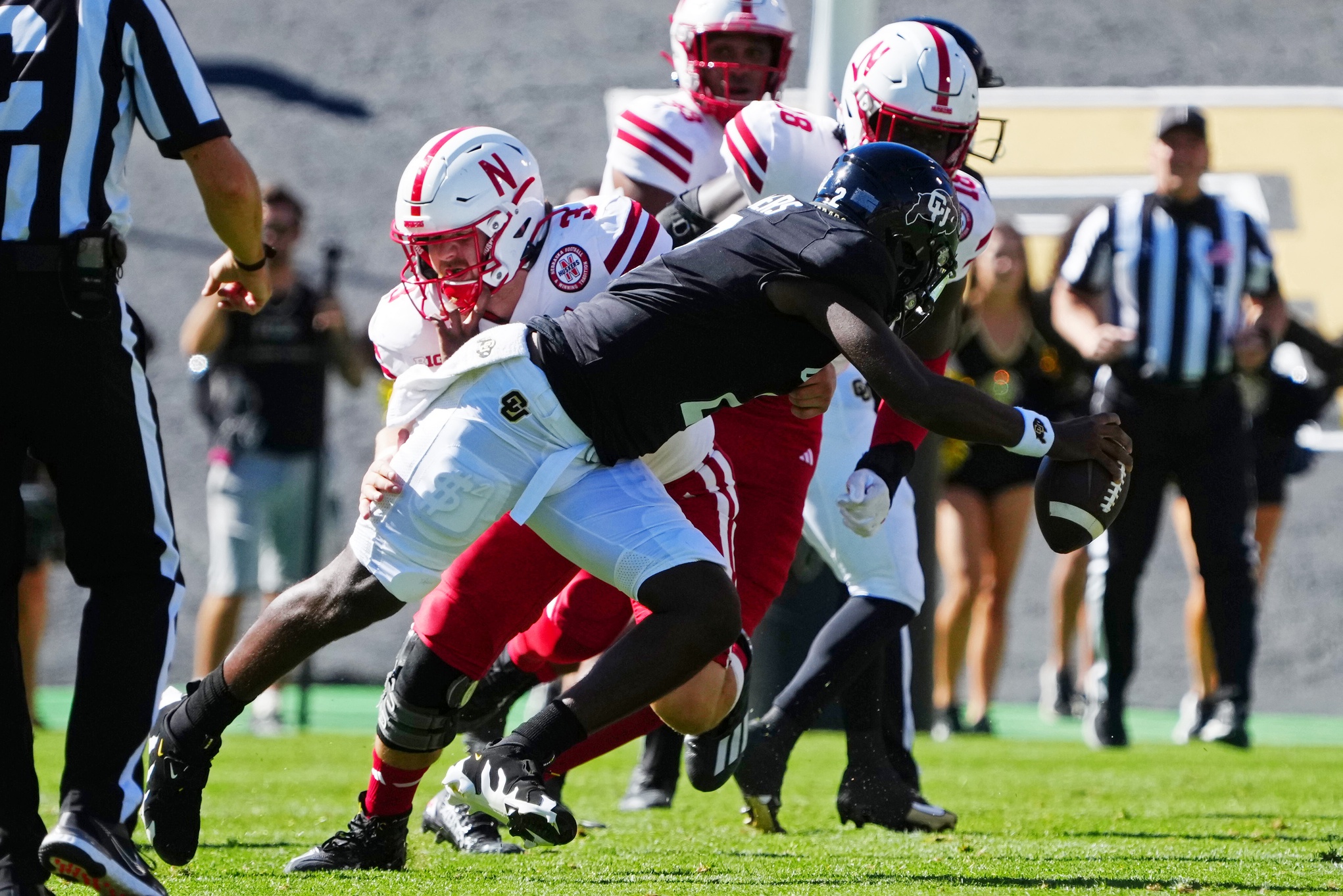 Looking at two wild Nebraska football stats, plus more in our Nebraska Cornhuskers news roundup from the weekend.
It wasn't a great weekend for Nebraska football as the Cornhuskers were humbled by Colorado on Saturday by the score of 36-14.
The Nebraska Cornhuskers were plagued by four turnovers, three from quarterback Jeff Sims in the first half. It was a disaster and the game wasn't even competitive for most of the second half.
It's certainly not how we imagined the Matt Rhule era starting. Outside of a garbage time touchdown, the Nebraska Cornhuskers have 17 points in two games. You aren't going to win doing that.
Jeff Sims is going to remain the starting quarterback if healthy. Rhule said Saturday he didn't consider making a change, so I doubt he would, but the Huskers need to get right against Northern Illinois this week.
The Huskers are currently an 11-point favorite according to DraftKings.
In terms of explaining the 0-2 start for Nebraska football. Well, it's easy when you consider that Nebraska has the worst turnover margin in college football. In fact, dating back to 2004, the Nebraska Cornhuskers are -105 in turnover margin, which is the worst in the Power-5 by a wide margin.
However, in one positive, Nebraska leads the FBS in sacks right now with 11. You wonder how many teams have been winless while leading the nation in sacks?
Former Nebraska Cornhuskers standout Trey Palmer catches first NFL touchdown
Trey Palmer's NFL debut was a successful one. Not only did the Tampa Bay Bucs upset the Minnesota Vikings, but Palmer caught two passes for eight yards, one of which was a seven-yard touchdown reception in the third quarter that gave the Bucs a 17-10 lead.
TREY PALMER FIRST NFL TD! #ProBigRed pic.twitter.com/9J46yKZbdq

— 247Huskers (@247Huskers) September 10, 2023
Yes, I wish Trey Palmer was still on the Nebraska roster right now, but it's good to see former Cornhuskers ball out and Palmer has been on a roll to start his NFL career.
Nebraska Cornhuskers sweep another volleyball match
Nebraska volleyball improved to 7-0 on Saturday with a 3-0 sweep of Long Beach State in Lincoln by the scores of 25-18, 25-8, and 25-21. The Huskers notched a .393 hitting percentage in the win and finished with 46 kills and nine blocks.
Freshman Harper Murray continued to shine and led the Huskers with 10 kills. She also contributed with three blocks. Merritt Beason managed nine kills, while Andi Jackson had eight. Jackson and Becca Allick were also solid around the net, notching four blocks each in the win.
The Huskers will be back on the court Tuesday night against Stanford. The match will be on the road at will start at 8 PM CST. Both teams were ranked in the top five last week. The match is set to be shown on ESPN.
For More Nebraska content, follow us on Twitter, like our Facebook Page, and Subscribe to the Husker Big Red YouTube Channel. You can also find our podcast on Apple or Spotify.
Nebraska Cornhuskers news: A reason for confidence with Jeff Sims, plus volleyball wins state title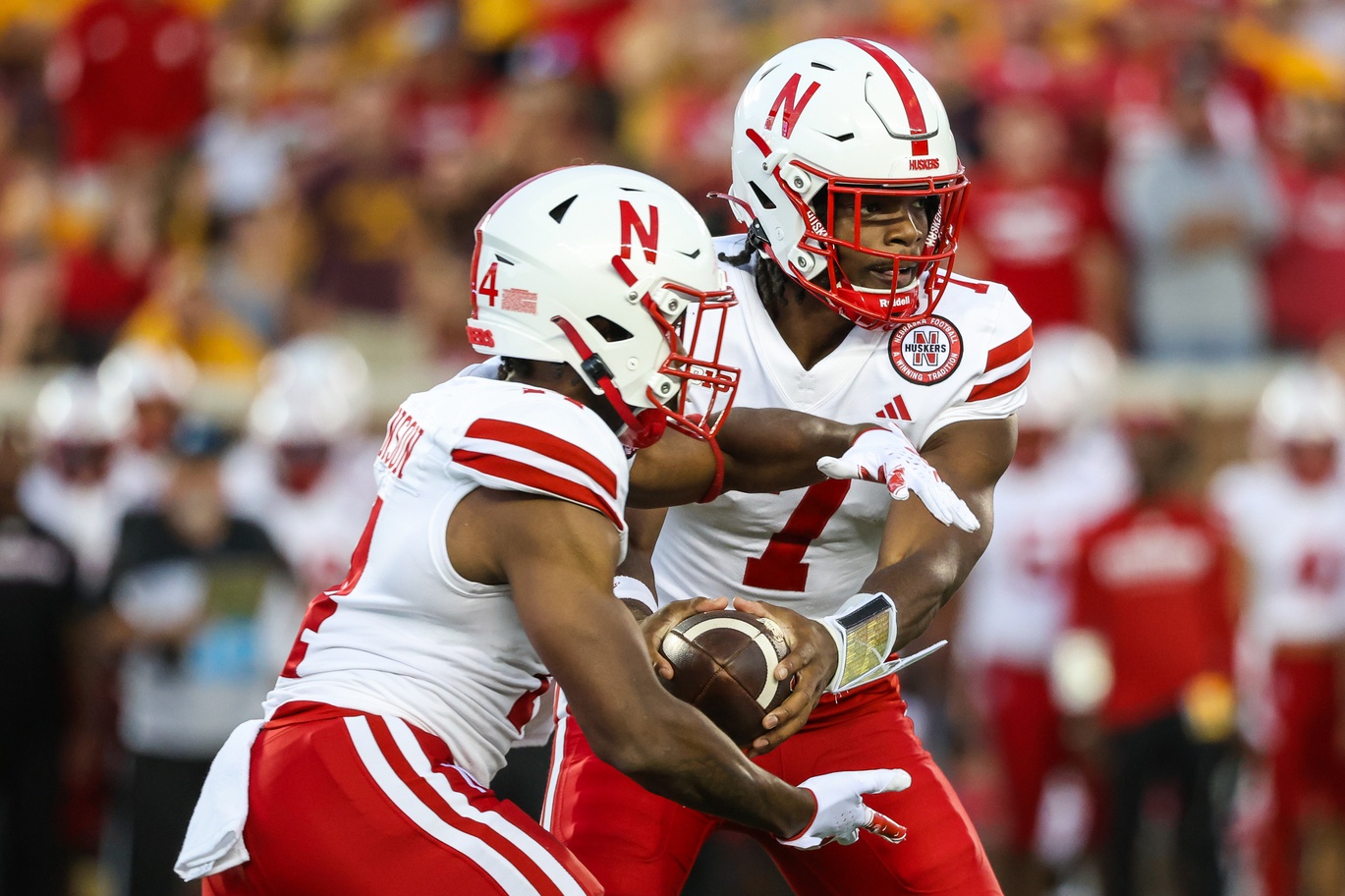 Why Nebraska football fans should be optimistic about Jeff Sims this weekend, plus the Nebraska Cornhuskers rolled in volleyball.
We are now just two days away from Nebraska football vs. Colorado. It's going to be a fun game and the eyes of the college football world will be on Boulder.
I know Alabama and Texas go head-to-head on Saturday, but this game could rival that for the most-watched. Steve Spurrier even said Nebraska-Colorado was a bigger game.
Whatever the case, the hype is real and Folsom Field is going to be rocking on Saturday, hopefully, with a Sea of Red like the last time.
As far as Nebraska football's chances of winning. The Huskers are a 3.5-point underdog, but they match up well with Colorado and do have a path to victory. Yet, the Huskers will need a better effort from quarterback Jeff Sims who had three interceptions in his Nebraska debut.
However, on that front, there's a reason for optimism regarding Sims. Zack Carpenter did some digging on Sims and found that he had just one three-interception game in his career. That came against Tony White at Syracuse.  Sims threw four interceptions in that game.
Writing a story for tmrw and didn't realize this until now:

Jeff Sims has thrown 3+ INT in 2 career gms. The other? When he threw 4 INT as a freshman in 2020 vs Syracuse DC Tony White.

His next game: 313 total yds, 3 TDs, 0 turnovers + a go-ahead TD pass in the 4Q of a 46-27 W.

— Zack Carpenter (@Zack_Carp) September 7, 2023
It's how Sims responded that should catch your attention. He accounted for 313 yards and tossed three touchdown passes the next week with zero turnovers.
Honestly, I don't see Nebraska throwing the ball nearly that much. They'll want to control the clock as much as possible, but Sims will need to make plays and at least he has a history of bouncing back from a bad game.
Nebraska Cornhuskers volleyball team wins state title
The Huskers squared off against in-state rival Creighton on Wednesday night in a battle of ranked teams at the Devaney Center. To their credit, the Blue Jays were the first team to take a set off the Huskers this season, but Nebraska won in four sets by the scores of 25-9, 25-13, 23-25, and 25-20.
With the win over Omaha, it makes Nebraska volleyball the champion of the state. That's one nice goal to achieve. The next are winning the Big Ten championship and the national title, which is totally possible this season for the fourth-ranked Huskers, who have an incredible amount of talent.
Freshman Bergen Reilly had her first double-double on Wednesday night with 42 assists, 11 digs, and two aces. Merritt Beason led the way for the Huskers offensively with 17 kills, seven digs, and three blocks. Lindsey Krause was also stellar hitting .478 with 12 kills and three blocks.
The Nebraska Cornhuskers had a 52-42 advantage in kills. Freshman standout Harper Murray added 10 for Nebraska, which improved to 6-0 on the season. Next up is Long Beach State on Saturday at 7 p.m.
For More Nebraska content, follow us on Twitter, like our Facebook Page, and Subscribe to the Husker Big Red YouTube Channel. You can also find our podcast on Apple or Spotify.