5 things we learned from Nebraska football loss to Colorado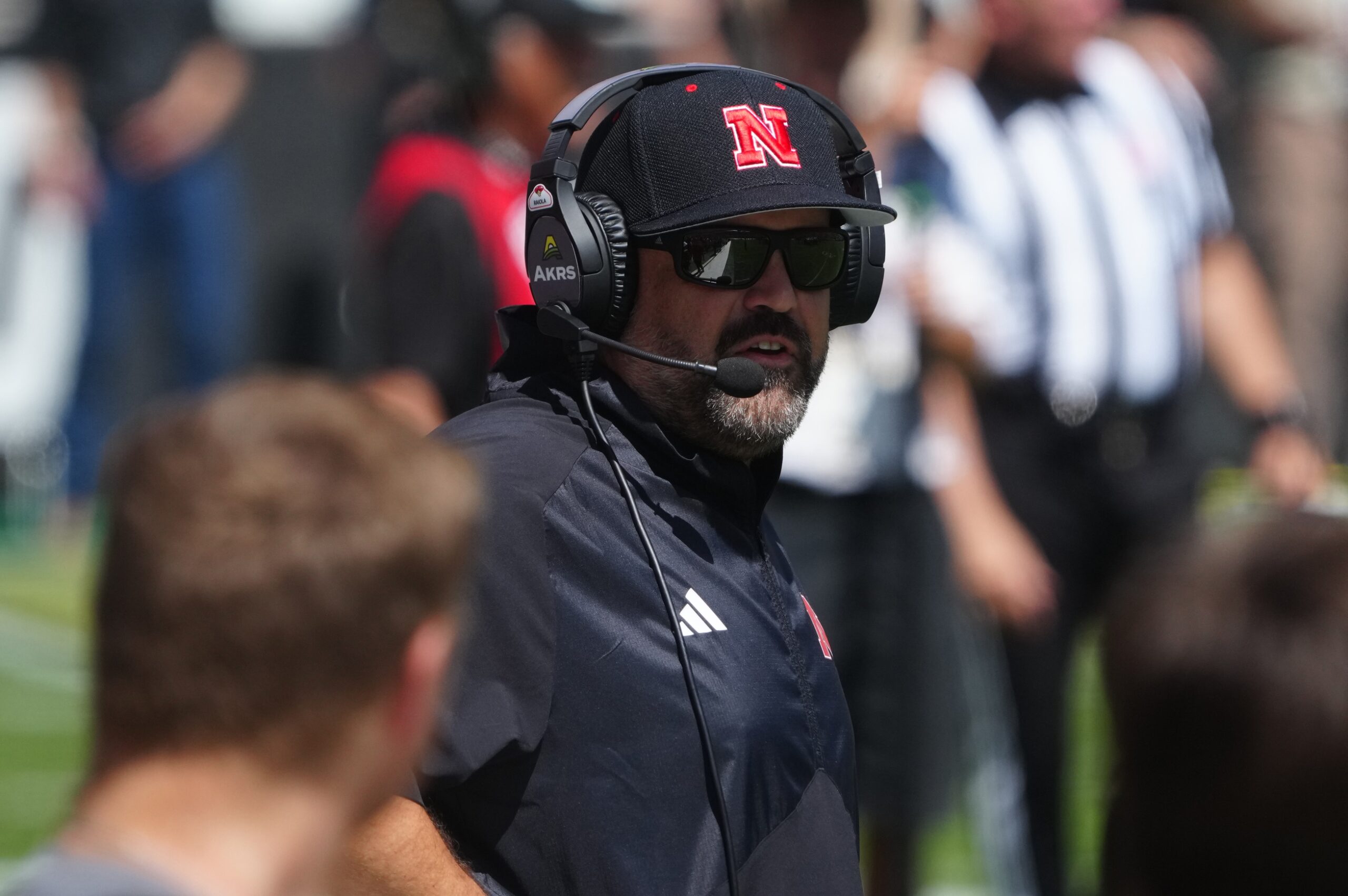 It was a rude awakening for Nebraska football on Saturday in Boulder and here are five things we learned in the Huskers' loss.
The preseason optimism that Nebraska football fans had came crashing down to Earth on Saturday as Colorado ran away from the Huskers in a 36-14 win.
Nebraska was a three-point underdog and lost by 22 points. The Huskers had four turnovers. Two of those came on their own side of the field, basically gifting points to one of the most explosive offenses in the country.
Jeff Sims was terrible and this team didn't look ready. Matt Rhule didn't have much to say afterward, other than that it will get fixed. Well, we have heard that before, and here are five things we learned from the Nebraska football loss to Colorado on Saturday.
Rhule messed up with Jeff Sims
Through two games, Sims looks like a disaster. He couldn't even handle the snap on Saturday, dropping it twice, leading to fumbles. He also signaled for the snap too early, forcing a field goal attempt instead of allowing the Huskers to run a play on a third-and-short in Colorado territory.
In the first half, the Huskers got inside the Colorado 30 twice and got zero points. Last week, Nebraska football was inside the 10 twice against Minnesota and got three.
That's a quarterback problem. And make no mistake, Sims is an issue.
Nebraska would be at least 1-1 with Casey Thompson and if he were the quarterback yesterday, it probably would have been a competitive game.
And frankly, the QB depth is thin, Nebraska has no other options, which makes the decision to go all-in on Sims even worse by Rhule, who flubbed one of the first big decisions of his tenure.
Cameron Lenhardt is a stud
There were a lot of bad things that happened on Saturday, but Nebraska football also notched eight sacks, which is the most since the 2009 Big 12 championship game.
And freshman Cameron Lenahrdt came away with two. They were each in the first half, not in garbage time or anything. Ty Robinson was out in the first half, but Lenhardt made it not really matter.
The former four-star EDGE was selected as a preseason All-American and through two games, he has looked the part and if you need a positive from Saturday, Lenhardt's play is one.
Turnovers are killing Nebraska
Sims wasn't the only guy to put the ball on the ground. Gabe Ervin had a fumble too as Nebraska was trying to come back and also, the defense has forced just two turnovers in two games.
One takeaway per game isn't enough. Meanwhile, Nebraska is also giving the ball away four times per game, which is why this team is sitting at 0-2.
Colorado had more penalties than Nebraska, but the Huskers had some painful ones in key situations. However, no team is going to win with a -3 turnover ratio in a game.
What's baffling is that many of these turnovers are self-inflicted wounds, which is what is so frustrating. Rhule was supposed to address these problems and because of Sims, a quarterback with 23 interceptions in 25 career games before coming to Nebraska, it's gotten even worse.
Prime shows rebuilding is a thing of the past
Yes, Deion Sanders had some built-in advantages. Matt Rhule didn't have a way of landing Shedeur Sanders or Travis Hunter, but the point remains the same: rebuilding is a thing of the past.
TCU and USC showed that last season, as did Michigan State in 2021. Colorado is just the latest program to turn things around quickly, although it's more dramatic.
If Rhule thinks he's getting years to rebuild this thing, he's mistaken. Nebraska is good enough to win now. A decent quarterback would help and he's responsible for the signal-caller, so the head coach doesn't get a pass because he screwed up selecting his hand-picked QB from the portal.
Rhule essentially told Thompson to leave which makes this all even worse. And I don't buy for a second that Nebraska was in such bad shape that this season was always going to be a waste.
If you have a good head coach, you can win right away in college football. So far, Rhule isn't getting the job done and the rebuilding excuse is just that an excuse.
Tony White is a star
One of the positive hires Rhule made was defensive coordinator Tony White. The defense wore down and frankly, played badly at times in the second half, especially with all of the third downs it gave up.
But there were some positive signs. The eight sacks were good and I loved how White was mixing things up by bringing pressure or dropping into coverage. He had Shedeur Sanders guessing for a little bit.
Sanders figured it out in the second half. His athletes are also a lot better than the guys Nebraska has on defense and that's obvious when Isaac Gifford is covering Travis Hunter down the field one-on-one.
That's not a matchup Gifford is going to win very often. But White has shown some good things for two weeks and not to mention the Huskers have allowed only 113 yards rushing.
If the offense can get out of its own way, the defense is good enough for this team to win some games, but the way Sims is playing now makes it feel like the Huskers are headed for 3-4 wins.
As much as it pains me to say it.
For More Nebraska content, follow us on Twitter, like our Facebook Page, and Subscribe to the Husker Big Red YouTube Channel. You can also find our podcast on Apple or Spotify.
Nebraska Football could utilize two QBs vs. Michigan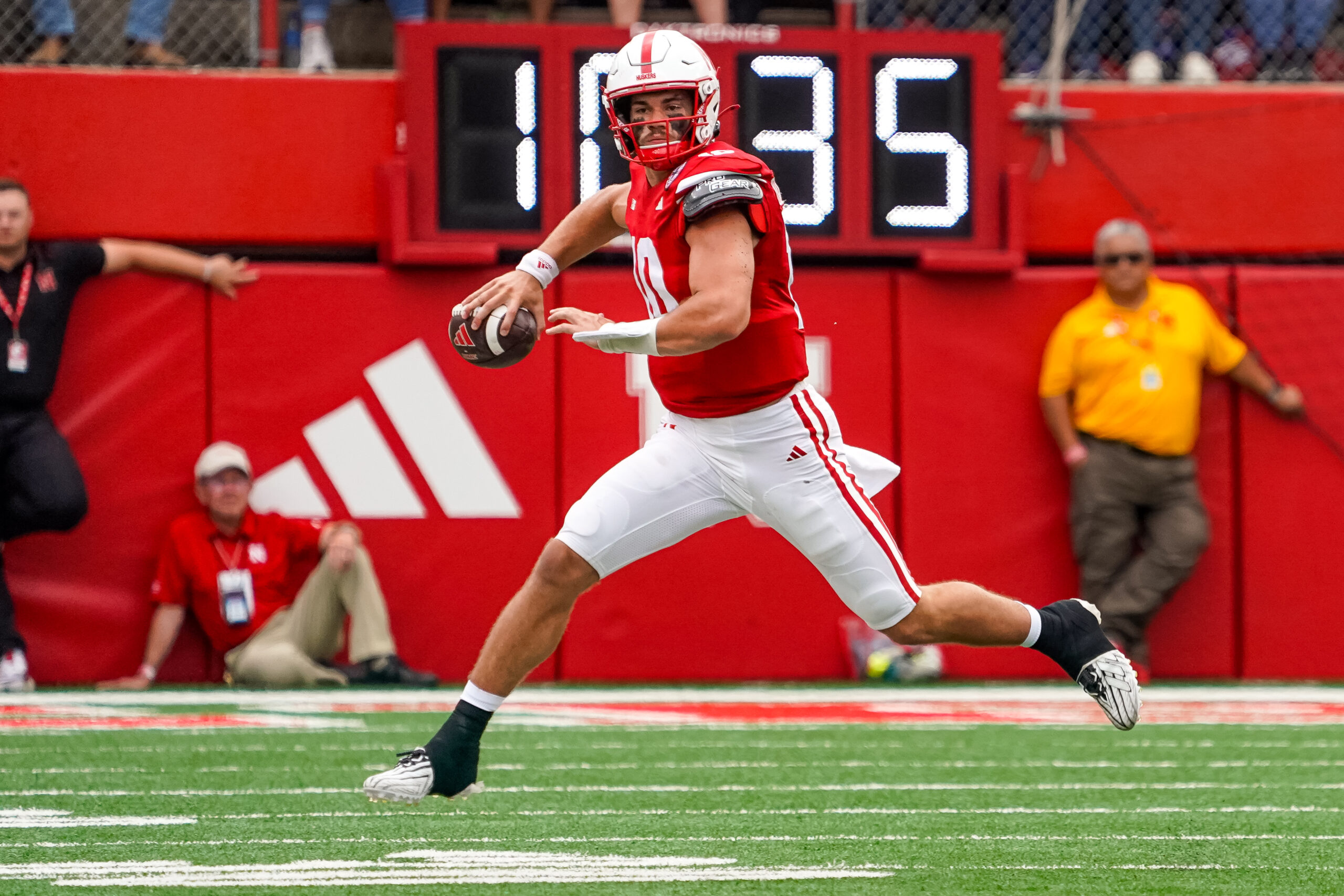 Nebraska football head coach Matt Rhule gave an update in his press conference on Thursday with regards to the quarterback position. Rhule indicated that Jeff Sims is not 100%, but he has practiced all throughout the week. Heinrich Haarberg, who was also battling injuries following the last weekend's game, practiced this week as well.
This is certainly encouraging as it relates to the health of the quarterbacks. For one, Sims is apparently progressing. It also means that Haarberg is at a point where he is not too bothered by his injury. This is reassuring, given that he has been a key part of the offense of the last couple weeks.
Nebraska football as a team is going to need both to be healthy on Saturday. Haarberg is the presumed starter, but it would be nice to add Sims in for his running ability in certain situations.
I certainly wouldn't be opposed to the program using both quarterbacks. As a matter of fact, I think it's a very smart play. It gives Nebraska football versatility at the position, and allows two explosive athletes to get their shot on the field.
Coach Rhule said Jeff Sims still isn't 100% but has practiced all week along with Heinrich Haarberg. Says he could use both vs. Michigan. #Huskers

— Huskers Talk | 𝙉𝙚𝙗𝙧𝙖𝙨𝙠𝙖 𝙎𝙥𝙤𝙧𝙩𝙨 (@TalkHuskers) September 28, 2023
Nebraska football will need to have all hands-on deck against a rushing defense that is second in the conference with 80.5 yards allowed per game. They also have allowed only one rushing touchdown on the season. They rank second behind Nebraska with 2.8 yards allowed per carry. The bottom line is, Nebraska football is going to have their work cut out for them.
It will be interesting to see what happens with the quarterback situation on Saturday. Will we see both quarterbacks? Time will tell, but at least the room itself is restocked and somewhat healthy again. The Huskers have depth at the quarterback position and that is never a bad thing. How they utilize it will be interesting, as they look to get above. 500.
3 keys to an upset win for Nebraska football vs. Michigan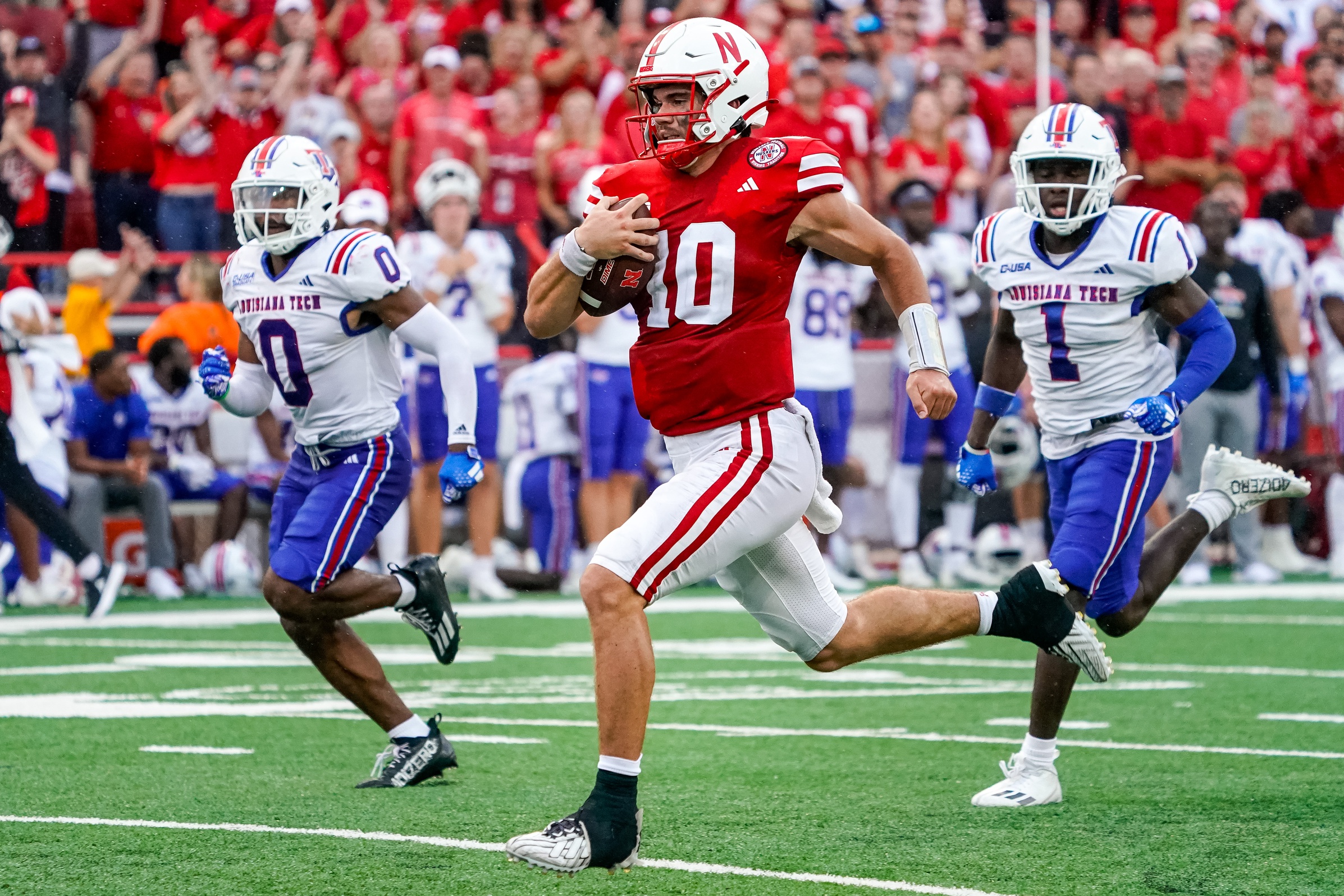 Is an upset possible for Nebraska football on Saturday? Here are three keys to pulling it off.
After a pair of confidence-building wins, Nebraska football will welcome No. 2 Michigan to Lincoln Memorial Stadium on Saturday.
It's going to be a huge test. It's also a major opportunity for Matt Rhule and company to score a defining win. I can't even remember the last time Nebraska beat a team as good as Michigan. Probably since Eric Crouch caught that touchdown pass to beat Oklahoma.
Nebraska football has its work cut out for it. The Huskers are 17-point underdogs and this Michigan team is a juggernaut that's won 16 consecutive Big Ten games.
J.J. McCarthy (QB) and Blake Corum, the running back, are Heisman candidates. Plus, the defense has only surrendered 23 points in four games leading all of college football in scoring defense.
It's going to be a huge challenge but Nebraska isn't a pushover. It's the toughest game for Michigan so far and the Wolverines' first road game.
If Nebraska wants to pull the upset, here are three keys to making it happen.
Contain Michigan's run game
You might think that's not possible, but in three of four games this season, Michigan has rushed for 200 yards or less. One reason for that is more throwing with McCarthy. The pass offense is better and games are also going quicker especially if you use a pace like Michigan or Nebraska.
Blake Corum is the bell cow but Donovan Edwards is dangerous. He had over 200 yards in the win against Ohio State last November.
Michigan's offensive line has used a few different combinations and hasn't been quite as good. Nebraska football also leads the Big Ten in rushing yards allowed. The Blackshirts surrender just 1.8 yards per rush and if they can limit Michigan's ground game (150 yards or less), an upset becomes much more likely.
Nebraska football must win the turnover battle
You could list this as a key for just about every single game in college football this week. But Nebraska is at a disadvantage talent-wise compared to Michigan.
That's nothing to be ashamed of. The Wolverines have about 20 players that could get drafted this April. Nebraska is a team with talent too — it actually ranks 26th in terms of blue-chip players (4-star recruits or higher) being on the roster.
But the Huskers are going to need some short fields or maybe even some points from the defense to pull this one off. A big return, some kind of play like that will need to happen.
McCarthy didn't throw an interception in three of the four games for Michigan. Yet, against Bowling Green, he tossed three and if the Huskers could get 1-2, you'd have to like their chances of pulling the upset.
Heinrich Haarberg needs 100 yards rushing
Michigan hasn't allowed a single team to run for 100 yards. Their run defense is spectacular but Haarberg will need to break a big run or two if the Huskers are going to have a shot.
That touchdown run against Louisiana Tech reminded me a little of T-Magic. Haarberg also has been fine throwing the ball. His arm isn't elite. He also hasn't thrown any interceptions.
Nebraska has been using more option principles and running QBs have given Michigan some struggles over the years. Haarberg isn't a statue. He's also a gamer and after two starts, he's improving.
We'll see if he can deliver on Saturday, but if Haarberg can run the way he did in his first two starts (a very big ask) Nebraska should have a shot to win on Saturday.
For More Nebraska content, follow us on Twitter, like our Facebook Page, and Subscribe to the Husker Big Red YouTube Channel. You can also find our podcast on Apple or Spotify.
Nebraska Football flips local TE Eric Ingwerson after long pursuit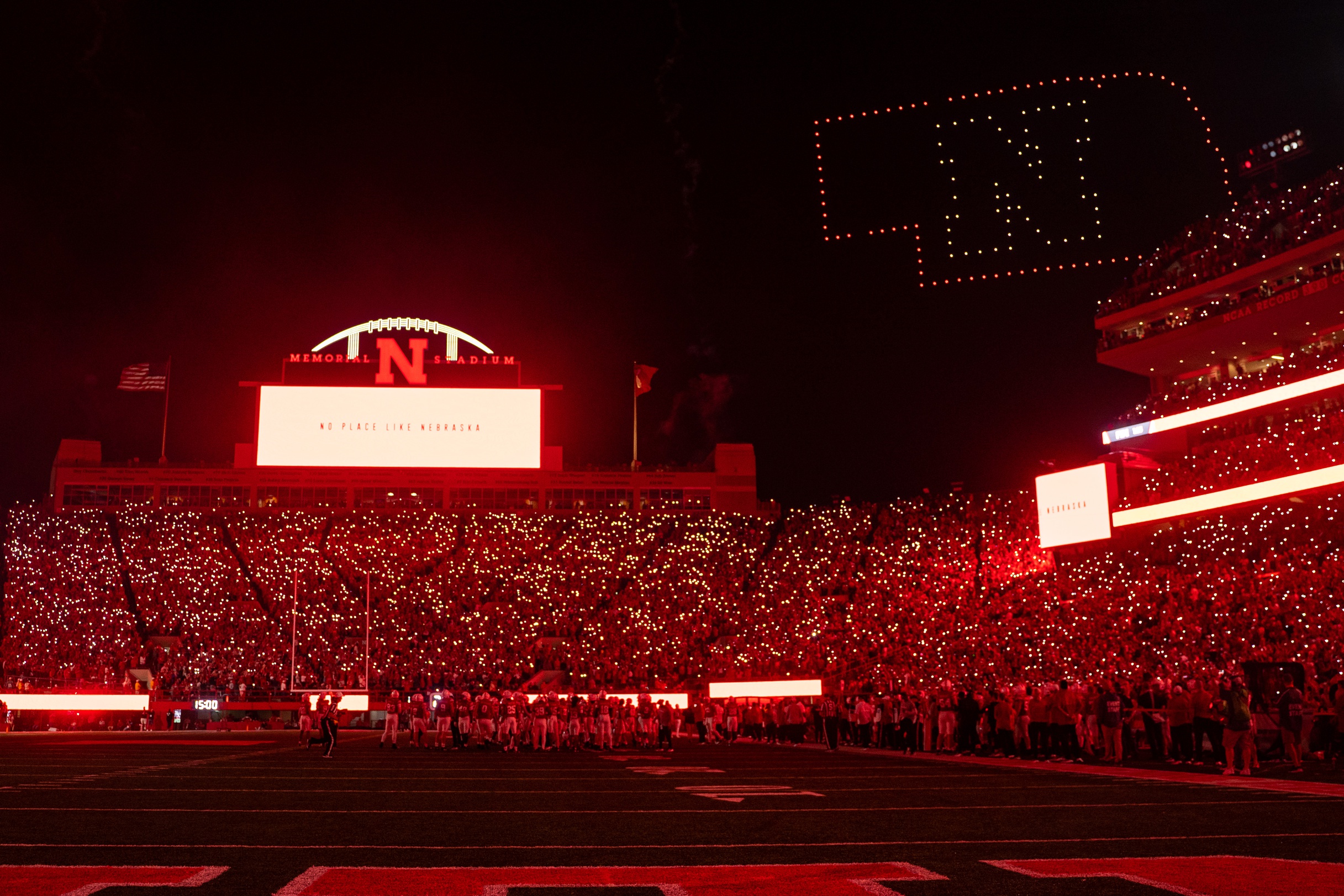 Nebraska football landed a commitment from 2024 tight end Eric Ingwerson on Wednesday, according to multiple media reports.
Ingwerson is the 128th overall athlete in the 2024 class, and the ninth overall player in the class from the state of Nebraska per the 247Sports composite rankings. He has a numerical rating of 86 overall.
This is a solid commitment for several reasons. For one, Nebraska football has been interested in him for quite a while. He received an offer from the program on April 11, and had him and for an official visit on June 16.
Ingwerson joins a tight end room that is already in good hands for 2024. Carter Nelson headlines the room, with Ian Flynt also part of the room as well.
It is also worth noting that Ingwerson played on the defensive side of football as a defensive lineman for Papillion-LaVista. He could definitely play the position for Nebraska, as he measures in at six-foot-seven, 235 pounds. There is the chance that he could play a different position other than tight end. However, his size makes him an intriguing option at the position itself.
There can also be the possibility that Nebraska football could be looking at him as an offensive lineman. The size is there. This staff knows how to develop offensive lineman. Ingwerson could fit well in the positional group.
Currently, the 2024 Nebraska football recruiting class ranks 23rd overall in the country per the 247Sports rankings. This class has a solid high school group, and Ingwerson certainly adds to that. The 2024 class has the potential to be a cornerstone class of Matt Rhule's tenure.
Ingwerson will be an asset to Nebraska football, no matter what position he plays. Furthermore, this is a great flip by the program. Once again, they have shown the ability to identify a prospect they want, and pursue him until they land him. The staff has done a good job of being able to flip recruits. Ingwerson is certainly a part of that distinction.